'Walking Tacos' Walk Onto Rutter's Menu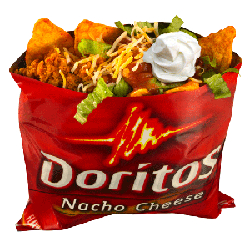 YORK, Pa. -- Soft shell tacos, snack wraps and the south-central Pennsylvania favorite, "walking tacos," joined the menu at Rutter's Farm Stores this week.
Walking tacos, a long-time preference at area high school sporting events, eliminate the mess associated with traditional taco shells. "It's a taco you can eat with a fork. It's very user-friendly," said Rutter's Vice President of Food Service Jerry Weiner.
The walking tacos are made fresh and served in a 1-ounce bag of Doritos. Customers can choose from taco meat, lettuce, shredded cheese, salsa, hot sauce, onion, black olives, diced tomato and green peppers as toppings. They also can add sour cream, extra taco meat and extra cheese for an additional cost. Depending on which toppings are chosen, each walking taco will be between two and four ounces, according to the convenience store chain.
If customers prefer a more traditional form, they can order a soft shell taco, also making its debut this week. Customers can add any of the toppings available with the walking taco.
Rutter's rounds out its latest menu additions with snack wraps, available in fried chicken, grilled chicken, cheeseburger, meatball, and sausage, egg and cheese varieties. Customers have the choice of topping their wraps with lettuce, tomatoes, onions, black olives, pickles and jalapeno peppers. Each snack wrap will be made fresh with every order, the company reported.
Rutter's Farm Stores operates 57 stores in five counties throughout central Pennsylvania.