Wawa Partners With Pennsylvania Brewery to Create a Coffee Stout Beer
Get great content like this right in your inbox.
Subscribe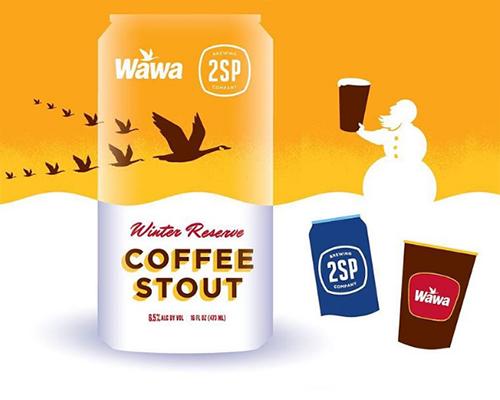 WAWA, Pa. — Wawa Inc. is partnering with 2SP Brewing Co. to create 2SP + Wawa Winter Reserve Stout, a beer made with the convenience store chain's seasonal Reserve Winter Blend Coffee.
Starting Dec. 6, the brew will be available only at the Wawa located at 721 Naamans Creek Road in Chadds Ford, Pa., reported NJ.com. This location is the only Pennsylvania Wawa that sells beer.
Outside of Wawa stores, the beer will be exclusively distributed to bars and liquor stores in the state's Philadelphia, Delaware, Montgomery, Chester and Bucks counties. Only 1,000 cases will be manufactured.
The combination sprang from 2SP's team drinking Wawa coffee during an October meeting.
"Next thing you know, we are trying each one, talking about the merits of each coffee, similar to the way we do with beer," said Michael Contreras, director of sales and marketing for 2SP. "It seemed like the only thing we agreed on that day was our taste in coffee. Then it occurred to us; Why don't we hit up our neighbors at Wawa and see if they had any interest in brewing a coffee stout with us?"
Executives from Wawa later visited the brewery for a tasting and the two companies made plans.
"This is an exclusive blend that was handpicked by Wawa's World Traveling Coffee Guru Michael McLaughlin, who sought to make a coffee with flavors of sweet clove, dark chocolate, and graham crackers perfect for the winter months," 2SP Brewing wrote in an Instagram post. "Our head brewer, Bob Barrar, who, like Wawa, is a Delaware County native chose to steep the beans in an oatmeal stout, a style that has a balanced sweetness to showcase the full range of flavors of the coffee."
Pennsylvania-based Wawa operates more than 800 convenience stores, with 600-plus selling gas. Its network is spread across Pennsylvania, New Jersey, Delaware, Maryland, Virginia, Florida and Washington, D.C.