Wawa Revamps Stores Ravaged by Superstorm Sandy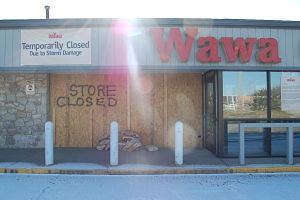 WAWA, Pa. -- Nearly three months after Superstorm Sandy struck the Northeast region -- notably New Jersey and New York City -- seven Wawa convenience stores still remain closed. However, the retailer is taking steps to reopen the locations by the spring.
Wawa Inc. is completely renovating and rebuilding the stores, in some cases, and most will feature the company's newest design prototype. Six of the stores are expected to resume operations by the end of March, 2013. One store located in Normandy Beach in New Jersey will reopen on Jan. 29.
"A cross functional team at Wawa has been working to get the Hurricane Sandy impacted stores up and running as soon as possible," said Sal Mattera, vice president of store operations. "From ordering new equipment to sourcing local contractors to obtaining the necessary permits to make the renovations happen, our team has been focused on getting the remodels started and our stores reopened."
Most of the impacted stores will receive new features and designs incorporated into their renovations. The upgraded features include:
New foodservice layout and foodservice innovations including built‐to‐order milk shakes and in‐store roll baking ovens
All interior components brought up to new brand standards -- including new tile throughout the foodservice and beverage area
Newly designed Express Cases
All cabinetry and refrigeration cases upgraded and replaced
"We are doing everything we can to speed this process up and give our customers back their Wawa," Mattera said. "We know our customers count on us and we are so grateful for the patience they've shown this far. We wanted to ensure that we were able to take the time to enhance our customers' experience at these stores."
Wawa plans a 10-day promotion to thank customers for their patience. These promotions include:
Free Coffee -- Any Size
$2.99 Shorti -- Any Variety
89-cent Fountain Drink -- Any Size
In addition, Wawa will make a $1,000 donation per store to the Feeding America Food Bank located in each specific community. The Food Banks include the Food Bank of Monmouth & Ocean Counties and the Community Food Banks of New Jersey (Egg Harbor Township and Hillside branches).
The affected stores are: Store 949, Normandy Beach, N.J. (estimated opening Jan. 29); Store 728, Ocean City, N.J. (estimated opening Feb. 28); Store 432, Avalon, N.J. (estimated opening March 7); Store 950, Margate, N.J. (estimated opening March 14); Store 977, Long Beach, N.J. (estimated opening early March); Store 700, Ship Bottom, N.J. (estimated opening mid-March); and Store 781, Sayerville, N.J. (permitting in progress, estimated opening mid-to-late March).