01/29/2018
Wawa Will Help Special Olympics Celebrate 50th Anniversary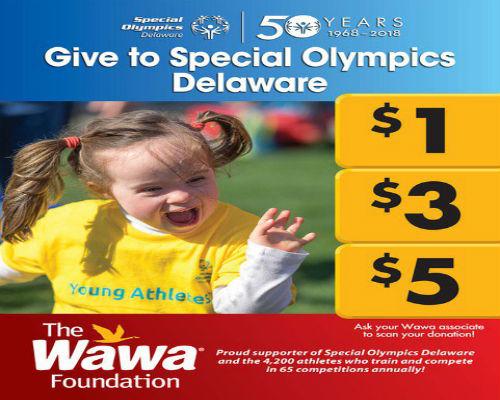 WAWA, Pa. — In honor of the Special Olympics' 50th anniversary, Wawa Inc. and The Wawa Foundation will provide the organization with addition support and funding throughout 2018.
As part of its fundraising efforts, from Jan. 22 to Feb. 18, all Wawa stores chainwide will host a point-of-sale scan campaign, allowing customers to add on $1, $3 and $5 donations to their purchase at the point-of-sale.
The convenience store retailer will also continue its support of the Special Olympics' annual Polar Plunges throughout January and February. The event allows participants to take a quick dip in frigid waters to raise money for the organization in their respective state. More than 50 Wawa volunteers will attend the event to help serve coffee and food, cheer on athletes and plungers, and take the plunge themselves.
Additionally, Wawa will be hosting special in-store events celebrating Special Olympics athletes, and The Wawa Foundation will make a grant of $200,000 to support the Special Olympics' Unified Sports programs in high schools across the c-store retailer's operating area. Unified Sports is an inclusive sports program that unites Special Olympics athletes (individuals with intellectual disabilities) and partners (individuals without intellectual disabilities) as teammates for training and competition.
"All of us at Wawa are proud to support the inspiring athletes of the Special Olympics and honor the heroes who have and will continue to change the game," said Jay Culotta, president of The Wawa Foundation. "We've been partnering with the Special Olympics for many years and it's exciting to be a part of their year-long 50th anniversary celebration.
"Everyone can support these inspiring athletes by participating in our in-store campaign or by attending a Polar Plunge event in January or February. We are also thrilled to provide an additional financial grant and events to round out the year to show our support for the Unified Sports initiative, something we are passionate about," he added.
In addition to in-store fundraising efforts and Polar Plunge support, Wawa will host several local community events throughout the year, including special events during this year's Wawa Day, the convenience retailer's annual celebration marking Wawa's entrance into the convenience store business. Held in the spring each year, this year's Wawa Day will celebrate the athletes participating in the Special Olympics Unified Sports programs.
Then, in June, Wawa will host special "send-off" events in all six states of Wawa's operating area to show support of the athletes and teams leaving to compete in the 50th Anniversary Special Olympics USA Games in Seattle.
The Special Olympics is a Wawa community partner for more than 20 years, starting with New Jersey Special Olympics and now spanning its entire operating area of six states and the District of Columbia. The organization is an official national charity partner since the formation of The Wawa Foundation in 2014. During the course of its longstanding partnership, Wawa has raised more than $6 million in funding for the Special Olympics.  
Wawa operates more than 760 convenience stores, 550 offering gasoline, in Pennsylvania, New Jersey, Delaware, Maryland, Virginia and Florida.