Weigel's Hires Exec to Aid Expansion Efforts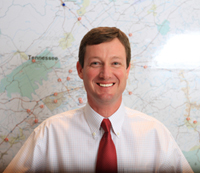 POWELL, Tenn. -- Weigel's has hired Chris Ooten as director of real estate to help the retailer as it grows its footprint through new store acquisitions, and the selling and leasing of existing company-owned properties.
"With a solid background in commercial development, Chris is poised to help expand and take Weigel's to the next level," Bill Weigel said.
Ooten is a LEED-accredited professional via the Green Building Certification Institute. In his new role he will guide new site development, green building design, construction and maintenance solutions, according to the company.
He previously worked with Schaad Cos. in Knoxville for 14 years. As COO of the company, he led the completion of more than one million square feet of office and commercial properties. Ooten's background also includes three years with the Metropolitan Planning Commission of Knoxville and Knox County, and three years as project manager with local civil engineering and design firm, Batson, Himes, Norvell and Poe.
He is a graduate of East Tennessee State University and earned a Bachelor of Science degree in 1993 with an emphasis in urban and regional planning.