What's Hot in Today's C-store Cold Vaults
Get great content like this right in your inbox.
Subscribe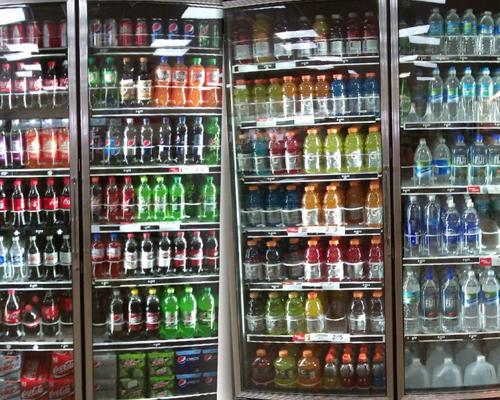 ROSEMONT, Ill. — Carbonated soft drinks (CSDs) still make up the bulk of the non-alcoholic packaged beverage category, but the segment continues to shrink and has been in a secular decline.
Even with the dip in numbers, CSDs account for 47 percent of the category, according to Bonnie Herzog, managing director of tobacco, beverage and convenience store research at Wells Fargo Securities LLC.
"CSDs have lost 1.4 percent total volume since 2000 as consumers switched [to other segments], but you cannot ignore it," Herzog said. 
So then, what's hot in convenience store cold vaults these days? 
As Herzog told attendees of the 2017 Convenience Store News Convenience Foodservice & Beverage Exchange, bottled waters are driving growth in the category, followed by energy drinks and ready-to-drink teas. 
Consumers' shifting taste preferences are the force behind bottled water's volume growth. On the downside, it is the segment that carries the lowest average price per case, so it brings low margins for manufacturers, she explained.
Premium water, though, is an important price driver, Herzog added.
Moving to another cooler door, energy drinks have always been strong, but the growth is slowing, she noted. That being said, it is the No. 2. non-CSD segment in retail sales. "I expect the rapid growth rate to continue to slow," she predicted.
Trending: Manufacturers
When taking a close-up look at the packaged beverages category, Herzog sees several key trends taking place, including:
Functional beverages like protein, energy and enhanced waters. "There is a health and wellness trend, and manufacturers are responding accordingly," she pointed out. "But indulgence still matters and consumers continue to purchase 'unhealthy' beverages."
Package size innovation. This is an increasing focus and represents growing opportunities for manufacturers — and not just in size, but unique packaging as well.
Premiumization. This trend is being driven by a shift to smaller packages, increased innovation, and more functionality. "Manufacturers are shifting focus to value over volume," Herzog said.
Sugar Taxes. A levy on sweetened beverages is an ongoing threat, according to Herzog, but less so given the evidence of unintended consequences in Philadelphia, including less tax revenue and job loss. Still, she is "broadly concerned."
Manufacturers crowding into attractive categories. Notably, Anheuser-Busch acquired Hiball, a maker of organic energy drinks and sparkling energy waters, and The Coca-Cola Co. teamed with Dunkin' Donuts for a line of ready-to-drink coffees. "Manufacturers are increasing their offerings, which makes it a challenge to manage SKUs for retailers," Herzog said.
Trending: Retail
There are a few trends on the retail side as well, mainly in the form of competition.
According to Herzog, competitive threats are coming from players outside the channel, including Walmart; discount retailers like Lidl, dollar stores; ecommerce; and mobile order and pay. 
"These are threats, but you can turn them into opportunities, depending how you approach them," she advised.
The convenience channel is "critical to the beverage industry," according to Herzog, citing that packaged beverages is the No. 2 merchandise category behind cigarettes and the largest contributor to merchandise growth dollars in convenience stores.
Trending: Sparkling Water
Bottled water is taking its turn in the cold vault spotlight, and rising within the segment is sparkling water, according to Andy Baran, Nestle Waters' national sales director for the convenience channel.
There are many factors behind the rise of sparkling water, which saw 25-percent sales growth year over year. These include consumers making healthier choices, and big players entering the segment.
"Sparkling water is as healthy a beverage as you can drink," Baran said, noting that the segment is popular among Hispanics, millennials, and urban dwellers. "The consumers you want in our stores are already buying sparkling water."
Of the total dollar sales of unsweetened bottled water in convenience stores, sparkling/seltzer accounts for 5 percent. This lags behind other channels like grocery where it accounts for 15 percent. If the convenience channel could boost its sparkling/seltzer share by 15 points, total sales would increase from $162 million to $482 million, he explained.
Breaking down sparkling water, the unsweetened variety is growing from a dollar standpoint, while the sweet variety is expected to decline. Specifically, according to Baran, unsweetened sparkling water will grow by $153 million over the next five years, while sweetened sparkling water will decrease by $106 million.
"Unsweetened sparkling water is driving growth in all sparkling water," he said.
Flavors, though, play a key role in the segment, he noted. Flavored products represent 55 percent of total sparkling water dollars and are contributing 74 percent of the total growth.
"New consumers are driving the segment growth and they are entering sparkling water through flavors," Baran explained.
The 2017 Convenience Foodservice & Beverage Exchange took place Sept. 12-13 at the Donald E. Stephens Convention Center in Rosemont.