What's In Store: CEFCO, Enmarket, Love's & Parker's
Get great content like this right in your inbox.
Subscribe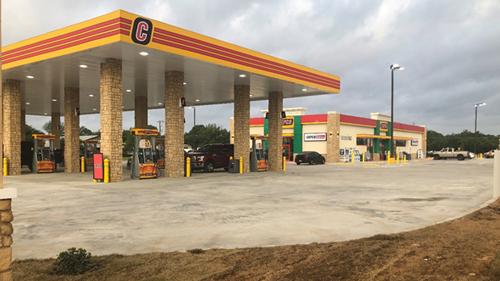 NATIONAL REPORT — The convenience store industry landscape is constantly changing as chains open and close stores each week. On a regular basis, Convenience Store News highlights these comings and goings in this special roundup.
CEFCO Convenience Stores
CEFCO Convenience Stores celebrated the grand opening of its second-ground-up build in 2020 at the end of June. The new convenience store is located in Nolanville, Texas.
The store offers a variety of hot and cold food items, including "Fresh Yo" self-service frozen yogurt and CEFCO Kitchen made-to-order burritos, bowls and tacos. This is the second store to include CEFCO Kitchen and the made-to-order concept.
The location has a combined square footage of 5,998 square feet on a roughly two-acre lot. It features eight fuel dispensers, all of which include ethanol-free fuel.
Enmarket
A new Enmarket opened its doors in late July in Thunderbolt, Ga., becoming the 127th store in the convenience store chain. The 5,800-square-foot structure at 3024 E. Victory Drive is the third new-to-industry store Enmarket opened this calendar year.
The basic "bones" of the building became the third store built to Enmarket's new prototype store design. However, in a nod to its historic location and surroundings, some features of the building were designed to better align with Thunderbolt's Victory Drive overlay district.
According to the retailer, coastal Georgia buildings from gas stations to restaurants to mercantile buildings were inspirations for the new structure, resulting in a building type that would have been familiar along coastal highways for decades. Enhanced exterior materials include brick, clapboard siding, louvers, galvanized standing seam roofing and bracketed canopies, all of which are elements of the coastal vernacular.
"We asked our architect to design a building that balanced the small, maritime feel of the town of Thunderbolt with the needs of a modern convenience and food destination for our customers, and the result is very satisfying," said Brett Giesick, president of Enmarket. "We've enlivened that corner with a productive business offering for the citizens of Thunderbolt and convenience for island commuters and beachgoers."
The new store offers The Eatery, Enmarket's signature kitchen, which will offer hot food for all three dayparts as well as freshly made grab-and-go food options, bean-to-cup coffee and Mooz frozen yogurt. The fuel selection is unleaded, mid-grade, premium, non-ethanol and diesel.
West Construction was the general contractor on the Thunderbolt store.
Eskimo Hut
A new Eskimo Hut store welcomed customers on July 17 at the Greens Landing development in Houston, Texas. It is the 31st location in the 25-year-old company's footprint.
Known for its frozen Eskimo Hut Daiquiris To-Go, the Greens Landing Eskimo Hut is uniquely serving the handcrafted drinks along with Jello shots and loaded gummies.
The store also offers essential items found in a traditional convenience store. Most locations in Texas are drive-thru, and carry regular items such as cigarettes, fountain drinks, candy bars, and other alcoholic beverages and drinks.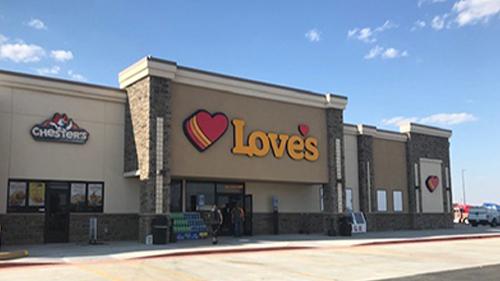 Love's Travel Stops & Country Stores
Love's Travel Stops & Country Stores opened two travel stops on Aug. 27, one in Monmouth, Ill., and the other in Kermit, Texas. Combined, the two new locations add 186 truck parking spaces to Love's network.
At more than 12,000 square feet, the Monmouth travel stop features a Chester's Chicken and Godfather's Pizza. It also offers 87 truck parking spaces, 66 car parking spaces, three RV parking spaces, four diesel bays, six showers, laundry facilities, a Fresh Kitchen concept, a CAT scale and a dog park.
The Kermit travel stop measures more than 11,000 square feet and features a Chester's Chicken and McDonald's. It also offers 99 truck parking spaces, 87 car parking spaces, three RV parking spaces, eight diesel bays, eight showers, laundry facilities, a Fresh Kitchen concept and a CAT scale.
Both locations are open 24 hours, seven days a week.
Love's also opened seven Love's Truck Care with an on-site Speedco earlier this summer. The facilities are in Laredo, Texas; Vicksburg, Miss.; Grand Ledge, Mich.; Lake Charles, La.; Summerton, S.C.; Milan, Mich.; and Madera, Calif.
Parker's
Parker's unlocked the doors of a new Parker's Kitchen in Savannah, Ga., on Aug. 20. Located between the Truman Parkway and Skidaway Road, the new Parker's Kitchen offers fresh, Southern-style food for breakfast, lunch and dinner as well as gourmet coffee, freshly brewed sweet tea, lemonade, 28-degree beer, fountain drinks with Chewy Ice and a range of convenience items. 
With a wide range of items prepared fresh on-site and are available seven days a week, the entire menu is handcrafted on-site from the freshest ingredients by Parker's Kitchen chefs.    
Quicklee's Convenience Stores
Quicklee's Convenience Stores acquired the Mobil gas station located on 12 Corners in Brighton, N.Y.
The station features six gas pumps, including self-service, full-service and diesel. Originally configured as a gas station and auto repair shop, the location will provide access to convenience store staples as well as locally manufactured products through Quicklee's Go Local program.
Any future renovations to the location are under consideration and will come down to identifying community needs and following processes put forth by the town. "We have a lot of great ideas for this location, including expanding the parking lot, building out the store, and helping to add new life to these famous corners," said Ken Perelli, Quicklee's vice president. "We are excited to be a part of the community, to work with the town, and to make a difference."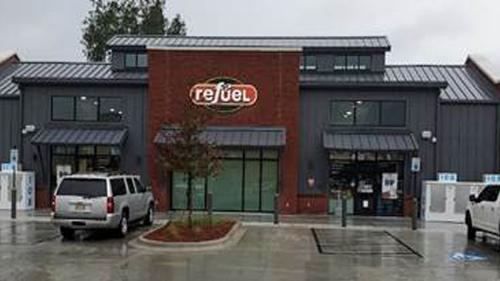 Refuel Market
C-store shoppers in Summerville, S.C., got a new place to shop when Refuel Markets opened its latest location on Aug. 5.
At 4,300 square feet, the newly constructed store features Refuel's new, proprietary Hot N' Crispy Chicken recipe, freshly prepared on-site along with other offerings — including Boiled Peanuts, Refuel's handmade take on a classic delicacy of the South Carolina Lowcountry. The store also offers Refuel's Bean-to-Cup coffee program, and a selection of bottled wines as well as a beer cave offering a range of domestic and imported brands.
The store, which employs approximately 15 associates, features 20 fueling stations dispensing Shell brand gasoline. It also features a car wash, outdoor seating, contactless ordering and curbside pickup, and two self-checkout stations.
Refuel is also preparing to open a new store on in Sullivan's Island, outside of Charleston.
Trillium
Trillium opened a Los Angeles public compressed natural gas fueling station in early August. The station joins Trillium's more than 30 public and private stations in California.
The fast-fill fueling station supports multiple vehicle types with two light-duty and one heavy-duty fueling nozzles and can fuel up to a combined 16 gas gallon equivalents per minute.