03/30/2021
What's In Store: CEFCO, Foxtrot & Parker's Kitchen
Buc-ee's, Cubby's, Love's and Rutter's also boost their networks.
NATIONAL REPORT — The convenience store industry landscape is constantly changing as chains open and close stores each week. On a regular basis, Convenience Store News highlights these comings and goings in this special roundup.
Buc-ee's
Buc-ee's threw open the doors of its newest site in Daytona Beach, Fla., on March 22.
Located at Interstate 95 and LPGA Boulevard, the 53,000-square-foot location offers snack, meal and drink options for travelers. In addition, its menu features Buc-ee's staples like Texas barbeque, fudge, kolaches, Beaver nuggets and jerky.
CEFCO Convenience Stores
CEFCO Convenience Stores opened its first ground-up build in 2021 on March 18 in DeFuniak Springs, Fla.
CEFCO customers will find a robust offering of hot and cold food items, including Fresh Yo! self-service frozen yogurt, CEFCO Kitchen made-to-order burritos, fried chicken, and pizza. This is retailer's ninth store in Florida and it will be open 24 hours a day. 
Located off Highway 90, the 6,054-square-foot store sits on more than two acres. It features 39 parking spaces and 10 fueling positions, which include ethanol free fuel as well as diesel. 
"We are excited to open this store in Defuniak Springs and bring our CEFCO Kitchen concept to Florida," said Rick Schneider, regional vice president of Operations. "We look forward to partnering with and serving the Florida panhandle as well as the local community."
Cubby's Inc.
Cubby's Inc. acquired the Corner Market in Laurel, Neb. The retailer plans to remodel the location, adding Chester's Chicken and Godfather's Pizza.
"We were able to keep the staff from the previous owner which allows for almost no interruption to our customers. Adding new technology and a more diverse mix of products will make our customers' experience even better than it already was," said Cubby's Chief Operating Office Mike Wilson.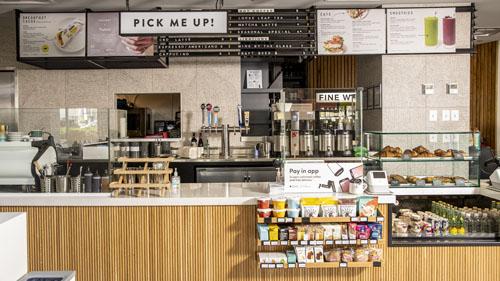 Foxtrot
Foxtrot opened its second location in Washington, D.C., in the Mount Vernon Triangle neighborhood at 650 Massachusetts Ave. NW. The store welcomed customers on March 22.
According to the retailer, Foxtrot's shelves are stocked with items by some of the region's favorite brands and artisans, including prepared meals by local chef Erik Bruner Yang and goods from brands like Gordy's Pickles, Veggie Confetti, Mason Dixie and Pineapple Collaborative. The store also features a café with beans from local roaster Vigilante Coffee, an outdoor patio, a selection of more than 200 wines.
Love's Travel Stops & Country Stores
The Oklahoma City-based company opened a new Love's Travel Stops in Bath, N.Y., on March 4.
The location measures more than 12,000 square feet, and includes 56 truck parking spaces, 85 car parking spaces, nine RV parking spaces and seven diesel bays. The travel stop also offers a Wendy's restaurant, seven showers, laundry facilities, a Love's Truck Care, and CAT scale. A dog park will open at a later date.
Also in March, the company cut the ribbon on a Love's Travel Stop in Kansas City, Mo. Measuring more than 12,000 square feet, the location includes 115 truck parking spaces, 86 car parking spaces, seven RV parking spaces, and eight diesel bays. It features a McDonald's restaurant, seven showers, laundry facilities, a Speedco, a CAT scale and a dog park.
Love's also welcomed customers at a new travel stop in Hillsboro, Tenn., on March 25. At more than 12,000 square feet, the Love's Travel Stop includes 88 truck parking spaces, 69 car parking spaces, and three RV parking spaces, and seven diesel bays. It features a Hardee's restaurant, seven showers, laundry facilities, a Love's Truck Care, a CAT scale and a dog park.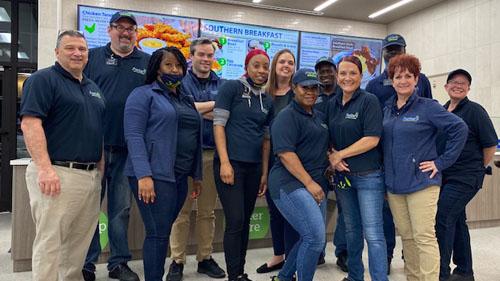 Parker's
The newest Parker's Kitchen opened in Ladson, S.C., on March 24. The store is the company's 69th Parker's retail location and the ninth Parker's Kitchen to open in the metro Charleston area.
Strategically located between North Charleston and Summerville, the new Ladson store is well-positioned to meet the needs of Berkeley, Charleston and Dorchester County residents. Minutes from Charleston Southern University and Summerville Medical Center, the recently opened Parker's Kitchen offers fresh, Southern-style food for breakfast, lunch and dinner as well as Fresh Blend Smoothies, iced coffee and indoor dining.
Additional highlights include freshly brewed sweet tea, Parker's Fancy Lemonade, bean-to-cup gourmet coffee, 28-degree beer and fountain drinks with Chewy Ice. The new Parker's Kitchen also features a range of convenience items and fuel options, including marine fuel.
Rutter's
Rutter's welcomed customers at its first new-build in 2021 on March 16. Located in Gap, Pa., the location measures more than 10,200 square feet with 14 fueling positions and five high-speed diesel fueling lanes.
Customers have a wide variety of Top Tier certified auto fueling options to choose from, including Unleaded 15 and ethanol-free gasoline, along with regular, mid-grade and premium gasoline. The store also offers auto diesel, off-road diesel and kerosene.
The new Rutter's features the retailer's well-known foodservice program, Rutter's 29-degree Beer Cave, and Spiked Slushies. In addition to its food and beverage menu, the store offers Wi-Fi, outside seating, and large restrooms.