What's In Store: Circle K, Love's & Stewart's Shops
Get great content like this right in your inbox.
Subscribe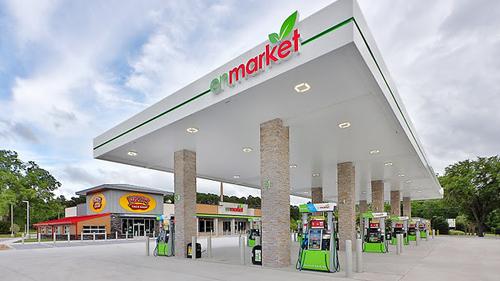 NATIONAL REPORT — The convenience store industry landscape is constantly changing as chains open and close stores each week. On a regular basis, Convenience Store News highlights these comings and goings in this special roundup.
Circle K
Alimentation Couche-Tard Inc.'s Circle K retail network closed on the purchase of property in Tiffin, Ohio, to build a full-service convenience store and gas station. The overall project is a $4.1 million investment.
"We are living in unprecedented and challenging times, and we are doing everything we can to assist our existing business community through the coronavirus. I welcome Circle K's announcement, and we wish them all the best as they continue to grow here," Tiffin Mayor Aaron Montz said in a statement.
Enmarket
Enmarket not only opened its latest store on June 8, but the Port Wentworth, Ga., c-store is also the first fueling station to bring compressed natural gas (CNG) supplied by Atlanta Gas Light to the Savannah-area public.
The 5,814-square-foot new build also features an adjoining Fuzzy's Taco. The 3,960-square-foot fast casual restaurant includes a full bar as well as outdoor seating. It is Enmarket's second Fuzzy's Taco in its portfolio.
"CNG is an increasingly important fuel, especially for heavy trucks, and we are delighted to bring the fast-fill version of it to the motoring public in Savannah," said Brett Giesick, president of Enmarket. "CNG is a clean, efficient product and making it available is in keeping with our goals to serve the public and protect the environment."
The new store supplies a wide array of fuel types, including an electric vehicle charging station, auto and truck diesel, DEF, and ethanol free blu, in addition to CNG.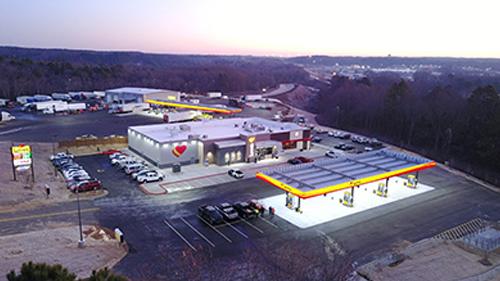 Love's Travel Stops & Country Stores
Love's Travel Stops & Country Stores added three locations to its network in late May and early June, opening the doors at new locations in Kentucky, South Carolina and Texas.
The Oak Grove, Ky., travel stop is located off Interstate 24 and includes 101 truck parking spaces, 63 car parking spaces and two RV parking spaces. At more than 14,700 square feet, it features a Hardee's, eight diesel bays, a Love's Truck Care with an on-site Speedco, laundry facilities, a Fresh Kitchen concept, a CAT scale and two dog parks.
The Summerton, S.C., travel stop is located off Interstate 95 and includes 103 truck parking spaces, 64 car parking spaces ad seven RV parking spaces. At more than 13,300 square feet, it features a McDonald's and a Subway, nine diesel bays, seven showers, laundry facilities, an on-side Speedco, a Fresh Kitchen concept, a CAT scale and a dog park.
The Laredo, Texas, travel stop is located off Highway 1472 and includes 87 truck parking spaces, 69 car parking spaces and three RV parking spaces. At more than 12,000 square feet, it features a Godfather's Pizza, a Chester's Chicken and a Subway, eight diesel bays, eight showers, laundry facilities, a Love's Truck Care, a Fresh Kitchen concept, a CAT scale and a dog park.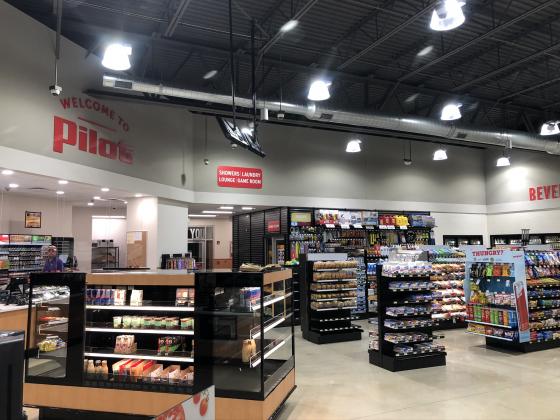 Pilot Co.
Pilot Co. held a grand opening for a new Pilot Travel Center in Rochelle, Ill., in late May.
Outside, the travel center offers 10 gasoline fueling positions and eight diesel lands with high-speed pumps. Inside, food offerings include freshly made pizza, home-style meals, hot and cold grab-and-go items prepared on-site daily, and Dunkin' Donuts self-serve offerings. It also boasts five showers, 78 truck parking spots, and public laundry and seating area.
Stewart's Shops
Stewart's Shops opened its 10th location in Orange County, N.Y., in early June. The New Windsor store offers indoor and outdoor seating, free air for tires, a beer cave, pizza, propane exchange, and gas. In addition, it features Stewart's ice cream counter.
The latest Orange County c-store came about two weeks after the retailer cut the ribbon on a new Stewart's Shop in Glen Falls, N.Y. The new store features indoor booth seating and two bathrooms with an expanded layout and additional parking and outside seating. There is a beverage bar with Pepsi products and a beer cave. 
Located across the street from a previous non-gas Stewart's Shop, the new location offers gas, including diesel and non-ethanol gas for boats and lawn mowers.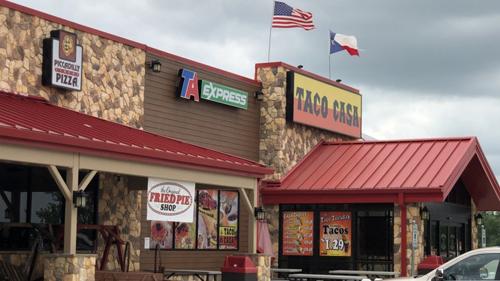 TravelCenters of America Inc.
TravelCenters of America Inc. signed a franchise agreement to open a Petro Stopping Center in Monteagle, Tenn. Operated by new franchisees Brian Graber, Tammy Graber and Rodney Kilgore, the new travel center will be located on 21 acres at Interstate 24, Exit 135 and is expected to open in the first quarter of 2021.
The opening of the Petro Monteagle will add more than 300 truck parking spaces and bring 130 new jobs to the area. Restaurants planned for the travel center include Papa John's, Bojangles' and Betty's Kitchen. Amenities will include a barber shop, fitness center, driver's lounge, laundry facilities and pet wash.
The travel center company also expanded its footprint with a new TA Express in Mt. Vernon, Texas. Formerly Duke's Travel Plaza, the newly branded TA Express is located on Interstate 30, exit 147.  Services and amenities include 53 truck parking spaces, diesel fueling with RFID and DEF at all lanes, gas fueling lanes, private showers, a laundry rooms, a driver's lounge, a dog park and a travel store.
Dining options at the new TA Express are Cotton Belt BBQ, Taco Casa, and an on-site deli with made-to-go freshly prepared items.
Wawa Inc.
Wawa Inc. rang up customers at its first convenience store in Alachua County, Fla. The Gainesville outlet opened to the public on June 17, and the retailer held a virtual grand opening for Wawa fans. According to the company, there are three other stores under construction in the county. They are expected to open by the end of year. A fifth location is now planned for the future to be located the Celebration project.