What's In Store: Crosby's, Pilot Flying J & Love's
Get great content like this right in your inbox.
Subscribe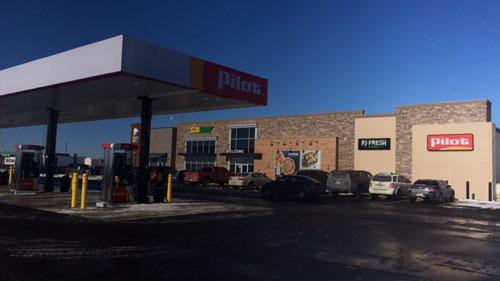 NATIONAL REPORT — The convenience store industry landscape is constantly changing as chains open and close stores each week. On a regular basis, Convenience Store News highlights these comings and goings in this special roundup.
Buc-ee's
Convenience retailer Buc-ee's is bringing its super-sized store concept to Melissa, Texas. The company broke ground on a new store off Interstate 75 in the town north of Dallas in early February. With more than 30 locations in Texas, the retailer is known for its high number of fuel pumps and its bathrooms.
Crosby's
Crosby's, a division of The Reid Group, celebrated the grand reopening of two convenience stores in Batavia and Elba, N.Y.,  in early February. The retail chain acquired both locations with existing structures in early 2017. The remodels included major cosmetic upgrades and a variety of customer-friendly amenities including fuel, a sub shop and multiple hot and cold beverage options.
"Updating these two stores allows us to better serve our customers with an expanded offering," said Doug Galli, vice president and general manager of Reid Stores. "Crosby's thrives in communities like these because we become an active participant within the community — beyond simply offering products and service."
At each location, customers can get a cup of Crosby's signature 100-percent Arabica bean premium roast coffee for 99 cents for a regular size. The Elba location features f'real milkshakes; smoothies; and Crosby's Arctic Express, which offers frozen carbonated beverages (Arctic Chill and Arctic Freeze) or frozen fountain sodas in more than 12,000 flavor combinations.
Each location also features a take-out menu that includes fresh-baked pizza, served whole or by the slice; made-to-order hot and cold subs prepared in an in-house Sub Shoppe; and fresh-baked cookies prepared on site. The Elba location has fried foods, including chicken wings, mozzarella sticks, pizza logs and more.
The Batavia location recently upgraded the fuel facility and now offers Mobil fuel. The Elba location offers Mobil gas and diesel fuel. Both locations are also on the Plenti rewards program.
Love's Travel Stops & Country Stores
Love's cut the ribbon on three locations the first week in February, welcoming customers at Love's Travel Stops sites in Mills County, Iowa, and Alma, Texas, on Feb. 1 and in Waterloo, Iowa on Feb. 8.
The Mills County travel stop, near the Glenwood exit at Interstate 29 and U.S. Highway 34, features a Subway restaurant, laundry capabilities, a game room, 60 truck parking spaces and five showers.
The Alma store offers Chester's Chicken, Godfather's Pizza and Subway restaurants, laundry capabilities, a game room, 138 truck parking spots and eight showers. Both locations are open 24 hours, seven days a week and offer driver services, including Love's Truck Tire Care.
The Waterloo travel stop features a Wendy's restaurant, laundry capabilities, a game room, 65 truck parking spaces, five showers and seven diesel fuel pumps. It also offers a Love's Truck Tire Care and other driver services. The Waterloo Love's marks the company's eighth location in Iowa and is open 24 hours, seven days a week.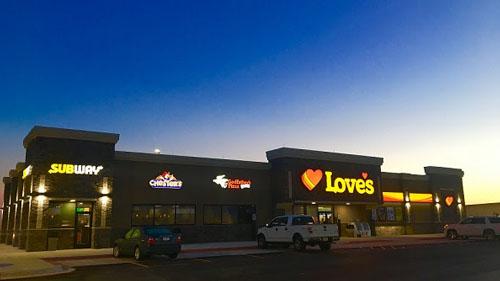 Pilot Flying J
In mid-January, Pilot Flying J opened a new Pilot Travel Center in Lamar, Colo., and re-opened its Pilot Travel Center in Remington, Ind., following the completion of a ground-up rebuild as part of the company's Facility Enhancement Project.
The travel center in Lamar is the company's fourth in Colorado. Its amenities include 10 gasoline fueling lanes and six diesel lanes with high-speed pumps, PJ Fresh fast-casual food offerings, a Dunkin' Donuts drive-thru, a Western Union and a driver's lounge.
The re-opened Pilot Travel Center in Remington had been under construction since August and now features more than 12,000 square feet of upgraded food offerings and amenities, including a Taco Bell drive-thru restaurant. It also includes an enhanced Subway restaurant, PJ Fresh fast-casual food offerings, seven showers, new restrooms, a driver's lounge and modern interior finishes and exterior lighting.
In spring 2018, Pilot Flying J plans to add a Truck Care Service Center at the Remington Pilot Travel Center.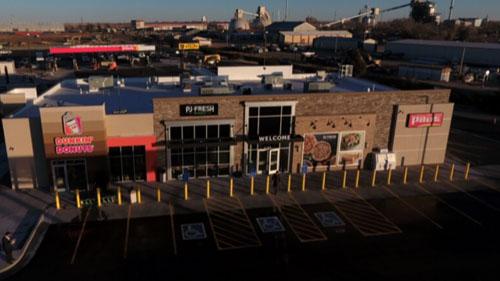 TravelCenters of America LLC
The TA Restaurant Group, a division of TravelCenters of America, started the new year with the opening of two Fazoli's restaurants. The restaurant off Interstate 10 in San Antonio features seating for 116 and is the first Fazoli's restaurant operated by the company in Texas. The Fazoli's location in Oklahoma City West off Interstate 40 features seating for 100 and is the first one operated by the company in Oklahoma.