12/21/2018
What's In Store: Enmarket, Pilot Flying J, 7-Eleven, Sheetz & Stewart's Shops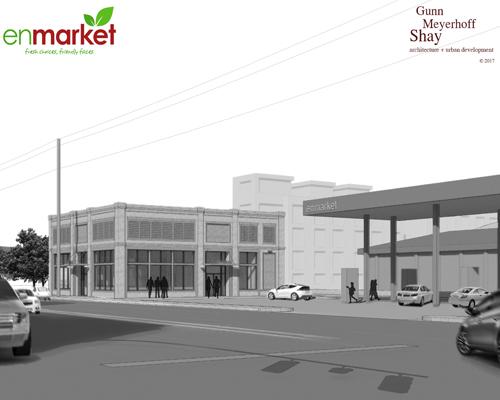 NATIONAL REPORT — The convenience store industry landscape is constantly changing as chains open and close stores each week. On a regular basis, Convenience Store News highlights these comings and goings in this special roundup.
Enmarket
Enmarket will rebuild and expand its current kiosk on Martin Luther King Jr. Boulevard near Interstate 16 in Savannah, Ga.
Plans call a 3,522-square-foot convenience store with features that will draw from the site's transportation-related history with its proximity adjacent to the Central of Georgia Railway and Georgia State Railroad Museum.
The non-traditional store will include an outdoor dining patio, a green space, and a bike service area. Enmarket will tap a local artist to design and paint a community-themed mural on one of the exterior walls.
The rebuilt outlet will be accessible to trolleys and other vehicles critical to Savannah's downtown tourism industry and will have four multi-product dispensers with gasoline and diesel offering.
The new store will also feature Enmarket products already available at other full-service stores, including fountain drinks, frozen beverages, bean-to-cup coffee, and local craft beer. The location will include Enmarket's proprietary kitchen concept, The Eatery. Fresh grab-and-go sandwiches, salads, parfaits will also be prepared on site.
The current kiosk closed in mid-December for reconstruction. The new c-store is slated to open in the spring of 2019. It will be the only convenience store to offer all of these options on the western end of downtown Savannah.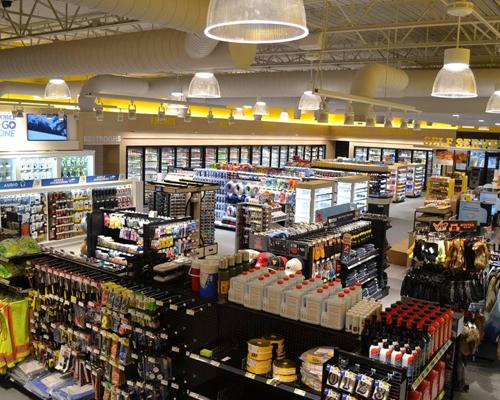 Love's Travel Stops & Country Stores
Love's added five new locations to its footprint in late November through mid-December.
On Nov. 29, the company began ringing up customers at a Love's Travel Stop in Oakwood, Ill., adding 67 truck parking spots to Interstate 74 in Vermilion County. At more than 15,000 square feet, the facility features a Speedco, Hardee's restaurant, seven diesel bays, seven showers, laundry facilities, and a CAT scale.
One week later, Love's opened new travel stops in Elkhart, Ind., and Low Moor, Va., on Dec. 6. Together, the new locations add 141 truck parking spots.
The Elkhart facility measures more than 11,000 square feet and features a Hardee's restaurant, seven diesel bays, four RV parking spaces, five showers, and a CAT scale. The Low Moor facility comes in at more than 13,000 square feet and features McDonald's and Subway restaurants, seven diesel bays, seven showers, laundry facilities, and a CAT scale.
In addition, Love's welcomed customers at a new Love's Travel Stops in Sonora, Texas, and Sidney, Ohio, on Dec. 13. Together, the new locations add 201 truck parking spaces.
At more than 16,000 square feet, the Sidney location is nearly 5,000 square feet larger than the average Love's Travel Stop and features an open floor plan, 26 cooler doors (double an average store), an integrated shopping experience that blends professional driver, auto and general merchandise as well as a fresh open-concept kitchen design.
It also boasts a Speedco location; Chester's Chicken, Godfather's Pizza and Hardee's restaurants; nine diesel bays; four RV lanes; nine showers; and a dog park.
The Sonora travel stop is more than 11,000 square feet. It includes a Speedco location; Chester's Chicken and Subway restaurants; eight diesel bays; two RV parking spaces; seven showers; and laundry facilities.
Pilot Flying J
Early December brought another location to Pilot Flying J's portfolio. The Pilot Travel Center in Brawley, Calif., features 10 gasoline fueling positions and six diesel lanes with high-speed pumps; PJ Fresh hand-stretched pizza and grab-and-go food offerings prepared on site daily; a Wendy's with a drive-thru; a Dunkin' Donuts Express; a Western Union; CAT scale; and public laundry.
The new facility is the company's 23rd location in California.
7-Eleven Inc.
7-Eleven franchisee Syed Raza cut the ribbon on a new convenience store at the historic Ironbound Plaza in Newark, N.J. The 2,500-square-foot store sits adjacent to Newark Penn Station at the corner of Market and Ferry streets.
The street-level 7-Eleven occupies the tip of the triangle-shaped building and is accessed via the original grand staircase and revolving door.
Sheetz Inc.
Sheetz welcomed customers at two new convenience stores on Dec. 20, one in Barboursville, W. Va., and a second in Greensburg, Pa. Grand opening festivities featured multiple prize giveaways, including a $1,000 Sheetz gift card.
Both locations offered free self-serve coffee and soda for a limited time, and will continue to offer the retailer's MTO menu on its touchscreen order terminals.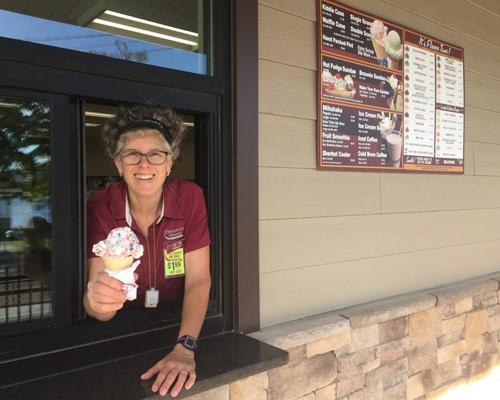 Stewart's Shops
Stewart's Shops celebrated the opening of its new Schroon Lake, N. Y., store on Dec. 7. The latest location offers pizza by the slice or pie among its hot-food selections, a beer cave with craft, domestic and imported beer, and a walk-up ice cream window with "a million-dollar view of Schroon Lake," according to the company.