What's In Store: Enmarket, Pilot Flying J, Thorntons & TA Express
Get great content like this right in your inbox.
Subscribe
NATIONAL REPORT — The convenience store industry landscape is constantly changing as chains open and close stores each week. On a regular basis, Convenience Store News highlights these comings and goings in this special roundup.
Enmarket
Enmarket acquired the former Zip-In Foods near Fort McAllister State Park in Georgia. The store is the 125th Enmarket location overall and its second in Bryan County.
The store is located at 15163 Georgia Highway 144, at the highway's intersection with Fort McAllister Road, and will serve visitors of Fort McAllister State Park and its associated boat ramp, as well as the growing residential population in and around Richmond Hill. The remodeled location will retain the popular foodservice operation that local residents have enjoyed for years, according to the company.
FriendShip Stores
FriendShip Stores cut the ribbon on a ground-up FriendShip Kitchen store in Sandusky, Ohio. The 5,000-square-foot store marks the third new-concept store the company has built in the past 18 months. The company also remodeled three existing stores during that same timeframe. The new store is one of 26 FriendShip stores the company operates along the shores of Lake Erie, from Cleveland to Toledo.
The new store features a proprietary FriendShip Kitchen restaurant and offers FriendShip Fuel. It also offers the FriendShip Rewards program.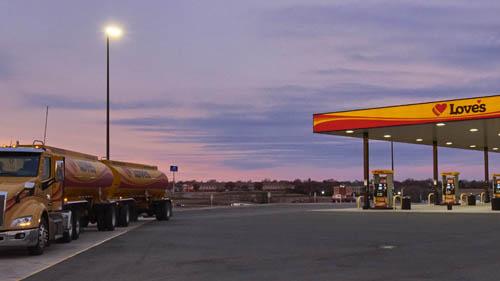 Love's Travel Stops & Country Stores
Love's Travel Stops & Country Stores is now serving customers in Willow Springs, Mo. The new Love's Travel Stop off Highway 60 adds 55 truck and 52 car parking spaces to Howell Country. It is the company's 16th location in Missouri.
The more than 7,000-square-foot location is open 24 hours, seven days a week. Its amenities include a McDonald's restaurant; three RV parking spaces; six diesel bays; two showers; laundry facilities; a CAT scale; and a dog park.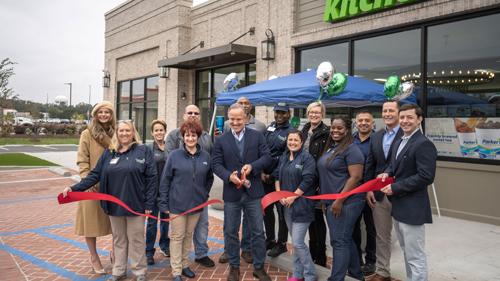 Parker's
Parker's celebrated grand openings for two Parker's Kitchen locations, one in Savannah, Ga.; and the other in Walterboro, S.C., on Nov. 14. The Savannah store is the company's 16th c-store in Chatham County, Ga.; the Walterboro store is the first Parker's Kitchen in Colleton County, S.C.
Both stores offer Southern-style food as well as gourmet coffee, freshly brewed sweet tea, lemonade, 28-degree beer, fountain drinks with Chewy Ice and a range of convenience items. They also boast indoor dining, electronic kiosks for food ordering, and self-checkout technology as well as regular, mid-grade, premium, diesel and marine fuel.  
The Georgia store features classic Savannah-style architecture, while the South Carolina store has a Charleston-inspired architectural design with Lowcountry-style brick, sloped metal roofs and a mansard-style gas canopy.
Pilot Flying J
Pilot Flying J opened a Pilot Travel Center in Andrews, Texas, in early November. The new facility at 1103 S. Main Street is Pilot Flying J's 90th location in Texas including travel centers, dealers and fueling locations.
The Pilot Travel Center offers many amenities, including 12 gasoline fueling positions and five diesel lanes with high-speed pumps; PJ Fresh pizza and home style meals for breakfast, lunch and dinner;  hot and cold grab-and-go offerings prepared on site daily; Pilot's Best Gourmet Coffees, including bean-to-cup selections and cold brew; and Dunkin Donuts self-serve.
Other amenities are five showers, 28 truck parking spots, public laundry and a public seating area.
Thorntons LLC
Thorntons LLC welcomed customers at a new travel center in Posen, Ill. It is the company's fourth store to open in Illinois over the past two months, bringing the retailer's total to 77 stores throughout the state.
The Travel Center site is a 9,200-square-foot facility set on more than 10 acres and offers a variety of amenities, including: 20 auto fueling positions; five diesel lanes; 39 free truck parking spaces as well as paid parking infrastructure to accommodate 33 trucks in a secured space; a CAT Scale; five showers; freshly made burritos and sandwiches; and a variety of features to keep guests safe while visiting the store, including a well-lit lot and blue lights in our restrooms.
TravelCenters of America Inc.
TravelCenters of America Inc. (TA) opened TA Express in Summit, S.D. Formerly the location is the third Coffee Cup to convert to a TA Express in 2019 through a franchise agreement with Heinz Inc.
Amenities at TA Express Summit include 10 diesel lanes, all including diesel exhaust fluid; six fueling positions with Cenex-branded gasoline; 80 truck parking spaces; three private showers; a CAT Scale; gaming and laundry rooms; and Transflo scanning. The TA Express also features Pizza Hut Express, Cinnabon, Caribou Coffee and Subway quick-service restaurants.
TA and Heinz Inc. signed an agreement in February to convert four Coffee Cup Fuel Stops to TA Express sites in 12 months. The first opened in April in Steele, N.D., a second opened in September in Hot Springs, S.D. The fourth is planned for early next year in Vermillion, S.D. Heinz Inc. also plans to build two new TA Express travel centers, in Rapid City and Sioux Falls, S.D., in coming years.