What's In Store: Huck's, Kum & Go, Love's Pilot Flying J & Swiss Farms
Get great content like this right in your inbox.
Subscribe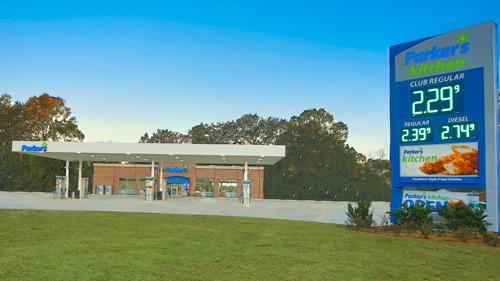 NATIONAL REPORT — The convenience store industry landscape is constantly changing as chains open and close stores each week. On a regular basis, Convenience Store News highlights these comings and goings in this special roundup.
Dash In
Dash In, a Wills Group company, cut the ribbon on its first location in Glen Burnie, Md. The 3,400-square-foot convenience store offers a Splash In Eco Car Wash, and features Dash In's new chef-driven, made-to-order Craveable menu. The kitchen also supports a new "Grab and Go" menu that includes both hot and cold food options for time-pressured customers to enjoy.
Huck's
The Kentucky Finance and Administration Cabinet has awarded a contract to Martin and Bayley Inc. to renovate the Beaver Dam rest area on the Wendell H. Ford Western Kentucky Parkway to include a Huck's convenience store.
The convenience rest area operator has a 20-year contract to renovate, fit up, reconstruct, operate and maintain general merchandise and fuel service operations. The contract, signed in October, also has two, five-year renewal options for a total up to 30 years. The center is scheduled to open Jan. 26.
The nine-plus acres, the building, and the gas center operations are all part of the contract.
"The new 4,050-square-foot operation will employ up to 20 associates," said Jim Whetstone, vice president of real estate for Martin and Bayley. "The store will have six well-lit pumps and 12 fueling stations. Inside the store, customers will find Huck's pizza, our famous fried chicken, amazing fresh bakery, and our freshly prepared 'Grillin' Zone' grill items.
These choices are coupled with our convenient drive-thru window, trademarked 'Bigg Swigg' fountain drinks, and our exceptional timer-brewed gourmet coffee program, 'Daybreak Café,'" he added.
Kum & Go LC
Kum & Go opened the doors to its newest store in Waukee, Iowa, on Nov. 9. At more than 6,000 square feet, the convenience store will focus on fresh food and features a variety of unique offerings. A key feature of the store is an expanded and open food preparation area that customers can see from the moment they enter. Other location features include:
Elevated food experience with Kum & Go's "Go Fresh Market";

Open kitchen layout, clear aisles and easy-to-navigate zones;

Expansive beer cave and growler station;

Seating inside and patio seating outside;

Custom Ampersand sculpture celebrating the sights and attractions of the Waukee community;

Complimentary Wi-Fi and charging stations for customers; and

Design using energy efficient and sustainable design practices.
Kum & Go operates four stores in Waukee. This new store replaces an older store located at 85 4th Street, which is now closed.
Love's Travel Stops & Country Stores
Love's continues to branch out from travel stops and convenience stores with hotels. Love's Hospitality and InterContinental Hotels Group (IHG) welcomed guests at the new 72-room Holiday Inn Express & Suites South Hill in South Hill, Va. The hotel features an indoor pool, a 24-hour fitness center, 24-hour guest laundry center, and an outdoor grill and pergola.
The pair also opened a 75-room Holiday Inn Express & Suites Prosser – Yakima Valley Wine hotel in Prosser, Wash. The hotel features an indoor pool, a 24-hour fitness center, 24-hour guest laundry center, and an outdoor grill and covered patio.
In Utah, Love's and IHG opened an 82-room Holiday Inn Express & Suites Brigham City – North Utah in Brigham City. The hotel features an indoor pool, a 24-hour fitness center, 24-hour guest laundry center, and an outdoor grill and covered patio with a mountain view.  
All the hotels provide a 24-hour business center with copy and fax services along with free high-speed Internet access, and a complimentary Express Start breakfast bar offers a full range of breakfast items.
The Holiday Inn Express sites are located next to Love's Travel Stops and professional drivers can enjoy a 20-percent discount by showing their commercial driving license.
In addition to making hotel news, Love's finalized its acquisition of Speedco, a national network of service locations that provides lube and inspection services to the trucking industry, from Bridgestone Americas.
With the addition of Speedco's 52 locations, the number of Love's-operated tire service and lube facilities climbs to more than 320. Speedco facilities will continue to offer their current selection of products and services, including diesel oil changes, federal inspections and battery work. In the coming months, Speedco locations will offer the same tire brands and services available at Love's Truck Tire Care Centers.
Professional truck drivers can use their My Love Rewards cards at all Speedco locations.
NOCO Express
NOCO Express acquired the former Bailly's/Sunoco located at 3821 Lockport Road in Sanborn. NOCO is renovating the 4,250 square foot store this winter to provide it with an overall update, including expanded fresh grab and go offerings from the company's signature Nickel City Foods.
Dunkin Donuts will remain within the store and undergo a minor remodel before the end of the year. The store and fuel pumps will remain open during the renovations.
"This marks our fourth store in Niagara County and we are excited to introduce the Sanborn community to the NOCO Express brand," said Jim DeFilippis, vice president and general manager, NOCO Express. "Once completed, these renovations and new offerings will provide a fresh new look and more of the products that today's on-the-go customers expect from their local convenience store."
Parker's
Parker's opened its newest retail location in Glennville, Ga. The c-store is the company's 51st store, as well as its first in Glennville and first store in Tattnall County.
The latest Parker's features a full-service Parker's Kitchen serving fresh, hormone-free and antibiotic-free Southern Fried Chicken Tenders, as well as a full breakfast bar with egg casserole, bacon, sausage, cheese grits and biscuits. Daily specials are also available.
Customers can also enjoy Bean to Cup Guaranteed Fresh Coffee and 28-degree beer.
Pilot Flying J
Pilot Flying J added two new travel centers to its footprint in November. The Knoxville, Tenn.-based company opened a Pilot Travel Center in Kansas City, Mo., early in the month. The travel center features full amenities, including 10 gasoline fueling positions and six diesel lanes with high-speed pumps; PJ Fresh fast casual food offerings, including PJ Fresh Pizza, soup, sandwiches and hot dogs; a public laundry; a Western Union; and premium coffee and cappuccino selections.
The new facility at 8801 NE Birmingham Road is Pilot Flying J's 24th location in Missouri and creates 60 jobs for area residents. It is expected to contribute $1.5 million annually in state and local tax revenues and create
The travel center operator also opened a Pilot Travel Center in Clovis, N.M., in mid-November. The location's amenities include 10 gasoline fueling positions and five diesel lanes with high-speed pumps for quicker refueling; a PJ Fresh, fast casual food offerings, including PJ Fresh Pizza, soup, sandwiches and hot dogs; and a Western Union.
The new facility is Pilot Flying J's 15th location in New Mexico, and created approximately 55 local jobs. It is expected to contribute $1.8 million annually in state and local tax revenues.
Rutter's
Rutter's added store No. 69 to its portfolio with the opening of it a new location in St. Thomas, Pa. This is the retailer's fifth location in Franklin County.
The c-store is 7,523 square feet, and has 12 auto fueling stations and three dedicated high-speed truck diesel bays. The St. Thomas Rutter's foodservice offering includes handcrafted beverages, seafood, pastrami, bacon-wrapped cheddar dogs, pizza, chicken pot pie, ultimate burgers, and the famous Route 30 Burger.
Additionally, there is a dining area with seating for 30 guests and free Wi-Fi.
Stewart's Shops
New York-based convenience retailer Stewart's Shops celebrated the grand opening of several locations this past month.
A new Stewart's Shops on State Route 149 in Queensbury, N.Y., opened on Nov. 10. The c-store features freshly made pizza by the pie and the slice, made-to-order subs, a beer cave, and a beverage bar with fountain soda, espresso drinks and iced tea decanters.
The Queensbury location also boasts seating, expanded parking and fuel service.
On Nov. 3, the retailer pulled double duty with two grand openings. The new Stewart's Shops on Broad Street in Schuylerville, N.Y., features expanded space for more foodservice options, like freshly made pizza and made-to-order subs. It also includes a beverage bar, a beer cave, and seating.
Diesel and premium non-ethanol fuel are among the forecourt options.
The same day, Stewart's Shops welcomed customers at its new Schenectady store, which rose next its existing shop on Brandywine Avenue. The old Stewart's Shops will be razed to make way for a new gas island an expanded parking.
Stewart's Shops closed out October with a new shop on Floyd Avenue in Rome, N.Y. It officially opened its doors on Oct. 24, and held grand opening festivities on Oct. 27. The location features the fresh milk, ice cream and coffee Stewart's Shops is known for, plus fresh made pizza, subs, and other food options such as pastries, sandwiches, deli dogs, and hot entrees. Groceries and gasoline are also available.
Swiss Farms
Swiss Farms welcomed customers at its newly refurbished Havertown, Pa., convenience store. The location sustained damage during a wind storm that ripped through Delaware County in July 2016. The Swiss Farms maintenance team worked with Linn Architects of Media, Pa., to rebuild the store.