03/13/2019
Yesway Finds Its Way to the Top of the C-store Industry's Growers
The Full Ranking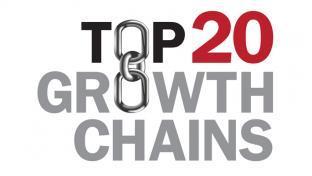 Big deals, small deals and midsize deals all combined to make for another very active year.
Yesway began modestly, acquiring the 10-site Country Stores portfolio in western Iowa in December 2015. The retailer in 2016 boosted its presence to 31 locations across the state. 
One year later, Yesway grew again through acquisitions that expanded its reach to four more states: Texas and Oklahoma through its purchase of the Wes-T-Go and Chillerz portfolios, Kansas with its pickup of the Pic Quik portfolio, and Missouri with a two-store buy. 
2018 saw Yesway make its way to South Dakota, Nebraska, Wyoming and New Mexico with the acquisitions of the Fresh Start and Chisum's portfolios.
"Along the way, we completed 18 other c-store acquisitions, bringing our total number of stores and adjacent businesses to over 150," Trkla noted.
A Unique Approach
While the big merger-and-acquisition plays in the convenience channel grab headlines for their eye-popping numbers — think Marathon Petroleum Corp. and Andeavor's $23.3-billion deal or 7-Eleven Inc.'s $3-billion payout for the majority of Sunoco LP's retail assets — Yesway has been quietly placing its banner on c-stores in small towns across the United States.
According to Trkla, Yesway's strategy specifically calls for the targeting of stores in smaller suburban or rural communities, typically populations of 5,000 to 50,000 people. 
This approach is rather unique in the industry, the chief executive acknowledged. Many potential acquirers are instead focused on large-footprint and high-volume stores, which are generally found in much more populated regions.
Yesway's acquisition criteria includes regions with positive recent and historic trends in:
Gross domestic product;

Population growth; and

Total gas consumption.
With roots now planted in nine states, Yesway intends to concentrate on further growth within its existing geographical footprint.
"Our focus for 2019 and beyond will be on increasing our presence within our current geography, rather than expanding our footprint further," Trkla explained. "We still plan to grow as quickly as possible, but our growth will likely be doubling-down in a number of our existing markets before we explore any new states."
Download our full report, "Saying Yes to Growth," by clicking below.