7-Eleven to Open Its First Store at Professional Sports Venue
Get great content like this right in your inbox.
Subscribe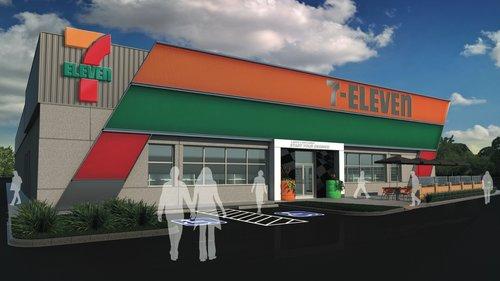 IRVING, Texas — 7-Eleven Inc. is gearing up to open a convenience store at Texas Motor Speedway.
The location — the retailer's first at a professional sports venue — will be ready for customers in time for the AAA Texas 500 NASCAR Playoff weekend running from Oct. 17 through Nov. 5.
The 7‑Eleven store will operate 24 hours a day during race weeks beginning at 8 a.m. on the Saturday before the race and ending the following Monday at 4 p.m.
According to the retail chain, the on-site store will be the centerpiece of Texas Motor Speedway in Fort Worth. 7‑Eleven will become the "Official Convenience Store of Texas Motor Speedway" and the two entities will collectively develop on-site and in-market promotions. 
"7‑Eleven customers are in a hurry and on the go. What better place to locate a store than at a major auto racetrack with fast cars and enthusiastic fans," said Charles Bantos, 7‑Eleven's director of corporate development. "Opening a new store at Texas Motor Speedway allows us to meet them where they are and offer them the convenience they know and love during race weekends."
The 5,000-square-foot store will be located on the Lone Star Circle inner ring road outside of the infield's North Tunnel exit. Tram service will be offered to and from the store and will give customers access to all other tram stops throughout the Texas Motor Speedway property.
The store will carry 7‑Eleven favorites, such as Big Gulp and Slurpee drinks, coffee, and 7-Select private brand products.
"We are proud to become the first-ever professional sports venue to have a permanent, full-service 7‑Eleven convenience store on our property that will have the ability to provide multiple benefits to our fans throughout our major race weeks," said Texas Motor Speedway President Eddie Gossage.
"The store will be an outstanding source for our thousands of race-week campers that may be in need of any items, many of which will be specifically stocked to help fit their needs," Gossage added. "It also will provide all of our fans and race teams with the opportunity to enjoy some of the iconic 7‑Eleven products, such as the Slurpee and Big Gulp, or find a variety of items in which they will never have to leave the property."
Race action begins with the Camping World Truck Series practice Thursday, Nov. 1, followed by a full schedule of events from Friday, Nov. 2, through Sunday, Nov. 4, culminating with the AAA Texas 500 Monster Energy Series NASCAR Cup Series Playoff race.
The new 7‑Eleven location will be open during the speedway's major race weeks throughout the year, including the O'Reilly Auto Parts 500 NASCAR tripleheader in March, DXC Technology 600 INDYCAR/NASCAR doubleheader in June, and the AAA Texas 500 NASCAR Playoff doubleheader and Texas Sprint Car Nationals in November 2019.
Irving-based 7-Eleven operates, franchises and/or licenses more than 67,000 stores in 17 countries, including 11,800 in North America.