7-Eleven Rolls Out AriZona's New 'Soda Shaq' in a Big Way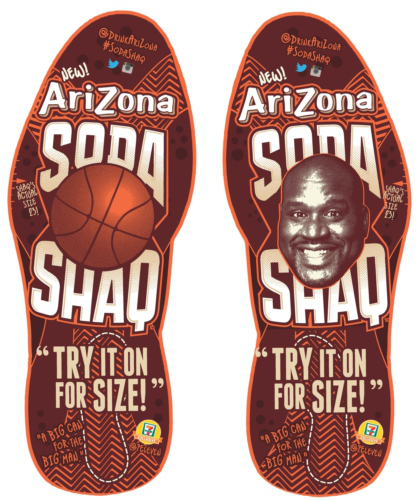 DALLAS -- 7-Eleven Inc. is bringing AriZona Beverages' new Soda Shaq Cream Soda lineup to its stores nationwide. The beverages, made in partnership with retired basketball star Shaquille O'Neal, will be available throughout the summer.
O'Neal took to Twitter last month to tease the partnership. The post made its way around the "Twitterverse" with several fans re-tweeting the news. O'Neal played in the National Basketball Association (NBA) for 19 seasons, earning the Most Valuable Player title in three consecutive NBA finals.
The Soda Shaq Cream Soda line comes in four flavors: vanilla, blueberry, strawberry and orange. Soda Shaq contains no artificial flavors, colors or preservatives. The beverages are made with real Madagascar Bourbon Vanilla extract and pure cane sugar, and contain only 90 calories per serving.
In addition to the new cream sodas, 7-Eleven and AriZona are inviting fans to be on the lookout for a decal of Shaq's giant shoes at participating 7-Eleven convenience stores across the country.
Customers are encouraged to "Try it on for Size" by placing their feet inside O'Neal's size 23 shoes, taking a photo and then uploading that photo with Shaq's decal on Twitter or Instagram using @drinkarizona and #sodashaq for a chance to win prizes. Winners will be announced weekly over a 10-week period.
"We like to do things big at 7-Eleven and you can't get any bigger than Shaq, who's not only a giant in stature, but also in personality and popularity," said Jesus Delgado-Jenkins, 7-Eleven's executive vice president for merchandising, marketing, innovation and logistics. "We've scored big as the only convenience store and one of very few retailers to introduce these new sodas. But stay tuned. We have some other big Soda Shaq-centric offers coming up later this summer."
Soda Shaq comes in a big, bold can design featuring the many moods of the 7-foot-1-inch basketball player. Each flavor comes in a vibrantly colored container, featuring one of eight O'Neal expressions ranging from professional to playful. The Soda Shaq line is available in 23.5-ounce cans at a suggested retail price of 99 cents each.
"If we're not thinking out of the box every day, someone's going to beat us," said AriZona Chairman Don Vultaggio, "which is why AriZona and 7-Eleven are inviting fans to step out of the box and into Shaq's shoes. Anyone interested in seeing if they can fill the big man's size 23 shoes should step up to the line."