7-Eleven Scares Up Halloween Treats
Get great content like this right in your inbox.
Subscribe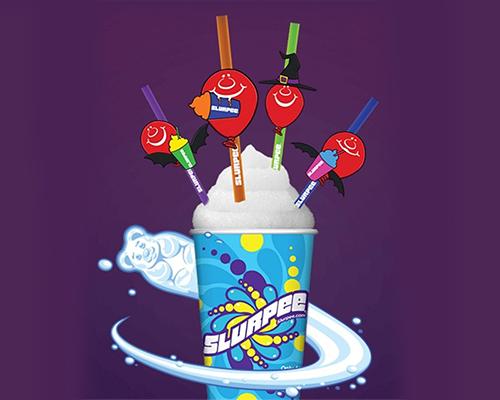 IRVING, Texas — 7-Eleven Inc. is getting into the spirit of Halloween with a variety of new beverages, treats and promotions offered ahead of the holiday.
October's featured Slurpee is the new Ghost White Gummi, which has a sweet pineapple flavor and a ghostly white color. Also available is the deep orange-colored Airheads Mango Chili Slurpee Lite flavor, which is a sugar-free drink with mango flavor and the sweet heat of chili.
Both Slurpee flavors come in an exclusive candy form: 7-Select Ghost White Gummi Bears and limited-edition Mango Chili Airheads candy.
Customers can enjoy their Halloween Slurpee with one of the special Halloween straws that feature Oscar the Airheads mascot with bat wings or vampire teeth. The suggested retail price for a straw is 99 cents.
"Halloween is a frightfully fun holiday, and 7-Eleven wants to play along with treats for kids, as well as ways to make the holiday easier for mom and dad," said Laura Gordon, 7-Eleven vice president of marketing and brand innovation. "Not surprisingly, a holiday dressing up and eating candy is especially popular with kids, teens and young adults — the ages of some of our most frequent shoppers. Ghost white Slurpee drinks, gummi bears and other Halloween treats will give them one more reason to stop by 7-Eleven."

7-Eleven also has Halloween treats that can be passed out during trick or treating or beforehand, including over-sized marshmallow lollipops featuring Frankenstein and mummy characters, as well as colorful Dia de los Muertos folk-style skulls.; jelly kabobs with bats, pumpkins and ghosts on skewers; Blue Raspberry Mummy Ooze and Cherry Vampire Blood squeeze candy; and bloodshot 7-Select Gummi Eyeballs.
Participating 7-Eleven stores have festive Halloween cookies, such as frosted sugar cookies in monster green and witches' purple with sprinkles, along with decorated pumpkin and sugar skull cookies. The chain also has pumpkin spice filled muffins, cake donuts, coffee, latte and flavored coffee creamer. Pumpkin spice 7-Select Iced Cappuccino is available for a limit time.
Halloween product selection varies at stores across the United States. Some carry costumes and accessories, while others have stocked a selection of Halloween horror movies.
October is also National Pizza Month, with Halloween being one of the top pizza-selling days of the year. 7-Eleven is offering $5 deals on whole pizzas. The oven-baked cheese, pepperoni and Extreme Meat varieties of pizza are ready in three minutes, according to the company?
7-Eleven is headquartered in Irving. It operates, franchises and/or licenses more than 60,000 stores in 17 countries, including 10,700 in North America.