7-Eleven Selling Exclusive Ben & Jerry's Flavor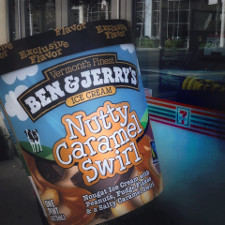 DALLAS -- When it comes to new Ben & Jerry's ice cream flavors, 7-Eleven Inc. has an exclusive scoop.
The convenience store retailer announced recently on its Facebook page that Ben and Jerry's Nutty Caramel Swirl is being sold exclusively in 7-Eleven's stores nationwide.
The flavor is billed "Nougat Ice Cream with Peanuts, Fudge Flakes and a Salty Caramel Swirl" and is reminiscent of a Snickers candy bar, according to one college student's review.
However, a blogger who runs the website OnSecondScoop.com found the price for a pint of Nutty Caramel Swirl to be too high.
"Whatever the reason, I'd easily buy this again at $3-$3.50 when the mood hit," he wrote, "but at $5.49, it's just going to be an occasional treat."
Ben & Jerry's is a division of Unilever plc. Its manufacturing company Ben & Jerry's Homemade Holdings Inc. is headquartered in Burlington, Vt., with its main factory in Waterbury, Vt.
7-Eleven Inc. currently operates, franchises and licenses more than 8,500 stores in the United States and Canada.