7-Eleven Transforms Stores Into 'Deadpool 2' Headquarters
Get great content like this right in your inbox.
Subscribe
IRVING, Texas — Marvel anti-hero Deadpool is making his mark at 7-Eleven Inc. just in time to celebrate the debut of "Deadpool 2," which hits theaters May 18.
Nationwide, the convenience store retailer has launched exclusive Deadpool-themed products, sweepstakes promotions and its first-ever augmented reality (AR) in-store experience that brings Deadpool into the store. All AR activities can be accessed through the 7-Eleven mobile app.
"We are bringing an unprecedented level of excitement to 7-Eleven this summer. Our customers love Deadpool, and our collaboration includes exclusive products and an amazing in-store augmented reality experience that is among the first of its kind at any retailer," said Sean Thompson, 7-Eleven senior vice president and chief customer officer.
"Deadpool fans can come to our stores and find fun collectibles and different augmented reality experiences unlocked each week through our app," he added. "We hope people will play along with us — virtually and in real life — and share their experiences with friends and family on social media."
Among exclusive "Deadpool 2" product mashups include: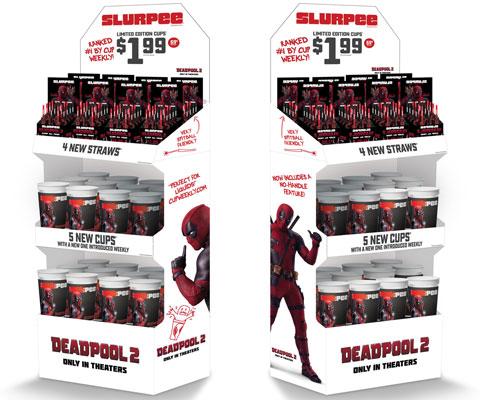 Monster Mutant Red Dawn flavor
Monster makes a comeback at the Slurpee machine with Mutant Red Dawn flavor. This is the first time in a decade that a Monster energy drink flavor will make a splash on the Slurpee machine, according to 7-Eleven.
Collectible cups
Five collectible cups each feature Deadpool striking a different pose along with a colorful comment. A different cup will be released each week and can be used for both Slurpee and Big Gulp drinks.
"Deadpool"-themed straws
Fans can slurp on their Monster Mutant Red Dawn Slurpees in a Deadpool cup using straws with tiny Deadpools climbing up the side.
Chimichangas
Deadpool is known for his love of chimichangas, so 7-Eleven will sell the item in two sizes: mini chimis in the hot foods case and larger 7-Select Chimichangas in the cold case. The latter is available in two varieties: chicken or steak and black bean. It has a special two for $2.50 limited-time offer. Regularly, one is priced at $1.99.
Limited-time packaging
Monster Mutant energy drinks and Mike's Harder Watermelon Lemonade will feature limited-time packaging that features Deadpool.
Tiny hands
Deadpool has become known for his tiny hands in the first film, becoming a gif sensation. Deadpool fans will have the chance to make their own gif using Trolli Sour Brite Tiny Hands candy, which are available exclusively at participating 7-Eleven stores for a suggested retail price of $1.99.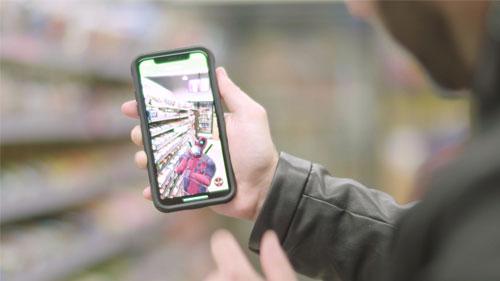 "To make this even more exciting, 7-Eleven is launching an augmented reality gaming experience, first of its kind in retail, with Deadpool. Fans can interact with Deadpool and have fun experiences in the 7-Eleven app, unlocking different experiences each week exclusively in the stores nationwide and in Canada," said Gurmeet Singh, chief digital and chief information officer. "The fans will also be able to share their interactions with Deadpool inside a 7-Eleven store with family and friends. We think Deadpool fans will love seeing him come to life in our stores," he added.
By scanning the 7-Eleven app at checkout, customers can earn 7Rewards loyalty program points and enter a contest for a chance to win prizes such as movie tickets, a trip to Las Vegas and more. The main in-store AR initiative invites "Deadpool" fans to engage in fun virtual activities to earn 7Rewards bonus points. New activities are released each week.
Here's how it works:
Tap: Tap the camera icon on the home screen of the 7-Eleven app and Deadpool appears to guide fans through the experience.
Selfie: Take a selfie and watch the mad scribbler take over with his red marker.
Seek: Scannable codes throughout the store unlock new activities and 7Rewards bonus points. Once unlocked, an experience can be accessed later, even after leaving the store.
For its marketing campaign, 7-Eleven is meeting Deadpool fans where they are — in movie theaters and online. Cinema advertising is a first for 7-Eleven, and the company will activate on movie screens in 13 markets across the U.S.
"With Deadpool, you learn to expect the unexpected," Thompson said. "7-Eleven has a few more surprises planned as well, both inside and outside the store, and when you least expect it. Stay tuned. The fun is just beginning."
7‑Eleven encourages fans to share their Deadpool experiences with photos on Twitter, Facebook and Instagram using the hashtag "#DPx7E."
Based in Irving, 7-Eleven operates, franchises and/or licenses more than 66,000 stores in 17 countries, including 11,600 in North America.