7-Eleven Turns Store Into Wheat Thins Snacking Experience
EAST HANOVER, N.J. – 7-Eleven Inc. partnered with Wheat Thins and NASCAR Sprint Cup Series driver Ryan Newman yesterday at a special event to introduce the new Wheat Thins Bold Chili Cheese Big Bag flavor and other Big Bag Bold Flavors, Zesty Salsa and Spicy Buffalo. 7-Eleven also announced its October two-for-$2 promotion on the new Wheat Thins Big Bags.
"Snacking and consuming small meals on the go have become more of the norm than the exception," said Rebecca Frechette, 7-Eleven's merchandising vice president. "Our 7-Eleven stores are known for providing a wide range of tasty snacks to guests who are looking for convenience. By working with Wheat Thins and Ryan Newman, we can call attention to this new offering in a big, bold way for a day."
Wheat Thins converted 7-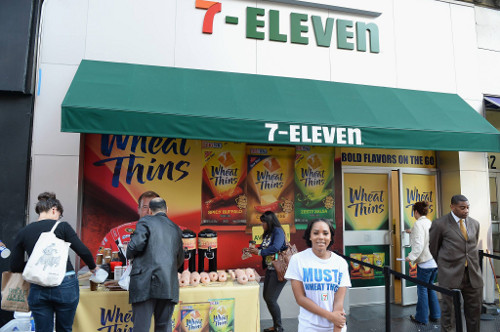 Eleven's location at 182 Fifth Ave. in New York City into a Wheat Thins bold flavors snacking experience for the one-day event. Newman, winner of the 20th annual Brickyard 400 at Indianapolis Motor Speedway, was on-site from 11:45 a.m. to 1:15 p.m. to give away Wheat Thins Big Bag samples, meet and greet with customers and speak with the news media.
"7-Eleven stores are the perfect pit stop when you are on the go," said Newman. "I'm proud to join forces with Wheat Thins to bring this fun, unique experience to New York."
Wheat Thins began promoting the launch of its newest bold flavors in January with the "Must. Have. Wheat Thins." campaign, which celebrates its most enthusiastic fans and entices others to discover that love themselves through engaging events such as the 7-Eleven takeover, according to the company.
"We know our fans are just as passionate about NASCAR as they are about their Wheat Thins," said Rachel Lawson, brand manager, U.S. biscuit at Mondelez International. "We wanted to reward our most dedicated New York fans with a special day at 7-Eleven featuring Ryan Newman."
Through the month of October, the complete Wheat Thins Big Bag Bold Flavors line (Chili Cheese, Zesty Salsa and Spicy Buffalo) will be available for just two for $2 at 7-Eleven stores. Future developments in the "Must. Have. Wheat Thins." campaign will appear on Wheat Thins' social media channels.