Back to the Future With Amoco
Get great content like this right in your inbox.
Subscribe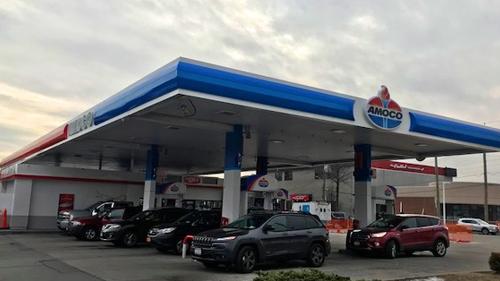 PELHAM MANOR, N.Y. — Four miles from the Bronx Zoo and just steps from the Hutchinson River Parkway in New York stands a familiar name that has been missing from the gas station landscape for some time: Amoco.
More than a decade since leaving the fuel scene, BP is reintroducing the premium brand to millions of U.S. motorists, beginning with six locations in the New York and New Jersey area. The Amoco at 4394 Boston Post Road in Pelham Manor welcomed customers in late November, just a month after BP revealed the brand was making a comeback.
According to Rick Altizer, senior vice president of sales and marketing at BP Fuels North America, the oil company transitioned the Amoco brand out of the market between 2000 and 2005. BP first acquired the brand in a $48.2-billion deal announced in 1998.
It was a gradual transition, as the company decided to consolidate under the BP banner, Altizer explained. 
Still, Amoco was never too far from the collective mind of BP. When Altizer joined the company — which has its U.S. offices in Chicago — in January 2017, he inquired about the brand and was happy to hear discussions were underway to bring Amoco back to the market.
"It's a neat opportunity for us to grow with BP. It gives our customers — marketers, jobbers, dealers —another opportunity to grow with BP," he told Convenience Store News during a tour of the Pelham Manor Amoco.
At the time of the merger with BP, there were more than 9,000 Amoco locations. It was strong in the Midwest, along the East Coast and down into the Southeast — with a notable presence in the Carolinas and Florida.
So, why start its comeback in the metropolitan area?
The right opportunity at the right time, according to Altizer.
"We had an opportunity here and the timing worked out. We are very strong in New York and New Jersey. We added over 100 [BP] sites in the last two years. As we were adding sites, there were competitive conflicts where this made sense," he said.
Amoco's return is now a way for BP to grow in densely competitive markets.
"We wanted to rebrand this [Pelham Manor] site from a competitor over to a BP. But there are several BPs in the area so, from a customer perspective, it doesn't make sense to open more BPs," the executive pointed out.
Moving forward, BP has approved additional sites for the Amoco brand in Chicago and the Carolinas. It's also approved at least one new-to-industry Amoco.
"We are really prototyping in those three markets, doing consumer research on the branding and the messaging at the sites, and tweaking some of the branding elements based on what we are finding," Altizer said. "Then, we will be expanding it to a nationwide availability."
BP conducted consumer research and despite the years that have gone by, Amoco still has very high recall and a premium perception. Noting that it is still well thought of among consumers, he added that the brand has been refreshed for today's consumers.
"It starts with a refreshed image. We took the iconic Amoco logo and we updated it for a fresh, contemporary expression of a very old brand," he said. "We are very pleased with the way the branding and images turned out."
Refreshed image aside, the reintroduction of Amoco for motorists and BP marketers, dealers and jobbers is designed to be seamless.
"Amoco is the same great fuel, the same credit offer, same loyalty, same Driver Rewards. It is a quality sister brand of BP," Altizer explained.
Speaking about the Pelham Manor site, he said, "We provided the new commercial trade dress, the canopy has been reimaged, the pumps have been reimaged, the c-store has been reimaged. It created a nice, bright, new reimage opportunity for this dealer."
The response from BP customers has also been positive thus far, he reported.
Other Avenues for Growth
The reintroduction of the Amoco brand is just one avenue of growth for BP,  according to Altizer, who dubbed it an exciting time for the company.
Since the middle of 2017, BP has opened more than 100 new retail sites in Mexico — becoming the first branded international oil company to go into that country post-deregulation. The locations are mostly dealer sites, with some company-owned sites. All are branded BP.
"I think of it as a brand portfolio. In Mexico, it makes sense. We have a strong presence down there. Our goal is to have 1,500 sites in Mexico in five years," Altizer said. "It's a huge growth opportunity for us and we have been supporting it from our Fuels North America [division] and our team in London."
Back in the United States, BP's ampm division on the West Coast ranks among the top 10 convenience store brands in the nation. In mid-January, ampm opened its first new-to-industry build in Rancho Cordova, Calif. — marking the first BP-owned new build in over a decade.
At 3,100 square feet, the Rancho Cordova location is also store No. 1,000 for ampm.
And that is just the beginning. Altizer shared with CSNews that the company has acquired more than 30 sites that are in the pipeline for new builds. These are slated to come online between this year and next.
"We have a lot of activity in New York and New Jersey, and we will be taking Amoco to Chicago and the Southeast. We have ambitious growth targets and plans for Mexico; and Donna [Sanker, chief operating officer] and the team out west are actively growing ampm," Altizer said.