Bart Simpson and Butterfinger Reunited in New Campaign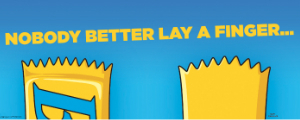 GLENDALE, Calif. – Nestlé and Twentieth Century Fox are teaming up to officially reunite Bart Simpson with Butterfinger candy bars in a new marketing campaign that includes digital and social media outlets. The character first appeared in Butterfinger commercials in 1998 and continued to demand that "nobody lay a finger" on his Butterfinger through 2001.
"We are excited to celebrate the reunion of Bart Simpson and Butterfinger," said Tricia Bowles, spokesperson, Nestlé USA Confections & Snacks. "The original Butterfinger-'The Simpsons' campaign last appeared 12 years ago and represents an iconic and beloved partnership for fans of both brands. Today's announcement is just the beginning of more exciting news and surprises from Bart Simpson and Butterfinger."
Out-of-home advertisements for the new Butterfinger "Nobody Better Lay A Finger" nationwide campaign will appear in New York, Los Angeles and Chicago this summer, with the initial campaign artwork highlighting the top of Bart's iconic head juxtaposed to the edge of the similarly shaped Butterfinger wrapper, according to the announcement. The campaign will also engage consumers in select retail outlets across the United States, and fans will be able to participate in an upcoming online instant win and sweepstakes game.
"We are thrilled to partner with Nestle Butterfinger and 'The Simpsons' on a program that is both iconic and nostalgic," said Jeffrey Godsick, President of Fox Consumer Products. "The connection between Bart Simpson and Butterfinger has endured over the years, and we are delighted to unveil a fresh campaign that will excite fans."