Beer Brands Ramp Up Promos Around Summer and Sports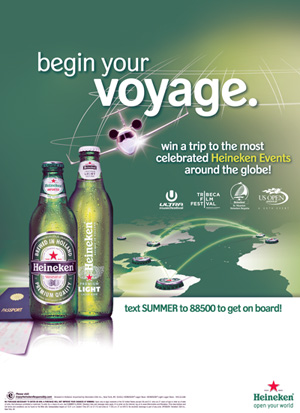 JERSEY CITY, N.J. -- Spring is in the air, summer is right around the corner and beer companies are stepping up their promotions, with Heineken, Tecate Light, Samuel Adams and Busch Beer all getting ready to celebrate.
Last week, Heineken revealed plans for its new "Begin Your Voyage" retail and on-premise campaign. The program, which will run from May through September, incorporates television ads that reveal how consumers can participate in the program, while encouraging them to choose Heineken and Heineken Light as their summer beer of choice.
Custom-designed displays, engaging point-of-sale and sampling events (where legal) will be available to help drive awareness and engage consumers across all channels, while providing details on how to text in for the chance to win exclusive experiences such as the Ultra Music Festival, Outside Lands, TriBeCa Film Festival and the US Open.
At convenience stores and in the grocery channel, cross-merchandising offers will provide consumers with savings throughout the store and the chance to win "Summer Voyage" prizes throughout the program period. Program materials also will be available in Spanish to engage Heineken's multicultural consumers throughout the summer.
"Summer is the No. 1 beer selling season, and Heineken is invested in a number of entertaining, one-of-a-kind experiences, including music festivals, film screenings and sporting events," said Andrew Freeman, trade marketing manager, Heineken USA. "We understand our consumer's passion to learn about foreign cultures, navigate the world and share in global experiences, and Heineken's 'Summer Voyage' program provides an extraordinary opportunity to attend some of the most-celebrated events on the planet."
The change of seasons also brings with it special events like the Boston Marathon.
Samuel Adams is the official beer sponsor of the 2012 marathon. To celebrate, the brewer has developed Samuel Adams Boston 26.2 Brew to mark the storied event. This is the first time Samuel Adams has partnered with the Boston Athletic Association for the race.
"Our partnership is a perfect fit because of our shared history -- a Boston-born brewery joining the biggest of Boston traditions," said Jim Koch, founder and brewer of Samuel Adams. "I released my first batch of Samuel Adams Boston Lager to the public on Patriots' Day in 1985, the day of the Marathon right here in Boston. I faced a lot of challenges getting that first brew packaged and distributed in time, but I had set Patriots' Day as my deadline. About half of our first 25 accounts were within three blocks of the finish line. So, the Marathon's finish line was my starting line."
In addition to beer's correlation with nice weather and special events, beer companies are also known for their sporting affiliations -- and this year is proving to be no different.
Budweiser and the U.S. Olympic Committee (USOC) have cemented their partnership for another four years, with Budweiser extending its exclusive malt beverage sponsorship and renewing its commitment to the USOC and Team USA through 2016.
In line with previous commitments, Budweiser will continue to support its USOC sponsorship with significant media buys on NBC and affiliated networks during the Olympic Games. Additionally, Budweiser will receive entitlement of the Bud Deck at the London USA House, a private facility that hosts members of the USOC, the U.S. Olympic Team, corporate partners, sponsors, suppliers and licensees.
Budweiser will also be featuring five U.S. Olympic hopefuls -- Tony Azevedo, water polo; Jordan Burroughs, wrestling; Hyleas Fountain and Leo Manzano, track and field; and Sarah Groff, triathlon -- on point-of-sale retail materials and will introduce a limited-edition, Olympic-themed 16-ounce aluminum bottle in June.
"Team USA athletes define commitment to excellence and we are proud to show our support for them as they represent the United States in competition." said Rob McCarthy, vice president, Budweiser. "With the London 2012 Games only months away, Budweiser will join all Americans in celebrating the success of Team USA."
At the same time, Budweiser is ratcheting up its role at the Daytona International Speedway (DIS). Beginning with the 2013 season, Budweiser will become the official title sponsor of Speedweeks -- the 10-day stretch of stock-car races from the Shootout to the Daytona 500. Budweiser also will secure entitlement of the Budweiser Duel at Daytona, two 150-mile qualifying races that determine the starting lineup for the Daytona 500. These enhancements to Budweiser's partnership with DIS will replace the brand's existing entitlement of the season. As part of the new sponsorship arrangement, Budweiser will receive the presenting sponsorship of the Daytona 500 pre-race broadcast show, too. In addition, the brand will receive increased access for consumer hospitality events, including naming rights to the 5th Turn hospitality area throughout Speedweeks.
Tecate Light is also feeling the need for speed. The import brand is sponsoring performances by Mexican band Belanova and legendary rock visionaries Joan Jett and the Blackhearts during the Toyota Grand Prix of Long Beach on April 13-15. It is also hosting the Miss Tecate Light Toyota Grand Prix of Long Beach competition on April 12.
As the official beer sponsor of the Toyota Grand Prix of Long Beach, Tecate Light will continue to make the racing event -- including the concerts -- accessible to fans 21 and older by offering mail-in-rebates worth $100 off a three-day reserved seating ticket, or $10 off a single day reserved seating admission, with the purchase of a 12-pack or larger of Tecate Light or Tecate at select retail locations throughout southern California.
Moving off dry land to water, another Anheuser-Busch brand, Busch Beer, will serve as a primary sponsor of Major League Fishing, a partnership involving 24 of the world's best anglers and Outdoor Channel, America's Leader in Outdoor TV.
Busch Beer sponsors two individual anglers, Kevin VanDam and Denny Brauer, who compete in the league.