BP's ampm Offers 'Good Stuff'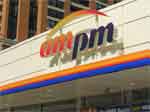 CHICAGO -- BP's ampm convenience store brand has long used the tagline "Too Much Good Stuff" in its advertising. Now the chain is driving the point home with the debut of its new in-store brand, Good Stuff by ampm. Two new competitively priced product categories,bottled water and candy, are the first to sport the Good Stuff by ampm private label.

The chain is putting its name on products that offer quality similar to national brands, but sell for less, according to Bill Fry, president of BP's ampm franchise. "The ampm stores are known for providing great value to consumers and we are always looking for different ways to meet the customer's snacking needs. So we decided to introduce our new 'Good Stuff by ampm' brand by giving customers the best of both worlds."

Good Stuff by ampm water, which comes in a 24-pack, carries a suggested retail price of $3.99. The case includes more bottles than most national brands. Bottles use 50-percent less plastic than some other 500-milliliter bottles, the retailer said in a statement.

BP's ampm convenience store chain is offering nine new varieties of candy under the Good Stuff by ampm name, including gummi bears, gummi worms, sour neon worms, peach rings, apple rings, orange slices, blue sharks, candy corn and jelly beans.

"In these times, when customers are shopping for the best deal, ampm is offering them even more products that provide great value," Fry added.

The ampm brand was founded in 1978 in Southern California by ARCO. The brand became part of BP when BP acquired ARCO in 2000. ARCO-branded ampm stores are found in California, Nevada, Oregon, Washington and Arizona. BP-branded ampm stores are located in Chicago, Indianapolis, Pittsburgh, Orlando, Columbus, Cleveland, Cincinnati and Atlanta. There are also more than 1,800 ampm stores in Brazil and Japan.