Buc-ee's Car Wash Earns Guinness World Record
Get great content like this right in your inbox.
Subscribe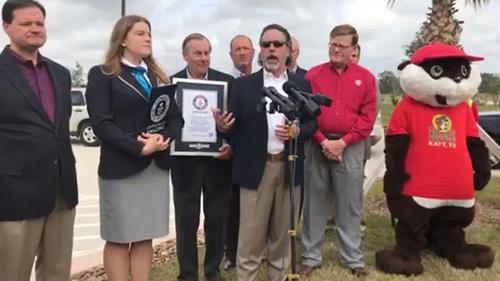 KATY, Texas — It's official: Buc-ee's has the longest car wash at its location in Katy.
Representatives from the Guinness World Records recognized the 255-foot-long car wash on Nov. 16. Buc-ee's celebrated the occasion with free car washes at the Katy location until 8 p.m. on Thursday.
However, with a reported hour-long wait, drivers who could not wait received a voucher good through Nov. 26, according to Click2Houston.com.
"Actually, it didn't occur to us when we were designing this car wash that this day might happen," said Arch "Beaver" Aplin, co-founder of the retail chain. "We just set out to design and build the best car wash in the world."
The mega-wash boasts 25 foam brushes, 17 blowers and takes about five minutes to get through from beginning to end, the news outlet added.
The longest car wash fits with the Buc-ee's Katy location, which features a roughly 56,000-square-foot building, 120 fuel dispensers and outdoor merchandise sales, as CSNews Online previously reported. It welcomed customers in early September.
Lake Jackson-based Buc-ee's operates 33 locations in Texas and is expected to open its first location outside its home state in Daytona Beach, Fla.