08/22/2010
Burger King to Offer $12.99 Pizza Burger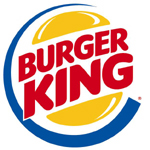 NEW YORK -- Burger King plans to introduce a giant hamburger shaped and flavored like a pizza to its new Whopper Bar in New York City, adding to the growing list of extreme sandwiches at restaurant chains, Nation's Restaurant News reported.

The NY Pizza Burger is made with four quarter-pound Whopper patties, mozzarella cheese, marinara sauce and a pesto-flavored, nut-free "Tuscan Herb Mayo." The ingredients are placed on a 9.5-inch bun, which is sliced into six wedges and offered for $12.99.

Officials from Miami-based Burger King said the pizza burger, which is intended to be shared, would likely be introduced next week, with an official rollout the following week. Each wedge is about 400 calories, according to the fast-feeder. The NY Pizza Burger is currently planned just for the New York City Whopper Bar location, which opened July 31, near Times Square.

The pizza burger will join the $6.99 Meat Beast Whopper, which is also exclusive to the New York City Whopper Bar. The Meat Beast is a Whopper topped with pepperoni and bacon. Other burgers on the Whopper Bar menu include the Bourbon Whopper, with cheddar, bacon, onion rings and Bourbon-flavored sauce; and the California Whopper, with guacamole, bacon and Swiss cheese. Both are priced at $6.99 each. All of the burgers are customizable, with 18 different toppings, some for free, some for a 50-cent surcharge, the report stated.

The California Whopper is the best-selling specialty Whopper at the New York location, said John Schaufelberger, Burger King's vice president of global product marketing and innovation.

Burger King debuted its Whopper Bar concept in Orlando, Fla., in March 2009, and has since opened locations in Miami and Memphis, Tenn., as well as Singapore, Venezuela and Spain. The company is considering Whopper Bar locations in Philadelphia and Las Vegas, Schaufelberger said.