11/25/2020
C-store Retailers Start to Show Off Their Holiday Spirit
NATIONAL REPORT — Convenience store retailers are celebrating the holiday season with a number of deals, giveaways and other offerings to give their customers some extra festivity.
CASEY'S GENERAL STORE
Although holiday plans this year will look different, Casey's is giving customers a reason to celebrate with the "24 Days of Casey's" giveaway. From Dec. 1 to Dec. 24, Casey's will reveal one surprise offer a day for its Casey's Rewards members via the Casey's app, including free drinks and snacks, buy-one-get-one deals, bonus points and other special items.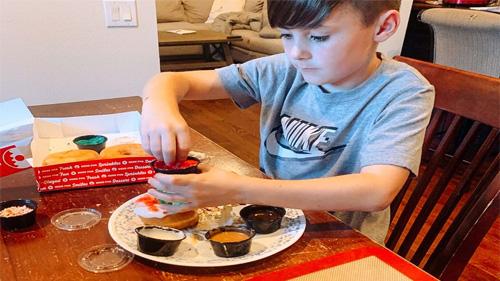 All guests who participate in the 24 Days of Casey's program will be entered to win a $500 cash prize to help them celebrate the holidays their way. No purchase is necessary. Each day one winner will be selected at random from all eligible entries.
"This year especially, we want to help bring joy this holiday season," said Megan Elfers, Casey's vice president of marketing and advertising. "We hope our guests will enjoy unwrapping these special offers with Casey's Rewards, as well as the chance to win some holiday spending cash."
In addition to the 24 Days of Casey's, guests can:
Sip on a seasonal coffee with flavors including Peppermint Cocoa, Gingerbread Mocha Cappuccino and Gingerbread Coffee;

Pick up a holiday DIY Donut kit for a fun family activity or as a gift; and

Enjoy deals on Casey's pizza with made-from-scratch dough to fuel everything from holiday gatherings to late-night gift-wrapping sessions, including two large single topping pizzas for $8.99 each the entire month of December. Curbside pickup and in-app ordering are available.
Casey's is also giving back with its "Slice of Joy" initiative. Now through Dec. 31, the Ankeny, Iowa-based retailer will donate pizza to many local organizations across its 16-state footprint. These pizzas will be given to those experiencing a challenging holiday season, such as community shelters, post offices and assisted living facilities, due to COVID-19.
CUMBERLAND FARMS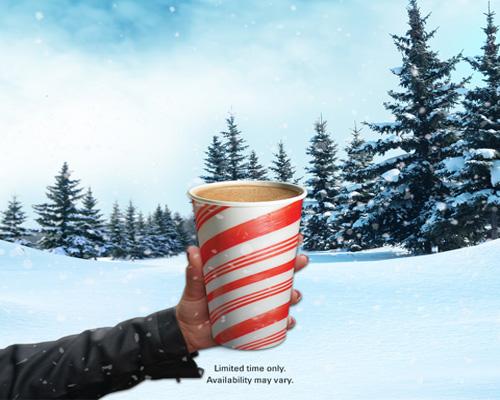 With every new season comes new seasonal beverages, and Cumberland Farms is bringing back its festive and ever-popular Peppermint Hot Chocolate. The rich, chocolaty peppermint drink is a classic, creamy taste of chocolate combined with a cool minty flavor.
Peppermint Hot Chocolate is available in any size for 99 cents at any of Cumberland Farms' nearly 600 retail locations across the Northeast and Florida for a limited time.
Kwik Trip Inc.
La Crosse, Wis.-based Kwik Trip debuted holiday stock stuffers for the most dedicated fans. The convenience retailer released Kwik Trip-themed men's and women's underwear featuring the brand's logo and c-store fare, including slices of pizza, glazers doughnuts, coffee, soda and gas pumps.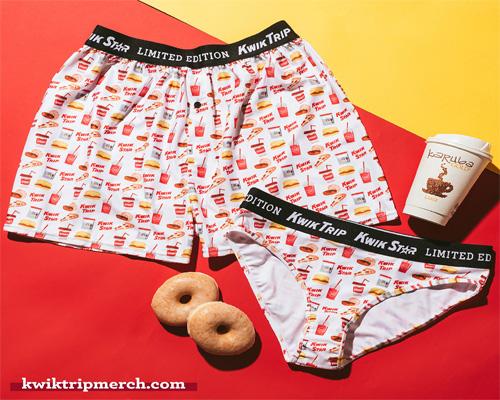 Available on kwiktripmerch.com, a two-pack that includes a set of men's boxers and women's underwear sells for $35, or singlely sell for $20.
"Nobooty was prepared for this. Order your midwest stocking stuffer at kwiktripmerch.com," the retailer said on its social media channels.
LOVE'S TRAVEL STOPS
Oklahoma City-based Love's is celebrating professional truck drivers and the holiday season with its first-ever "12 Days of Christmas" giveaway. Starting Nov. 27 (Black Friday) through Dec. 8, customers can enter to win prizes daily on Love's Facebook page.
"We've partnered with vendors to give away some best-selling name-brand and Love's-branded items," said Mark Romig, director of merchandising for Love's. "We want to say thank you to professional drivers as they continue their essential work into the holiday season. This has been a year when they've gone above and beyond, and we wanted to do something special to end the year."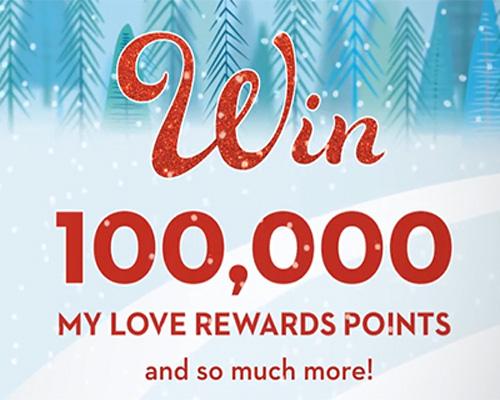 Customers have a chance to win items like Bluetooth headsets, phone chargers, GPS navigators and Star Wars helmets. On Dec. 8, the grand prize of 100,000 My Love Rewards points (equivalent to $1,000) will be given away to one driver.
Although prizes are geared toward professional drivers, anyone is eligible to win the items, except the grand prize of 100,000 My Love Rewards points, Love's noted.
MAPCO
MAPCO, operator of 340 locations across Tennessee, Alabama, Georgia, Arkansas, Virginia, Kentucky and Mississippi, is giving MY Reward$ members an extra boost of fuel to power through Black Friday and Cyber Monday shopping.
On Black Friday (Nov. 27), rewards members can enjoy one free 16-ounce cup of MAPCO Feel Good coffee. Then, on Cyber Monday (Nov. 30), they can redeem 30 free MAPCO coffees for just 3,000 points. The offer expires 60 days after it is loaded.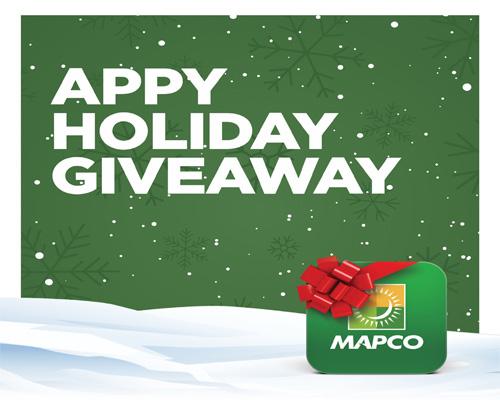 Additionally, MAPCO launched its "Appy Holidays Giveaway." Here's how it works:
MAPCO app users who use Mobile Pay will earn an entry for every gallon of gasoline pumped and every dollar spent in store.

Every Monday the retailer will select 111 winners: one guest will win a tier one prize; 10 guests will win a tier two prize; and 100 guests will win 1,000 points.
Tier one prizes include an Apple iPad, Britax Boulevard Car Seat, Cuisinart Coffee Center and more. Tier two prizes include Apple Airpods Pro, Fitbit Versa 3, Nest Hello Video Doorbell and more.
Click here for official rules.
Pilot Co.
Pilot Flying J is kicking off its annual "Hauliday Giveaway" for professional drivers.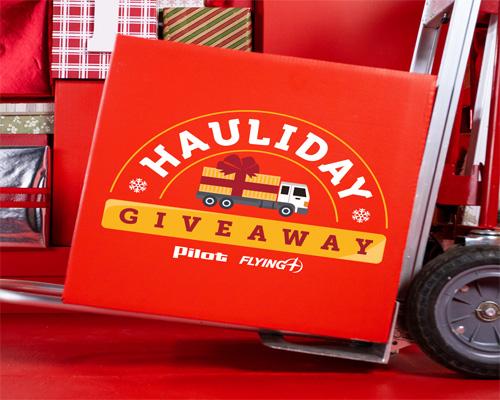 Each day, the travel center operator will pose a question via Facebook. Professional drivers can enter the giveaway by posting an answer in the comments section of the post within 24 hours for a chance to win that day's prize.
Prizes include inverters, radios, GPS units and Pilot Flying J gift cards.
The contest begins Tuesday, Dec. 1 and runs through Saturday, Dec. 12.
Sheetz Inc.
Sheetz is showcasing its holiday spirit with "Project Happy Hole-idayz," its first-ever beer brewed in partnership with Wicked Weed Brewing Co.
Available at 432 Sheetz stores across Pennsylvania, North Carolina and Virginia, Project Happy Hole-idayz is a limited-edition craft beer brewed with 1 pound per barrel of the retailer's Shweetz Glazed Vanilla Donut holes, giving the golden pale ale notes of fresh baked doughnuts, vanilla frosting, graham crackers, honey and malted barley.
"We are thrilled to partner with the Wicked Weed Brewing Co., a popular brewery and destination in the heart of North Carolina, to create this festive and delicious holiday beer for our customers," said Ryan Sheetz, vice president of marketing and brand at Sheetz. "This year has been a tough one for us all and we're hopeful this beer can lift the spirits of our customers as we embark on the holiday season and look toward next year."
Sixteen-ounce four-packs of Project Happy Hole-idayz retail for $7.99 and will be available while supplies last. For a full list of participating locations, click here.
WAWA INC.
Wawa's Free Coffee Tuesday got merrier with the return of Holiday Blend Coffee, a seasonal favorite coffee with flavors of molasses, ginger, cinnamon and clove. The java is complemented by a new line of four holiday cups with snowflakes, string lights and festive prints.
"Our associates relish in the opportunity to brighten customers' days and Free Coffee Tuesday has provided a rewarding platform to do just that," said Mike Sherlock, chief product marketing officer for Wawa. "We're excited to bring Holiday Blend back and know it will be a huge crowd pleaser, especially on Tuesdays!"
The Pennsylvania-based retailer and 2SP Brewing Co. is also continuing its holiday tradition of brewing collaborative limited-time beers. New to this year is Holiday Reserve Coffee Stout, a creamy coffee oatmeal stout spiced for the holidays with cinnamon, nutmeg, clove and balanced with Wawa's Winter Reserve Coffee blend.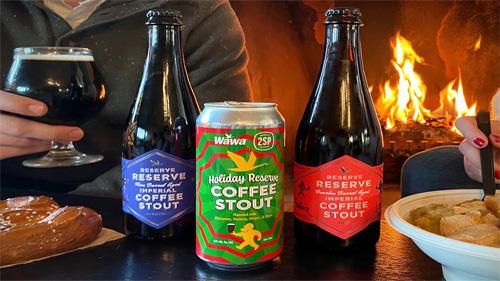 Back by popular demand is Reserve Bourbon Barrel Aged Imperial Coffee Stout, a bold imperial coffee stout made with Wawa's coveted Winter Reserve Coffee blend and carefully aged for seven months in bourbon barrels. Additionally, available for the first time and in highly limited quantities, Reserve Rum Barrel Aged Imperial Coffee Stout, is aged for seven months in Jamaican Rum barrels.
Customers will see the specialty holiday brews hit shelves for release on Nov. 20 at select Wawa stores at 721 Naaman Creek Road, Chadds Ford, Pa., and 1073 Baltimore Pike, Middletown Township, Pa.; 2SP Brewing Co. at 120 Concord Road, units 101-103, in Aston, Pa., on Nov. 21; and at select distributors and better beer retailers in Southeastern Pennsylvania, New Jersey, Delaware and Eastern Shore Maryland on Nov. 23.
The brews will sell as follows:
Holiday Reserve Stout: Established in 2018 and known for its easy drinking and creamy bodied oatmeal stout, the classic beer has been enhanced with hints of holiday blend flavors of cinnamon, nutmeg, cloves and ginger. A four-pack of 16-ounce cans is available for $12.99.
Bourbon Barrel Aged Imperial Stout: The English Style Imperial Oatmeal Stout is aged in Woodford Reserve barrels for seven months. With the addition of Wawa's Winter Reserve Coffee this beer is silky smooth with a lot of nuance from the bourbon barrels, including notes of vanilla & chocolate. The sweetness upfront is balanced by the coffee on the back end. A 500-mililiter bottle is available for $10.99 each.
Rum Barrel Aged Imperial Stout: An English Style Imperial Oatmeal Stout aged in Jamaican Rum barrels for seven months, picking up flavors of sweet vanilla, plum and cane sugar. The addition of Wawa's Winter Reserve Coffee balances out the sweetness from the rum flavors. Exclusively available at Wawa Stores and 2SP Brewing Co., 500-mililiter bottles are available for $10.99 each.
"It's our third year partnering with our friends and neighbors at 2SP Brewing Co. and we couldn't be more excited to provide our hometown with these seasonally-inspired beers," said Sherlock. "Although we can't celebrate in person, we hope these beers bring our community together and provide enjoyment over the holiday season."
Pennsylvania-based Wawa operates 800-plus locations across Pennsylvania, New Jersey, Delaware, Maryland, Virginia, Florida and Washington, D.C.
WESCO Inc.
Muskegon, Mich.-based Wesco teamed up with Pigeon Hill Brewing Co. to create Donut Stop Believing, a chocolate covered, vanilla cream-filled Long John-inspired beer. Available in stores for a limited time starting Nov. 17, a six-pack retails for $10.29 and will be available in the retailer's 24 c-stores.