C-store Suppliers Enter Starting Gate for Best New Product Awards Derby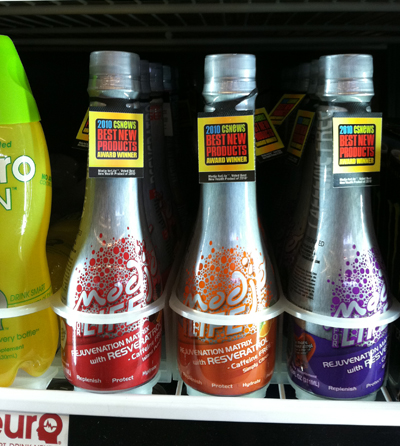 JERSEY CITY, N.J. -- Entries are now being accepted for the 2011 Convenience Store News Best New Products Awards contest. The Best New Products Awards recognize the best products introduced into the convenience store industry over the past 12 months.
After last year's record-setting number of entries, the competition is expected to be fierce this year for the coveted awards, which are presented in 24 product categories. Past winners have trumpeted their achievements in many innovative ways, from placing the Best New Product logo on their trade ads to printing the logo on the business cards of all their company sales managers.
In one of the more public displays of pride, one of last year's winners, Cellutions LLC, a maker of new-age dietary supplements, placed product hangers featuring the Best New Products award logo on the necks of its Modjo for LIFE anti-aging and rejuvenation beverage (see photo of Modjo for LIFE on shelf of a 7-Eleven store).
To enter this year's contest, go to our new products contest Web page.
Entries should include supporting information such as press releases and hi-res images, product/service history, c-store sales data since introduction, explanation of why this product is deserving of the award, why the product is important to the c-store channel, and what niche it fills.
All consumer packaged goods suppliers are eligible, with products introduced from April 1, 2010 through March 31, 2011 being eligible. Also required are three samples of the product entered. All samples must be received by July 27, 2011. Products will be judged by a consumer panel managed by an outside consulting firm and rated on the following criteria:
• Taste: The most important attribute of any food. Nonfood items will be based on utility/efficiency. (30 points)
• Value: Is it worth it? (20 points)
• Convenience: Is size/packaging appropriate for a convenience store or to be consumed by shoppers on-the-go? (15 points)
• Health: Based off the nutritional information, is it nutritionally balanced? (10 points)
• Ingredients: What's in it, how natural is it, does it meet current consumer trends? (10 points)
• Preparation*: When applicable, how accurate or good are the directions, or how easy is it to prepare (microwavable in the store)? (5 points) (Products that do not have any preparation will have the full value of points included in their total score)
• Appearance: Is it appetizing and does it resemble its photo or description? (5 points)
• Packaging: Is it appropriate for the product and does it have any benefits such as resealability, added freshness, better storage, etc.? (5 points) A separate entry is required for each product being entered.
Each entry requires a fee of $ 125 to cover costs for postage, handling and the consumer panel.