At Casey's, Foodservice Isn't Bringing Quite the Expected Heat
Get great content like this right in your inbox.
Subscribe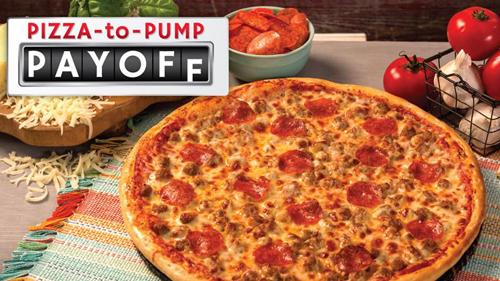 ANKENY, Iowa — Casey's General Stores Inc. wrapped up the third quarter of its 2018 fiscal year with mixed results.
The convenience store retailer experienced strong fuel gallon increases during the quarter, which ended Jan. 31, but "unfortunately, this was offset by softer-than-expected results in prepared foods," Casey's President and CEO Terry Handley reported during an earnings call March 7.
While total sales in the prepared food and fountain category were up 5.4 percent, to $240.6 million, for the quarter, same-store sales were only up 1.7 percent, which fell below Casey's annual guidance. Q3 prepared food and fountain gross profit dollars rose 3.4 percent to $145.6 million.
Year to date, prepared food and fountain same-store sales were up 2.6 percent, with an average margin of 61.5 percent.
"Over the course of the quarter, we experienced an increasingly competitive environment, both in pricing and promotions, in our market area at a time when we had reductions in advertising spend," Handley explained. "With this in mind, we have made — and will continue to make — adjustments to our promotional and pricing strategies, which are focused on increased value opportunities for our customers who continue to be impacted by a challenging economic backdrop."
Pizza-to-Pump Promotion
In December, Casey's kicked off a limited-run "Pizza-to-Pump Payoff" promotion that allows customers to earn 10 cents off per gallon of gas with every purchase of a large pizza. The discount increases with each additional pizza purchase.
The promotion runs through the end of March. However, the results so far are not what Casey's was hoping for. 
"We kicked that off in December, so we just have a few months under our belt. From a sales perspective, when it comes to whole pies, it did not meet our expectations at this point," said Chief Financial Officer Bill Walljasper.
"I will say, though, the last time we ran that promotion, in 2014, we did see a slower ramp-up in the first several months before it really started to catch strides," he added. "We will continue to monitor it over the course of March."
One thing Casey's did notice when it kicked off the promotion was an increase in promotional activity in its market area. That may have been a reason from the slower ramp-up. Competitive activity led to an overall deceleration in the prepared food category in the back half of the quarter, Walljasper said. 
On the positive side, the convenience store retailer has seen fuel sales benefit from the deal. "The pizza-to-pump promotion certainly put more focus on that category," the CFO said. "Our average gallons per transaction have ticked up from what had been trending, and certainly that has been a result of the promotion."
Casey's "definitely gained traction in the back half" of the third quarter on fuels, Walljasper said. The retailer also saw a rising fuel price environment, which helped consumers see the value of the promotion, he explained.
Fuel by the Numbers
Casey's Q3 same-store gallons sold continued to outpace miles driven reported by the U.S. Department of Transportation and Casey's publicly traded peers. Its same-store gallons sold were up 3.8 percent, according to Handley.
Total gallons sold for the quarter rose more than 8 percent to nearly 540 million. The average retail price of fuel during this period increased more than 13 percent to $2.40 a gallon, compared to $2.12 for the third quarter last year.
"During the quarter, we experienced an increase in wholesale fuel costs in the back half of the quarter that had an adverse effect on margin, resulting in average fuel margin of 18.6 cents per gallon for the quarter. Year to date, the fuel margin was 19.2 cents per gallon," Handley explained.
The third-quarter margin benefited from the sale of renewable fuel credits, or RINS, he added.
Year to date, same-store gallons sold were up 2.4 percent, above Casey's annual guidance, with total gallons sold for the year up 6.5 percent to 1.7 billion.
Due to the increase in gallons sold for the quarter, compared to the same period a year ago, gross profit dollars in the fuel category grew more than 12 percent to $100.3 million.
Grocery by the Numbers
In the grocery and other merchandise category, total sales were up 5.6 percent, to nearly $503 million, in the third quarter. Same-store sales were up 2.5 percent, which continues to outpace market data in Casey's operating region. Excluding cigarettes, same-store sales were up 3.5 percent.
The average margin in the quarter remained strong at 31.9 percent. As a result, gross profit dollars in the category for the quarter were up more than 8 percent to $160.2 million.
Year to date, same-store sales in the grocery and other merchandise category were up 2.7 percent, with total sales up 5.4 percent to $1.7 billion. The average margin, year to date, was 31.9 percent.
Additional Results
Casey's total Q3 revenue was up more than 16 percent, to $2.1 billion, primarily due to: 
The 13-percent increase in the retail price of fuel; 

Increased sales gains; and

An increase in the number of stores in operation this quarter compared to the same quarter a year ago. 
Year-to-date total revenue was up 11.3 percent.
At the nine-month fiscal year mark, operating expenses were up 9.9 percent to $967.2 million. For the third quarter alone, operating expenses increased 10.5 percent to $323 million. Approximately 40 percent of this increase was due to a rise in wages and payroll taxes, primarily related to operating more stores compared to a year ago, according to Handley.
"With the rising retail fuel prices, we also saw a combined increase of $5 million in credit-card fees and fuel expense in the quarter," the chief executive explained. "We also experienced a significant rise in health insurance claims, resulting in an increase in health insurance expenses of over $3 million."
In addition, Casey's incurred more than $2 million in consulting fees related to a variety of activities, including its digital engagement and price optimization programs.
"Separately, we continue to make gains in controlling operating expenses. Store operating expenses for open stores not impacted by any of the growth programs were up roughly 2.9 percent in the third quarter. The unchanged numbers include the adverse impact from the higher credit-card fees," Handley said. "Operating expenses will remain an area of focus."
Ankeny-based Casey's General Stores ended its third quarter of fiscal year 2018 with 2,020 convenience stores in 15 states.