03/07/2018
Following Shareholder Call to Action, Casey's Unveils Value Creation Plan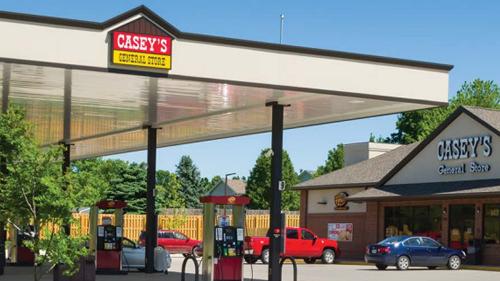 ANKENY, Iowa — Three months after being faced with shareholder unrest, Casey's General Stores Inc. is unfolding a new roadmap to drive store growth and increase company value through its fiscal year 2021.
The goal, according to President and CEO Terry Handley, is to use its track record of successful programs as a foundation.
"Over the past five years, pizza delivery, 24-hour stores and major remodel growth programs that we previously implemented have been a significant part of driving same-store sales. Our median same-store sales growth over the past five years has been 2.6 percent in fuel gallons, 7.1 percent in grocery and other merchandise, and 8.6 percent in prepared foods," Handley explained during the company's third-quarter fiscal year 2018 earnings call on March 7.
The implementation of these initiatives led to an average store-level EBITDA growth rate two times that of the unchanged store average growth rate from fiscal year 2011 to fiscal year 2017, the chief executive pointed out.
In addition, Casey's has delivered value to its shareholders, including increasing its dividend every year for the past 17 years with a compounded annual growth rate of 18 percent, repurchasing $193 million of shares over the last 12 months, and delivering a total shareholder return over the past five years of 103 percent.
"Our plan to build on this strong foundation involves enhancing store performance while maintaining a disciplined approach to capital allocation," Handley reported. "We are also announcing strategic board and governance initiatives that enhance alignment between our strategy, board and shareholders." 
By fiscal 2021, it's expected that all of these components combined will drive growth in: same-store fuel gallons of at least 4 percent, same-store sales in grocery and other merchandise of at least 6 percent, and same-store sales in prepared food and fountain of at least 10 percent.
"We are confident these initiatives will drive accelerated store growth and profitability, and deliver increased return for our shareholders," Handley added.
Store Enhancements
Under the store enhancement portion of Casey's value creation plan, there are three key initiatives: digital engagement, fleet card program and price optimization.
Here is a closer look at each: 
Digital Engagement Program
In partnership with the Deloitte digital team, Casey's developed a detailed roadmap of implementation and will soon onboard a new chief marketing officer who will lead this implementation process.
As part of the digital engagement program, Casey's intends to develop a "seamless customer experience — both online and in-store — that offers new digital product categories and facilitates personalized marketing and rewards."
Components will include an enhanced website, redesigned mobile app, a loyalty program, in-store technology, and enhanced enterprise infrastructure.
"This digital platform will allow us to get a deep understanding of our customers and better serve them by providing the seamless convenience they value, and target effective promotions that will drive additional customer visits," the CEO said.
Casey's expects to realize significant benefits from this program, including same-store sales growth starting in fiscal year 2020.
Fleet Card Program
This new initiative represents "a more aggressive approach" than the retailer has taken in the past, said Handley.
"The primary preferences of fleet customers — ease of access and food and beverages choices — are well aligned with the Casey's model, creating a great opportunity to serve new customers," he said, adding that the retailer has a team in place with fleet card experience that will lead the implementation of a program it expects will increase sales with fleet customers.
The new program will be in place in early fiscal year 2019, and Casey's expects an incremental fuel volume opportunity of 2 percent, plus an uplift in in-store sales driven by the increased traffic. The retailer expects to begin realizing these fuel and in-store sales benefits by the third quarter of fiscal year 2019.
Price Optimization Program
Casey's has partnered with Impact 21, a consulting analytics and services company specializing in the convenience store channel, to implement a price optimization program.
Over the coming quarters, the company will implement technology to leverage the sales data generated by its store network, combined with market data to "make centralized rules-based pricing decisions at the pump and in the store," Handley explained.
"The technology we are incorporating will allow us to roll out a comprehensive process across every category, improving sales and margin across our entire network of stores," he said.
The first stage of implementation during fiscal year 2019 will focus on optimization of fuel and select key items inside the store. Casey's will expand the program to the remaining categories in the first quarter of fiscal year 2020.
"We believe this program will represent a fundamental shift in our marketing process for both fuel and in-store purchases due to the increased visibility into our pricing and promotion strategy," Handley said.
Additional Elements
In addition to those three key initiatives, Casey's remains focused on implementing ongoing cost-reduction measures and managing operating expenses.
To that end, the retailer has identified several cost-reduction measures focused primarily on labor — its largest category of controllable expenses.
Casey's has also optimized prior initiatives, like pizza delivery and 24-hour stores, and enhanced its ability to monitor and adjust those programs across the store base, including new stores, according to the chief executive.
"As a result of these initiatives, we have achieved a significant and measurable reduction in store-level operating expenses," he said. "In stores not impacted by recent growth programs, we have reduced operating expense growth from 9.6 percent in the third quarter of fiscal 2017 to 2.9 percent in the third quarter of fiscal 2018."
Casey's expects to achieve accumulative operating store savings of approximately $200 million from the fourth quarter of fiscal 2018 through fiscal 2021. The retailer intends to reinvest the savings in key initiatives to increase shareholder value.
In addition, Casey's is exploring a new fleet management system that will improve distribution efficiency and reduce costs. And, in anticipation of the increased sales volume from its new initiatives and the ongoing addition of new stores, Casey's is now conducting a holistic evaluation of its distribution system to identify optimization opportunities with a focus on costs and efficiency, Handley reported.
Another piece of Casey's value creation plan is its disciplined approach to capital allocation. For example, the company expects an additional $150 million in incremental capital to be available in fiscal year 2019 compared to fiscal year 2018 due to anticipated tax reform benefits and reduced remodel and replacement activity following the completion of its major remodel program to refresh the retailer's store base.
Board Changes
Along with revealing its value creation plan, Casey's announced the appointment of three new independent members to its board of directors:
Donald E. Frieson, former executive vice president of operations, Sam's Club, a division of Walmart Inc.;

David Lenhardt, former president and CEO, PetSmart Inc.; and

Allison Wing, former chief marketing lead officer and executive vice president of digital channels, Ascena Retail Group Inc.
The retailer also named Lynn Horak, former regional chairman of Wells Fargo Regional Banking, as chairman of the board. Horak has been an independent member of Casey's board since 2009.  
"They bring critical skills in retail leadership, digital growth program development, and extensive operational and logistics capabilities that are closely aligned with our long-term strategy," Handley said.
In connection with the new director appointments, three incumbent directors have retired from the board: Chairman Robert J. Myers, William C. Kimball, and Jeffrey M. Lamberti.
"As the retail landscape continues to rapidly evolve, we are taking significant steps to transform Casey's to enhance store performance and deliver long-term profitable growth," Handley said. "Moving forward, we believe Casey's has the right team in place and the correct strategy to successfully execute on our next chapter and drive significant long-term shareholder value."
Ankeny-based Casey's General Stores ended the third quarter of its fiscal year 2018 with 2,020 convenience stores in 15 states.