Champs Chicken Celebrates 500th Store Opening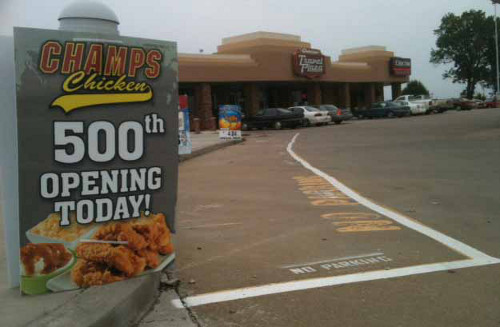 POTEAU, Okla. -- It's been a difficult few weeks for Oklahoma residents in the wake of two deadly tornadoes, but one company is not letting the tragic events slow down its expansion in the Sooner State.
Last week, Champs Chicken, a nationwide branded foodservice program, gave one local community something to cheer about, as it celebrated the opening of its 500th location at the Choctaw Travel Plaza.
In a show of solidarity with Oklahoma tornado victims, Champs Chicken donated 10 percent of all sales on June 7 to the ongoing disaster relief efforts.
"While we're new to Poteau, we want people to know we support our Okies," said Mia Platz, marketing manager for Champs Chicken.
Headquartered in Holts Summit, Mo., Champs Chicken currently operates in three Chocktaw Travel Plazas throughout Oklahoma, with plans to open in three more in the coming weeks.
The grand-open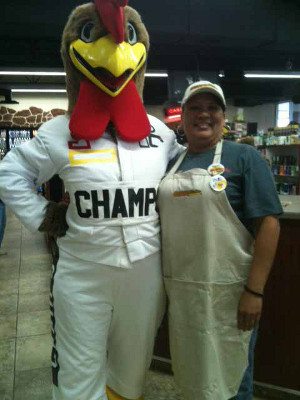 ing celebration included door prizes and meal deals throughout the day, as well as an appearance by the brand's mascot, Champ.
The travel plaza now serves Champ Chicken's quality products, including freshly breaded fried chicken, crunchy catfish and zesty wings at reasonable prices.
"From the beginning, we recognized that the customer is why we are there," said Shawn Burcham, CEO and president of Champs Chicken. "Our focus on service, combined with our quality products, has made us who we are. When you see the Champs Chicken label, you can rest assured you'll receive the best meal at the best value, each and every time."
Burcham added that the brand's next goal is to reach 5,000 stores and be a leader in the branded foodservice industry. "We're excited to be working with Choctaw Travel Plaza and we look forward to serving the entire community," he concluded.
Champs Chicken's parent company is Pro Food Systems Inc. (PFS), a program-oriented wholesale food and equipment company specializing in complete deli operations. PFS operates more than 500 locations in 28 states.