Chevron Sponsoring 30th Anniversary of French Quarter Festival
NEW ORLEANS -- Chevron Corp. is getting in the groove by becoming the title sponsor of the French Quarter Festival and Satchmo SummerFest. The agreement was announced yesterday during a French Quarter Festivals Inc. (FQFI) press conference.
FQFI is the local company that produces French Quarter Festival and Satchmo SummerFest, a Louis Armstrong tribute festival, as well as the annual Christmas New Orleans Style month-long event in December.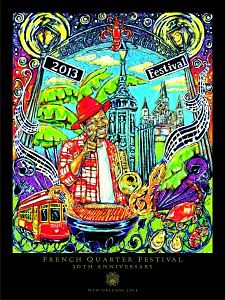 According to a report by Offbeat Magazine, the oil giant committed to being a title sponsor for the next several years, marking the first time the French Quarter Fest, which celebrates its 30th Anniversary this year, has announced a title sponsor. The event will be known officially as "French Quarter Festival presented by Chevron."
The sponsorship shows that "probably the hardest thing about producing large-scale, high-quality events – that are free and open to the public – is paying for them," Marci Schramm, Executive Director of FQFI, told the magazine.
While Chevron is not new to FQFI activities in the past, "the [multi-year] investment is part of Chevron's [broader] commitment to the arts, which we believe inspires people, celebrates diversity, stimulates economic growth and fuels the social vitality of the community our thousands of employees call home," stated Warner Williams, vice president of Chevron's Gulf of Mexico Unit.
The French Quarter Fest already has seen a larger lineup this year with more than 1,400 artists on 21 stages and more than 60 local food vendors over the course of the now four-day festival, reported Offbeat Magazine.
FQFI is also bringing back the "Chevron Evening Concert Series" with traditional Second Line parades leading up to each evening concert.
With Chevron's sponsorship, as well as support from Capital One Bank, the festival will also include expanded offerings such as free dance classes and free park-n-ride shuttle buses to and from the French Quarter, Treme and Central Business District areas.