05/11/2018
Coca-Cola's 2018 'Share a Coke' Campaign Aims to Stick With Consumers
ATLANTA — Coca-Cola's "Share a Coke" campaign returns for its fifth consecutive summer with one inclusive message: An ice-cold Coke tastes better when shared together with friends, family and even strangers.
The 2018 version of the campaign includes more beverage choices, packages, experiences, sharing opportunities and surprises, according to parent company The Coca-Cola Co.
"'Share a Coke' has become a rite of summer for our fans," said Jaideep Kibe, vice president, Coca-Cola Trademark, Coca-Cola North America. "The campaign's annual return is a social marker on the calendar, as we welcome new adventures, new friendships and new memories. This year, we're focusing on the role Coca-Cola plays in the special summer moments we share with others. We wanted to tap into the meaning behind shared experiences more so than just names."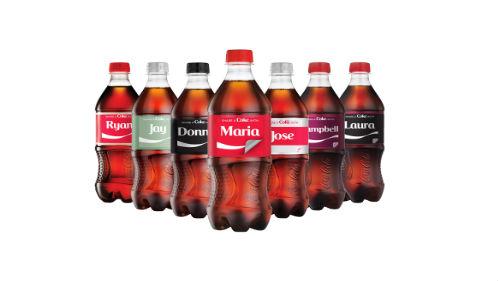 For the first time, "Share a Coke" name labels on 20-ounce Coke bottles are stickers. Fans can peel off the stickers to reveal Coca-Cola's Sip & Scan codes that instantly unlock chances to win prizes ranging from a free Coke to amusement park passes and baseball tickets.
"In years past, we've found that once the campaign ends, people want to hold on to a memory. Thanks to this technology, these stickers extend the memory with something people can not only attach to their clothes, phones and more — but also scan to possibly win special summer experiences to share with others," Kibe explained.
When "Share a Coke" debuted in 2014, Coke bottles only featured names, but over the past few years, the campaign has evolved and expanded, adding new names, song lyrics and more Coca-Cola flavors in more packages.
"That first year, it was all about discovery and introducing people to the idea that they could find their names — or the names of their friends or family members — on a Coke bottle," said Saxon Seay, Coca-Cola brand manager. "But over the years, it has become more about the experiences and moments shared over a Coke."
Initially, Coke's social feeds were flooded with user-generated photos of fans' personalized bottles, but "last summer we started to see more #ShareaCoke images and posts about shared moments with others," Seay added.
That insight informed the team's strategy for the 2018 campaign.
"This program is not about the size and power of Coke," Kibe expressed. "It's about the intimacy and proximity of Coke, and the meaning behind every time you share a Coke."
This summer marks the premiere of the Share Chair, an oversized armchair that doubles as a "shareable" vending machine. When two people sit together, personalized mini cans of Coca-Cola and Coke Zero Sugar are vended through the chair's arms. A strategically positioned camera then captures the moment and provides fans with a photo and video of their experience to share on social media.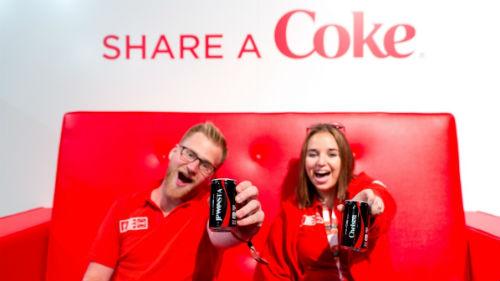 The Share Chair debuted in Los Angeles during one of the U.S. stops of the FIFA World Cup Trophy Tour by Coca-Cola and appeared on National Share a Coke Day on May 8 at a Share a Coke event in Atlanta, where The Coca-Cola Co. is headquartered. It will travel to marquee summer events including the BET Experience in Los Angeles, Special Olympics USA Games and the Major League Baseball All Star Game in Washington, D.C.
In addition to more than 1,100 first and last names on 20-ounce bottles of seven Coca-Cola products — including Coca-Cola, Diet Coke, Coca-Cola Zero Sugar, Coca-Cola Life, Cherry Coke, Vanilla Coke and Cherry Coke Zero — nicknames like "La Familia," "A Champion," "My Best Friend," "An MVP" and "Your Squad" can be found on a variety of packages of Coke, Coke Life and Coke Zero Sugar. Limited-edition patriotic packaging is also back.
Fans can visit ShareaCoke.com to purchase personalized 8-ounce glass bottles of Coca-Cola, Diet Coke and Coke Zero Sugar for nearly any special person, event or occasion. This year, ShareaCoke.com gives online shoppers the chance to customize bottles with two lines of text, share "social postcards" with friends and family, and search to find their names in stores.
The "Share a Coke" campaign is supported through television, radio, outdoor and cinema advertising, as well as social and digital media, and experiential elements.
This "Share a Coke" creative supports the "A Coke for Everyone" platform the brand debuted earlier this year by celebrating everyday moments made more special by the simple pleasure of drinking a Coke.
"Share a Coke" was first introduced in Australia in 2011. Since then, the company has helped people "Share a Coke" in more than 100 countries, according to The Coca-Cola Co.