05/24/2021
Community Service Spotlight: Alto-Shaam, Kwik Trip, OnCue & Swisher
Efforts centered on COVID-19 relief, hunger eradication, sustainable energy, and more.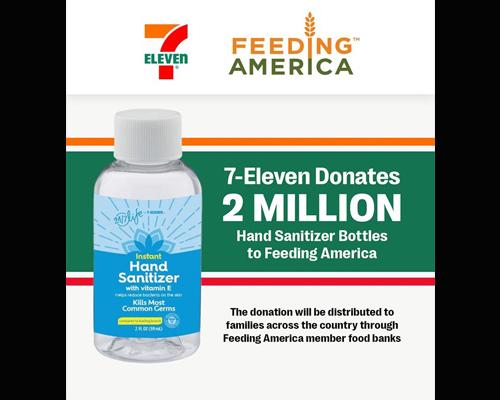 NATIONAL REPORT — Giving back through community service efforts and charitable donations is a positive force that keeps many retailers and suppliers of this industry moving ahead. On a regular basis, Convenience Store News highlights these philanthropic efforts in this special section.
Here are the latest company spotlights:
7-Eleven Inc.
7-Eleven recently donated 2 million bottles of hand sanitizer to Feeding America. The donation will be distributed across the country through Feeding America member food banks.
The Irving, Texas-based operator has worked with Feeding America for 21 years, supporting its nationwide network of 200 food banks, which provide meals to more than 40 million people each year through national and local donations, volunteer efforts and more.
Alto-Shaam
To support a hot, fresh food program at Thorntons' first-ever not-for-profit community store, Alto-Shaam donated cooking and holding equipment, including two Cook & Hold ovens and a Heated Shelf Merchandiser. The equipment, which features Alto-Shaam's exclusive Halo Heat technology, will be used to provide guests hot fresh foods, conveniently at the highest quality, the company stated.
"We are proud to support Thorntons' in bringing fresh food and convenience to residents of West End Louisville, as a partner in promoting community equity and empowerment," said Leslie Hoffman-Banados, Alto-Shaam vice president of national accounts.
CITGO Petroleum Corp.
April 17 marked the culmination of the three-year Fueling Good, Rebuilding Lives charitable partnership between CITGO and Rebuilding Together Houston. Launched to help Houston-area communities in need recover from 2017's Hurricane Harvey, the program has supported the renovation of more than 186 homes for those in need in the Independence Heights community and surrounding areas.
"The people of CITGO are proud members of the Houston community," said CITGO President and CEO Carlos Jordá, "It's been a privilege to pitch in to help our neighbors in need recover from the devastating impacts of Hurricane Harvey."
The Fueling Good, Rebuilding Lives program also included a charitable partnership with Habitat for Humanity that helped rebuild 31 homes in Rockport, Texas.
When back-to-back winter storms struck the region this February, CITGO also worked with community organizations to help meet ongoing needs for food and water and medium to long-term assistance for home repair in Houston Corpus Christi, Texas, and Lake Charles, La. The company supported several organizations, including SBP, the Independence Heights Redevelopment Council and Rebuilding Together Houston, with funds for wellness checks, food distribution, plumbing repairs and guidance on completing FEMA applications.
"We can't predict when or where disaster will strike," said CEO Carlos Jordá, "We can be sure, however, that the people CITGO will be ready to lend a hand when it is needed most."
The Hershey Co.
Hershey entered two new clean energy partnerships to develop solar projects in the U.S. as it moves its operations toward the use of clean and renewable energy. They are:
A 15-year power purchase agreement (PPA) that will enable the financing and construction of the company's first utility-scale solar farm, which is being developed by global renewable energy developer BayWa r.e. Once completed, the North Carolina project will reduce CO2 emission by 32,025 metric tons per year, the equivalent of emissions incurred from driving more than 80 million miles in the average passenger car or charging nearly 3.9 billion smartphones. Construction of the new solar farm is expected to be completed in late July. 
A PPA with National Grid Renewables for 50 megawatts of the previously announced Noble Project, currently under construction in Denton County, Texas. Hershey's solar contract will account for an estimated 118,000-megawatt hours per year, creating a reduction of approximately 83,625 metric tons of CO2 emissions annually, equivalent to driving 210 million miles in the average passenger car or charging more than 10 billion smartphones.
Hershey is one of several companies involved in the Noble Project, which is estimated to reduce carbon dioxide emissions by a total of 450,000 metric tons annually during the first 20 years of operations.
Together, both solar projects will generate significant clean power in North Carolina and Texas, as well as significantly reduce Hershey's CO2 footprint by 115,650 metric tons each year. The projects support the company's recently announced science-based targets commitments to reduce greenhouse gas emissions in line with the global best practice of the Paris Climate Agreement to limit global temperature rise to 1.5°C.
Renewable energy investments and energy efficiency projects are a key focus area for Hershey to achieve its goal to reduce Scope 1 and 2 emissions by more than 50 percent by 2030. 

"As we continue on our path towards an increased reliance on clean and renewable energy, we're excited to partner with BayWa r.e. and National Grid Renewables to develop these solar projects in North Carolina and Texas," said The Hershey Co. Senior Director of Global Sustainability and Social Impact Jeff King. "Not only will these solar projects help Hershey to reduce its impact on the environment, they will also create jobs and help contribute to the growth of local economies and our commitment to reduce our GHG footprint." 
Kwik Trip Inc.
Kwik Trip officials donated $5,000 to the Northland K9 Foundation. The AMSOIL Northland Law Enforcement K-9 Foundation is a 501(c)(3) organization founded in 2013 to give private and corporate donors a way to support local K-9 units.
Murphy USA Inc.
As part of its "Great Futures Fueled Here" campaign, Murphy USA entered into a multiphase effort in support of the Boys & Girls Clubs of America. As a national partner, Murphy USA is setting a goal to raise an additional $500,000 to add to its already $1.5 million contribution.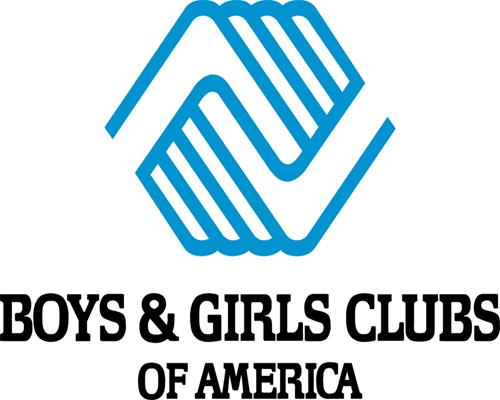 The cause campaign will take place at all Murphy USA and Murphy Express locations, with the first phase launching April 7 and running through July 6. The second phase will begin Aug. 4 and conclude on Nov. 2.
During the campaign, customers can contribute $1, $5 or $10, or round up their purchases to the nearest dollar amount at checkout. The funds raised during this campaign will benefit Boys & Girls Clubs in the same communities served by Murphy USA locations.
"Giving back is part of our broader mission and commitment as an organization to our team members, customers and communities. We are passionate about providing opportunities for the next generation," said Andrew Clyde, president and CEO of Murphy USA. "That's why we are proud to be a national partner of Boys & Girls Clubs of America, supporting local Clubs where we operate through our 'Great Futures Fueled Here' campaign. In the second year of our partnership, we will again leverage our team members across the chain to encourage customers to 'round-up' their purchases to provide much needed funding to their local Boys & Girls Club. This financial support helps to provide youth in our communities with the essential tools for cultivating a successful future."
OnCue
The Oklahoma-based operator of 75 c-stores donated $40,000 of non-perishable food and personal care products to several local food banks in conjunction with the release of a limited-edition cup that will raise funds for The Regional Food Bank of Oklahoma's Food for Kids Programs.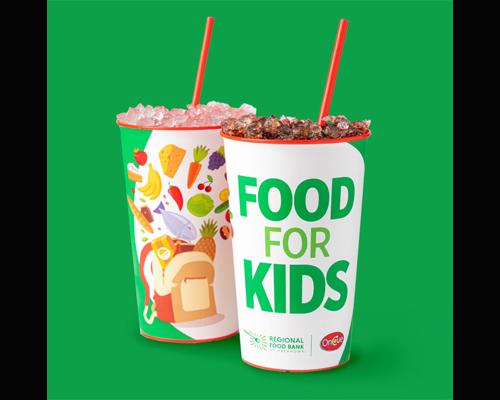 OnCue will contribute 50 cents to the Regional Food Bank of Oklahoma for every cup sold through the end of June, or as long as supplies last. The cup retails for $1.99.
"We have all been deeply impacted this past year, but when one in four kids in Oklahoma were hungry before the pandemic, it makes sense why we are witnessing a whole new level of need," said Laura Aufleger, president of OnCue. "Food is essential, and we are grateful we can come together to support The Regional Food Bank and their partner agencies, and specifically, programs like Food For Kids."

Additionally, OnCue raised $12,500 for Big Brothers Big Sisters of Oklahoma through the sale of limited-edition co-branded cups. For every cup sold, the operator contributed 50 cents to local mentoring programs.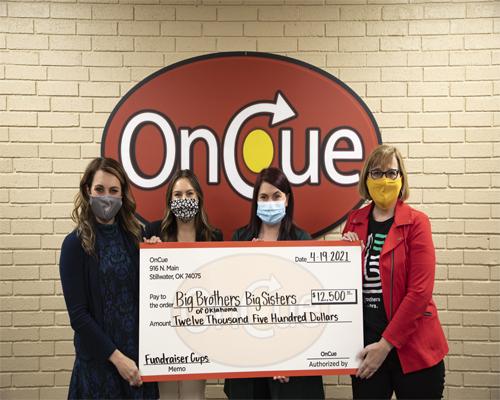 OnCue operates stores in four of Big Brother Big Sisters program service areas in Oklahoma, each of which is a recipient of the funds raised. The cups were available from January through the end of March.

"It's amazing to see such an outpour of support for Oklahoma's youth as we work toward unlocking each child's potential," said Aufleger.
Sheetz Inc.
Sheetz launched the "Get a Meal, Give a Meal" campaign, in which the convenience retailer will donate one meal for every six-inch (half) sub sold and two meals for every 12-inch (whole) sub sold to local Feeding America member food banks. The campaign will take place throughout the entire month of May at all 621 Sheetz locations.
"Sheetz has always been passionate and committed to giving hope to families and individuals in the communities we call home who are hungry and in dire need of access to food," said Sheetz President and Chief Operating Officer Travis Sheetz. "As a company, we are constantly working to grow our contributions to Feeding America and are always looking for creative ways to provide our customers with opportunities to make a positive impact on those in need across our footprint. This campaign was designed to do just that."
Additionally, through its "Made-to-Share" program, Sheetz rescues food from its 621 stores and donates it to Feeding America member food banks located across its six-state footprint. These donations include ready-to-eat food items such as sandwiches, wraps and salads, as well as healthy snacking options such as fruit, vegetables and yogurt.
The meals that Sheetz will be donating will equate to a monetary donation to Feeding America, where $1 helps provide at least 10 meals secured by Feeding America on behalf of local member food banks.
Speedway LLC
For every home run the Boston Red Sox hit throughout the 2021 Major League Baseball season, Speedway will donate $500 to Children's Hospital Boston.
The Spinx Co.
Greenville, S.C.-based The Spinx Co. raised $421,912 for the March of Dimes. The money raised helps area moms have healthier pregnancies, assists families with newborns in the Intensive Care Units, as well as helps fund research to fight birth defects and premature birth.
As part of an annual Spinx charitable initiative, each of the company's 82 stores contributed to the total donation amount by encouraging customers to donate to March of Dimes while making their purchases at the counter or while fueling at the pump.
This year's donation is Spinx's highest to date.
"In addition to [a] personal connection, I have a professional connection to this cause.  A connection that is shared by my 1,800 Spinx teammates. We are a small, local company, with an enormous heart. Being community-centric, team-oriented and passionate are core values we all share. Children are at the center of our giving mission and over the last 12 years, we have leveraged these common values to raise almost $3 million dollars for the March of Dimes!" stated Spinx President Stan Storti, who served as the chairman for the Greenville March of Dimes March for Babies in 2018. "So, you tell me… How could a word like 'proud' sufficiently express the way I feel today as a leader of these incredible people? My deepest gratitude goes out to our teammates and guests on yet another record setting year of fundraising for healthy babies everywhere."
Stewart's Shops
Through its 2020 Holiday Match program, Stewart's Shops awarded $1,500 to Hudson Valley, N.Y.-based School Life Media, a nonprofit that promotes literacy through journalism in underserved K-12 schools.
Based in Saratoga Springs, N.Y., Stewart's Shops operates more than 330 stores in New York and Vermont.
Swisher
Through its partnership with the University of North Florida's Center for Entrepreneurship and Innovation (CEI), the Swisher Startup for Underrepresented Entrepreneurs awarded funding to three entrepreneurs to support the development and growth of their businesses. Ten startups were a part of the program's first cohort, with allocation being awarded to:
First place: GaAIS LLC ($2,500) — Guenevere Perry's biotech company has developed an eco-friendly, effective and economical bio-fungicide for small farmers and home gardeners in Florida.
Second place: Kic Brush ($1,500) — Markin Barnes' company provides care services and developed a product designed to help eliminate the spread of diseases and viruses from person to person. The product also allows proper sanitation of tools used by industry specialists.
Third place: BudJet Vest ($1,000) — Monalisa McKinney-Young has created a travel vest that allows the user to wear their luggage while traveling by air.
The program will continue this fall with the Swisher Growth Cohort, where participants will be given the opportunity to build a financial model for their business and a company message map. The 10 startups that participated in the first cohort are invited to attend this next phase.
"Swisher's Inclusion, Diversity and Transformation strategy is designed to build sustainable plans to better the community," said Alexandria Deal, Swisher's manager of Inclusion, Diversity & Transformation. "It was an honor to collaborate with UNF and build upon its commitment to early-stage companies and entrepreneurs in Northeast Florida."
Talking Rain Beverage Co.
Talking Rain Beverage Co., maker of Sparkling Ice beverages, launched the second annual Cheers to Heroes campaign, a call-to-action contest that was created to recognize unsung heroes across the country who have dedicated their lives to serving their communities.
To kick off this year's campaign, the Sparkling Ice brand is teaming up with three-time Olympic Gold Medalist Gabby Douglas.
Beginning April 1 and running through May 31, consumers can nominate a hero who makes a difference in his or her community for a chance to win the $10,000 grand prize. Nominees will also have a chance to win a first prize valued at $7,500, second prize of $5,000, and third prize of $500.
"This past year has been challenging for our country; however, these challenges have presented greater opportunities for us to step up and support our local communities," said Talking Rain CEO Chris Hall. "We're thrilled with the success of last year's Cheers to Heroes contest, and this year, we're continuing to stand by our mission of giving back. Everyday heroes may not always receive the recognition they deserve, and our goal is to bring a little bit of joy to these honorable people for their dedication and commitment to their hometowns."
At the end of the nomination period, the Sparkling Ice brand will identify the top three submissions, which will be voted on throughout the month of July on the Sparkling Ice Rewards website. One grand-prize winner will be announced on Aug. 13. The finalist's nominators will also receive a $500 incentive.
In honor of this year's Cheers to Heroes campaign, Talking Rain will continue to support The Honor Flight Network, a nonprofit that honors America's veterans. Over the course of the company's six-year partnership with the organization, it has raised more than $600,000, which has sponsored more than 600 veteran trips to Washington, D.C.