Community Service Spotlight: Holmes Oil, Twice Daily & Tyson Foods
Get great content like this right in your inbox.
Subscribe
NATIONAL REPORT — Giving back through community service efforts and charitable donations is a positive force that keeps many retailers and suppliers of this industry moving ahead. On a regular basis, Convenience Store News highlights these philanthropic efforts in this special section.
Here are the latest company spotlights:
Chevron U.S.A.
Through the Chevron Global Community Fund, Chevron U.S.A. contributed $500,000 to assist with efforts to recover from the damage made by Hurricane Michael.
The donation will be evenly split between the American Red Cross and Volunteer Florida, the state's lead agency for volunteers and donations before, during and after disasters. Chevron will also match any qualifying donations made to the relief efforts by its employees and retirees.
Chevron has a large marketing presence in Florida and the Gulf Coast — including supplying thousands of Chevron and Texaco-branded stations from numerous terminals throughout the region.
"Hurricane Michael has taken a devastating toll," said Dale Walsh, president of Chevron Americas Products. "The communities will come back stronger than ever, but in the meantime, there are families who are struggling. We are making this donation to help get these families the immediate assistance they need as they put their lives back together."
CITGO Petroleum Corp.
CITGO and Olle Middle School in Alief Independent School District launched the first Innovation Academy in Houston. This is one of seven Innovation Academies located within the CITGO operational footprint.
CITGO Innovation Academies are the cornerstone of the CITGO STEM Talent Pipeline, where the company actively supports the academic exploration of STEM [science, technology, engineering, math] education in the schools nearby its refineries in Corpus Christi, Texas; Lake Charles, La.; Lemont, Ill., and its headquarters in Houston.  
"Olle Middle School gets it. They understand the value of educating the next generation of students in STEM and the importance of preparing students to pursue future STEM career paths," said Larry Elizondo, CITGO general manager Community Relations, Corporate Social Responsibility and Legislative Affairs. "It is exciting to watch the next generation of STEM professionals engaging in this curriculum now."
The first CITGO Innovation Academy was launched in 2013 at Foy H. Moody High School in Corpus Christi, which serves as the flagship campus. Since then, three more Innovation Academies have been implemented at Cunningham Middle School and Garcia Elementary School, both in Corpus Christi, and E.K. Key Elementary School in Sulphur, La. Another two were recently approved, one in Lemont, Ill., and one in Houston.
Enmarket
As part of its annual collection for the Leukemia and Lymphoma Society's (LLS) Light the Night Walk, Enmarket raised $128,240.88.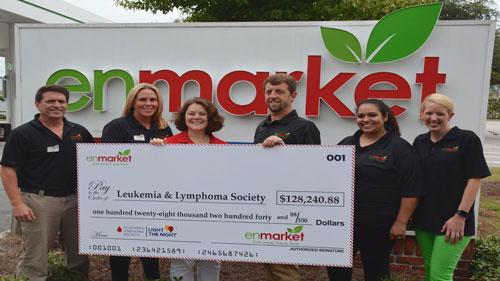 The store that raised the most money was the retailer's Port Royal, S.C., location, which held an in-store fundraiser, raising $1,281 in a single day. The c-store raised $4,609 in total.
Every year, for one month, Enmarket's 122 convenience stores in Georgia, South Carolina and North Carolina sell Light the Night paper balloon icons for $1 each in support of LLS's mission to cure blood cancer and help patients and their families.
"Every year, our customers show us an extraordinary amount of support in our efforts for LLS," said Enmarket President Brett Giesick. "Several stores doubled or even tripled their original goals, including Reidsville, Brooklet, Port Royal and Wilmington. We are so thankful for our staff and our customers for making this donation possible."
Since Savannah, Ga.-based Enmarket started its annual fundraiser in 2013, the company has raised a total of $481,744.75 for LLS.
Holmes Oil Co.
Holmes Oil Co. will donate more than $15,000 to the University of North Carolina at Chapel Hill Lineberger Comprehensive Cancer Center. According to the c-store retailer, this contribution more than quadrupled the amount of money donated last year.
From Aug. 2 through Sept. 2, the company's 25 Cruizer's convenience stores held a fundraising campaign to raise the money.
"We are committed to being good citizens and want to give back to the communities that we operate in," said Edward Holmes, president of Holmes Oil Co. 
ITG Brands
Greensboro, N.C.-based ITG Brands donated $25,000 to the North Carolina Disaster Relief Fund to provide much-needed funds for food, gas, water, building materials and other supplies to residents affected by Hurricane Florence.
"We've been touched by the devastation, loss of life and disruption here in our own state," said Dan Carr, ITG Brands president and CEO. "Our thoughts and prayers are with our neighbors throughout the state and for all who have been impacted by this devastating storm." 
To read more about what other c-store retailers and suppliers have done for Hurricane Florence disaster relief efforts, click here.
Royal Farms
Royal Farms will contribute $100,000 to the Johns Hopkins Children's Center. The donation was raised through the sale of two-piece chicken meals through the company's first annual "Chickenpalooza" event and through the donations by the company. 
Royal Farms' chicken box stated that 10 cents of every two-piece meal sold would benefit the Johns Hopkins Children center. 
"Royal Farms has blown our expectations out of the water. We are grateful for this partnership that will aid in the lives of countless Hopkins Children's Center visitors to come," said Cynthia L. Palacz, senior associate director of development at the Johns Hopkins Children's Center. 
Sheetz Inc.
To honor "Hunger Action Day," Sheetz partnered with Feeding America to provide hunger relief through its Made-to-Share program across its c-stores in Pennsylvania, North Carolina, Virginia, West Virginia, Ohio and Maryland.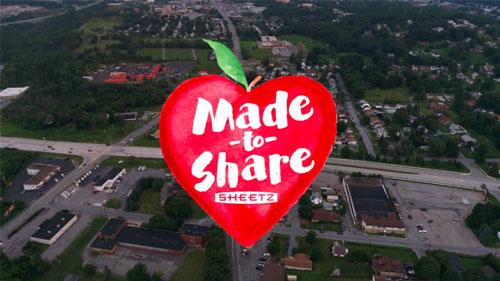 Sheetz announced the Made-to-Share rollout at the opening of a new Sheetz location in Reading, Pa. The c-store retailer will make weekly food donations to Feeding America member food banks.
In addition to a $2,500 donation to the Greater Berks Food Bank, Sheetz donated a truck full of food to the food bank to help more than 1.6 million across Pennsylvania struggling with hunger.
Sheetz employees at its corporate office also participated in a week-long food drive, donating food to Feeding America food bank partners in Pennsylvania and North Carolina.
"Hunger knows no boundaries, it touches people from all walks of life in every community in the U.S. and in every community Sheetz serves," said Joe Sheetz, president and CEO of Sheetz. "We are deeply committed to helping those facing hunger and are proud to have been able to donate over 2 million meals through our partnership with Feeding America already. I am also proud of the efforts of Sheetz employees, who have really dedicated themselves to helping fight hunger in our communities."
The Wills Group
La Plata, Md.-based The Wills Group, parent company of Dash In convenience stores, raised more than $525,000 at its second annual Blackie Wills Golf Classic and Gala. The event supports The Blackie Wills Community Leadership Fund, which was formed in 2016 as part of The Wills Group's 90th anniversary. It honors Julian Blacklock "Blackie" Wills, the third president and CEO of The Wills Group, and carries on his commitment to community and civic engagement.
In 2018, The Blackie Wills Community Leadership Fund supported two partnerships: Share Our Strength, an organization focused on eliminating childhood hunger, and Rebuilding Together, an organization that completes approximately 10,000 projects annually to repair homes, revitalize communities and rebuild lives.
The Fund also provided support to the Maryland Food Bank, the Southern Maryland Food Bank and Lifestyles of Maryland, a Southern Maryland nonprofit organization that serves approximately 14,000 individuals by providing emergency assistance, transportation, housing and job training.
"Over the past two years, I'm proud to say we have raised more than $1 million for the Blackie Wills Community Leadership Fund which serves as a significant driver for our efforts to ensure that our communities' basic needs of food and shelter are met," said Lock Wills, chairman, CEO and president of The Wills Group. "The support we continue to receive for the Fund from our event sponsors, employees, and friends warms my heart, and I am humbled; thank you."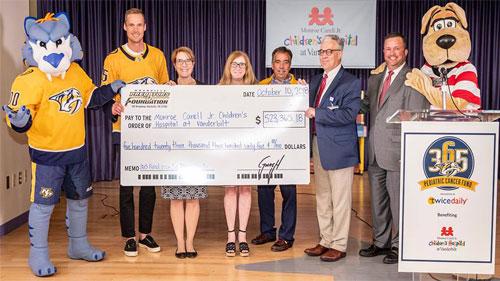 Twice Daily
Tri-Star Energy's Twice Daily convenience stores partnered with the Nashville Predators for the fifth consecutive year to raise $523,365.18 for the Monroe Carell Jr. Children's Hospital at Vanderbilt.
"We love partnering with Nashville Predators 365 Pediatric Cancer Fund to support the amazing work that Monroe Carell Jr. Children's Hospital at Vanderbilt does. They change lives every day and we are so grateful to be a part of that!" Twice Daily said in a Facebook post.
Tyson Foods Inc.
Tyson Foods and NACS, the Association for Convenience and Fuel Retailing, teamed up to donate a truckload of protein totaling 35,000 pounds to Three Square Food Bank to help fight hunger in Southern Nevada.
Three Square will distribute the donated food, which is equivalent to 140,000 servings, through its service network of more than 1,600 community partners to reach struggling individuals and families at risk of hunger.
"Partnering with organizations like Three Square Food Bank and NACS is important to us in raising awareness about food insecurity in communities all around the U.S.," said Mark Purvis, vice president, convenience sales for Tyson Foods. "In this community alone, Three Square served more than 37 million meals last year. We're honored to support those extraordinary efforts."
Tyson Foods partners with Feeding America, Share Our Strength and Lift Up America to raise awareness and help feed the hungry across the nation. Since 2000, Tyson Foods has donated more than 100 million pounds of protein in the United States.
In 2015, the announced its renewed commitment to hunger relief by pledging $50 million in cash and in-kind donations by 2020 in the fight against hunger, with a special focus on innovative initiatives at the local level.
Additionally, Tyson Foods and Feeding America announced the results of a two-year project focused on empowering local food banks to develop innovative animal protein sourcing programs to address hunger on the community level. The Tyson Foods Protein Innovation Fund provided $1 million to 10 Feeding America food banks in nine states to fund protein sourcing projects.
As a result, the investment yielded more than 1.1 million pounds of protein sourced and distributed in the first two years of the project or 4.5 million servings.
"We knew our food banks had innovative ideas about how to help our hungry neighbors access more protein," said Matt Pakula, senior manager, corporate social responsibility Tyson Foods. "The protein innovation fund grants made it possible for them to experiment and make their food banks more agile to better meet the needs of those struggling with food insecurity."