Companies Pull E-Liquids From Market Following Regulatory Crackdown
Get great content like this right in your inbox.
Subscribe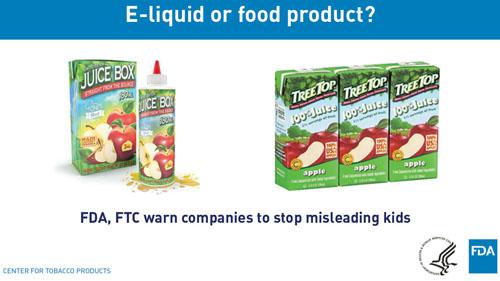 SILVER SPRING, Md. — Seventeen manufacturers, distributors and retailers stopped selling e-liquid products as a result of a federal regulatory push against labeling and advertising that may attract youth users.
On May 3 by the Food and Drug Administration (FDA) and the Federal Trade Commission (FTC) issued warning letters to 13 manufacturers and sellers of nicotine-containing e-liquids that look like juice boxes, candy or cookies.
One week later, the regulatory bodies followed those up with warning letters to an additional four manufacturers and retailers, as Convenience Store News previously reported.
One of the companies receiving a warning letter was also cited for illegally selling the product to a minor.
"Removing these products from the market was a critical step toward protecting our kids. We can all agree no kid should ever start using any tobacco or nicotine-containing product, and companies that sell them have a responsibility to ensure they aren't enticing youth use," said FDA Commissioner Scott Gottlieb.
"When companies market these products using imagery that misleads a child into thinking they're things they've consumed before, like a juice box or candy, that can create an imminent risk of harm to a child who may confuse the product for something safe and familiar," he added.
According to Gottlieb, the FDA encourages innovation of potentially less harmful tobacco products, it is committed to ensuring those products are not marketed to, sold to, or used by underage users.
"The FDA will continue to take vigorous actions under our Youth Tobacco Prevention Plan to restrict youth access, limit youth appeal, and reduce toxic exposure to youth from all tobacco products, and, in particular, e-cigarettes," he said. "We expect to take additional, robust enforcement actions over the next few months that target those who we believe are allowing these products to get into the hands of children."
Following the warning letters in May, the FDA worked to ensure the companies took appropriate corrective action — such as no longer selling the products with the misleading labeling or advertising — and issued close-out letters to the firms.
The agency expects some of the companies may sell the products with revised labeling that addresses the concerns expressed in the warning letters. It will continue to monitor tobacco product labeling and advertising for potential violations of the law and act as appropriate, according to the FDA.
The warning letters stemmed from investigations that began in late 2017 of tobacco product labeling and advertising that imitated food products, particularly those that are marketed toward, and/or appealing to, children. The products were considered misbranded and sold in violation of the Federal Food, Drug, and Cosmetic Act because their labeling and/or advertising imitating kid-friendly foods was misleading.
The FTC joined the FDA on 13 of the warning letters under Section 5 of the Federal Trade Commission Act, which prohibits unfair or deceptive advertising.
"The fact that these companies have stopped their dangerous and deceptive tactics to attract kids to their vaping products is a timely, positive and appropriate action," said FTC Chairman Joe Simons. "The FTC's message is direct and consistent: We are watching, and we will take action immediately when deception places kids at risk."