10/23/2018
Convenience Store News Hosts Technology Leadership Roundtable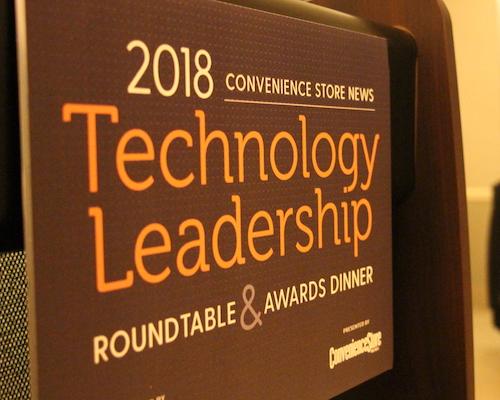 LAS VEGAS — Convenience Store News hosted the 2018 Technology Leadership Roundtable & Awards Dinner during the recent NACS Show. The event was held on the 104th floor of the Stratosphere Hotel.
To kick off the night, Convenience Store News Editorial Director Don Longo sat down for a fireside chat with Scott Hartman, president and CEO of Rutter's, to discuss the intersection of marketing and technology.
"In our technology-driven world today, it appears these two disciplines — marketing and technology — are more intertwined than ever before. In fact, it appears that marketing today is dependent on having the right technology behind it," said Longo. "And technology needs to understand the marketing needs and goals of the retailer in order to obtain ROI."
Agreeing that technology and marketing are linked like never before, Hartman said he has a clear idea about how the two branches should work together. The former NACS chairman believes the marketing team should be the driving force behind the development of new retail technology ideas.
As Hartman further explained, consumers are central to the business and so, consumer-facing technology should be the focus of development.
Hartman and Longo went onto discuss mobile technology, including apps and loyalty programs, which have come a long way since Rutter's introduced its first Rutter's Rewards loyalty card 10 years ago. The chat also covered the topics of home delivery, scan-and-go, and cashierless technology that's being spearheaded by e-commerce giant Amazon.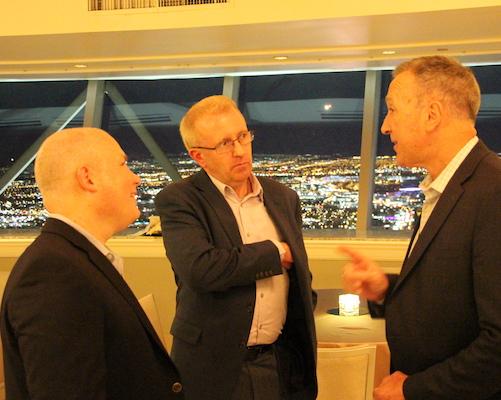 Although Hartman is skeptical of Amazon's plans to open thousands of Amazon Go stores, he is not skeptical of the "just walk out" technology employed at these stores.
He believes Amazon might be better off licensing the technology rather than going all in on the brick-and-mortar Amazon Go concept.
As for the convenience store industry at large, though, it might not be ready just yet for completely frictionless checkout, according to Hartman, who predicts it will be widely deployable in five to seven years.
Implementing new technology in c-stores can be daunting, Hartman acknowledged, but he is a strong believer that it is essential for retailers today to consider it.
"Technology makes the value of properties rise. It's the only way to grow sales outside of raising prices," he said.
Roundtable Discussions
During the roundtable portion of the night, the retailers and suppliers in attendance dove into discussions by table on topics related to specific technology concerns and considerations in the convenience store space.
One table tackled the questionable fate of brick-and-mortar retail, mobile payment and apps, and the pros and cons of loyalty programs. Another table considered hiring for IT positions, analytic tools and frictionless concepts. A third table discussed how to best support new and old tech, data security, and who should drive a retailer's digital transformation. And lastly, a fourth table talked about food safety technology, EMV compliance and migrating to the cloud.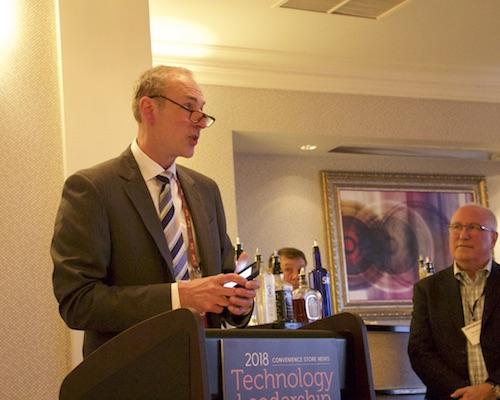 Each table then shared the insights that came out of their discussions. Among the key takeaways: 
Retailers need to have the mindset about data security that it's not if a breach might happen, but when — and so, they must be prepared to respond to it;
It's become increasingly difficult to stay on top of changes in technology because things become outdated so quickly; and 
 As far as setting the technology strategy for a company, it has to be supported from the top down. 
Technology Leader of the Year
As part of the evening's agenda, Cumberland Farms' Charles Jarrett was presented the Convenience Store News 2018 Technology Leader of the Year award. 
Jarrett joined the Massachusetts-based c-store chain two years ago in the role of senior vice president and chief information officer.
Supported by Cumberland Farms' company values of "Succeed Together" and "Own It," Jarrett has led his team to such technology initiatives as the relaunch of its SmartPay app and a complete technology overhaul that included its point-of-sale hardware and software, warehouse management system and retail accounting functions. 
The 2018 NACS Show took place Oct. 7-10 at the Las Vegas Convention Center.
Convenience Store News thanks our event sponsors Zebra Technology Corp., Hughes Network Systems, Koupon Media, and our award sponsor, NCR Corp.