Cool New Products Spotted at Eby-Expo 2018
Get great content like this right in your inbox.
Subscribe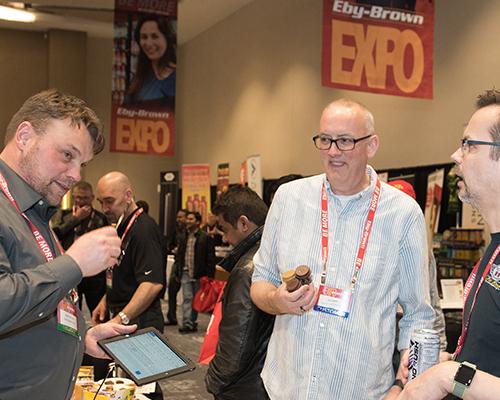 CLEVELAND — Convenience distributor Eby-Brown Co. LLC's annual Eby-Expo trade show is not just one event, but three this year. 
Eby-Expo South took place March 1-2 in Atlanta; Eby-Expo East was held March 20-21 in Cleveland; and Eby-Expo Midwest will be hosted April 26-27 in Chicago (Rosemont).
Convenience Store News walked the show floor at Eby-Expo East and got a peek at many cool new products coming to the convenience channel.
Among the highlights were:   
5-hour Energy
5-hour TEA, the brand's first naturally caffeinated product, is an energy shot whose caffeine comes only from green tea leaves. The sugar-free, four-calorie shot also works well mixed with a bottle of water, according to a company representative. 5-hour TEA is designed for energy-seeking consumers with a more natural outlook.
Alligator Ice
The frozen drink supplier offers an extra twist to the usual top slushie flavors. At a self-serve machine, customers can add extra pumps of sweet or sour mix to customize the level of either in their drinks.
Chicago Bar Co.
Targeting consumers who want straightforward ingredients in their functional bars, the RXBAR whole food protein bar lists its ingredients as the central visual component of the packaging. For example, the peanut butter RXBAR lists three egg whites, 14 peanuts, two dates and "No B.S.", which is listed on every variety in the line.
Jack Link's
Launching in April, the new Jack Link's Cold Crafted line pairs 100 percent beef with cheese snacks that can be stocked in displayable trays, or trays that attach to cooler doors with suctions cups. Varieties include Smoked Meat Sticks (Original, Loaded with Pepper Jack, Loaded with Cheddar Cheese); Beef and Cheese Bites; and Smoked Meat Sticks and Cheese (Cheddar and Pepper Jack).
Prairie City Bakery
The company's Walkin' Wafel line of packaged sweet waffle snacks can be offered as part of a c-store's sweet snacks section or combined with toppings for an easy-to-make dessert item in a foodservice program.
S&D Coffee & Tea
The beverage supplier is promoting its Rainforest Alliance Certified blends as a point of differentiation for retailers. Rainforest Select, Rainforest 100% Colombian and Rainforest Dark 100% Colombian are made using beans that were grown and harvested sustainably. 
Tru Fru
Both a healthy snack and an indulgent treat, Tru Fru is real fruit that is frozen fresh to maintain freshness and then freeze-dried, locking in the taste and nutrition, before being dipped in antioxident-rich dark chocolate.
WhiteWave Foods
The company's STōK Cold Brew Coffee its building its household penetration through two formats: individual bottled coffee and the plug-and-play coffee dispenser. The dispenser unit offers black unsweetened and vanilla coffee in easy-to-load, ready-to-drink bags.
Based in Naperville, Ill., Eby-Brown is the largest privately held convenience store distributor in the United States.