CSNews Names 2018 Category Captains Honorees
Get great content like this right in your inbox.
Subscribe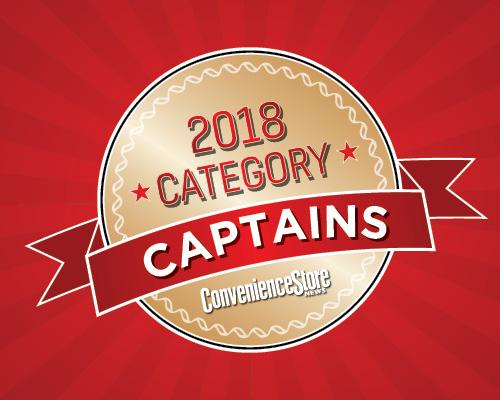 NEWARK, N.J. — Retailers and suppliers continue to prove that working together leads to stronger growth across all product categories in a convenience store. This year's Convenience Store News Category Captains awards program recognizes 12 suppliers that do an outstanding job of working together with their retailer customers to enhance overall category sales and profitability.
Now in its fifth year, the CSNews Category Captains program honors outstanding category management initiatives implemented in the convenience channel over the past year.
All entries for this year's contest were judged based on the following criteria:
Product innovation;

Creativity in merchandising, marketing, promotion and advertising;

Use of consumer insights to drive category sales;

Innovative and dynamic category management tools;

Demonstrated commitment to meeting the specific needs of retailer customers;

Efficiently lifting sales for the entire product category; and

Fact-based evidence of market-specific or account specific results.
Past Times Marketing, a consumer research and product evaluation firm based in New York, once again facilitated the judging based on information supplied by the participating companies.
The 2018 Category Captains honorees are:
Alternative Snacks: Jack Link's Protein Snacks
Beer/Malt Beverages: Anheuser-Busch
Candy: The Hershey Co.
Cigarettes: McLane Co. Inc.
Foodservice/Prepared Food: Tyson Convenience
Foodservice/Grab-and-Go: Land Mark Products
Foodservice/Hot Dispensed Beverages: Eby-Brown Co. LLC
General Merchandise: S. Abraham & Sons Inc.
Health & Beauty Care: Convenience Valet
Other Tobacco Products: Swisher International
Packaged Beverages: The Coca-Cola Co.
Salty Snacks: Kellogg Co.
Several of this year's winners are repeat honorees: Hershey in candy, Swisher in other tobacco products, Tyson in foodservice/prepared food, Anheuser-Busch in beer/malt beverages, and Coca-Cola in packaged beverages.  
New winners this year are Jack Link's in alternative snacks, McLane in cigarettes, Land Mark Products in foodservice/grab-and-go, Eby-Brown in foodservice/hot dispensed beverages, S. Abraham & Sons in general merchandise, and Convenience Valet in health & beauty care. Kellogg won for salty snacks this year after being honored in edible grocery last year.
Look in the March issue of Convenience Store News for full coverage of the winners.