CVS Introduces Health & Wellness Vending Machines
Get great content like this right in your inbox.
Subscribe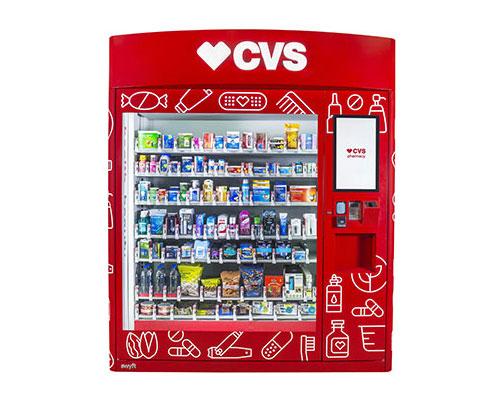 WOONSOCKET, R.I. — CVS Pharmacy is introducing automated retail vending machines stocked with convenient, on-the-go necessities.
The new vending machines are designed to help maximize convenience and meet customers where they are with on-the-go wellness solutions outside the traditional retail space, the company stated. CVS defines on-the-go necessities as over-the-counter health products, "better-for-you" snacks and popular personal care products typically sold at Pharmacy locations nationwide.
"We are always looking for new ways to combine convenience and innovation to help better serve our customers," said Judy Sansone, senior vice president of Front Store Business & chief merchant at CVS Pharmacy. "Our new CVS Pharmacy vending machine program allows us to extend that convenience beyond our brick-and-mortar locations to offer customers on-the-go essentials in the locations where they often need them most, like airports, hotels and other transportation hubs."
Each vending machine will be customized with offerings to fit each location with more than 70 products to choose from, including many from exclusive CVS Pharmacy store brand lines like CVS Health, Beauty 360, Gold Emblem and Gold Emblem Abound.
Products available in the vending machines include:
Over the counter remedies for allergy, pain relief, digestive health, and cough and cold;
Beauty and personal care products like shaving cream, deodorant and makeup remover;
Vitamins and supplements;
Eye care and oral health care products;
Solutions for healthy sleep such as melatonin;
Children's health and on-the-go first aid items such as bandages and antiseptic cream;
Healthy snacks and beverages; and
Home and office essentials such as batteries, phone chargers, earbuds, lint rollers, and stain removal sticks.
Now through the end of October, the first 25 CVS Pharmacy vending machines will be unveiled throughout New England and New York. Targeted areas include: airports including LaGuardia in New York City; public transit stations such as South Station Bus Terminal in Boston; office parks; and college campuses.
CVS Pharmacy is also considering an additional 50-plus locations throughout the country including corporate offices, hotels and other transportation hubs to host vending machines in the future.
"These new vending machines allow us to make our innovative CVS brand products available to customers outside of our store locations for the very first time," said Cia Tucci, vice president of store brands and quality assurance at CVS Health. "The CVS Pharmacy vending machines will be located in places where we can bring our customers smart solutions and convenient access to the products they trust when they are on-the-go."
To navigate the shopping experience, the vending machines feature a 22-inch multi-touch screen, high resolution images with expansive product information, and a QR code reader for barcodes and promotional codes. They will also be ADA-compliant and accept all major credit and debit cards.
CVS Pharmacy services more than 5 million shoppers every day. The new vending machines — as well as recent nationwide store design enhancements and expanding digital programs — represent the company's ongoing efforts to evolve the retail customer experience in stores and beyond. With this pilot program, CVS Health adds to a growing portfolio of innovative services including CVS Curbside Pickup, CVS Pay and digital pharmacy tools available through the CVS Pharmacy app.
CVS Pharmacy, the retail division of CVS Health, operates 9,700 locations nationwide.