Dos Equis Celebrates the Season of Cinco De Mayo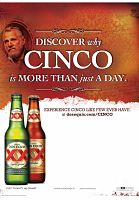 WHITE PLAINS, N.Y. -- This spring, Dos Equis will celebrate the season of Cinco de Mayo with a five-week program that includes exclusive content and inspiration taken from chapters of the Most Interesting Man in the World's unpublished memoirs. The collection of rituals, feasts and adventures is designed to encourage adult shoppers and on-premise patrons to create and share their own legendary experiences as they prepare for their Cinco de Mayo celebrations.
"Cinco de Mayo continues to grow in popularity among consumers across the country and offers a most interesting opportunity for friends to get together to celebrate," said Gwendolyn Boyce, brand director for Dos Equis, a brand of White Plains, N.Y.-based Heineken USA. "In 2012, Dos Equis experienced a 24.8-percent lift in cases during the Cinco season. This year, our season of Cinco program takes the celebration to a new level by providing retailers and consumers with reasons to celebrate not just on Cinco de Mayo itself, but during the weeks leading up."
At retail, Dos Equis is offering in-store, Cinco-themed displays, point-of-sale materials and a take-one booklet with exclusive celebratory content. Cinco-inspired, channel-specific instant redeemable coupons and mail-in rebate offers on Pace brand salsas, Pepperidge Farm Baked Naturals chips, 1800 Tequila and other fiesta-related items will also be available.
Dos Equis Ambassadors will be on hand in select accounts (where legal) to engage consumers and encourage them to celebrate Cinco de Mayo with Dos Equis Lager and Dos Equis Ambar beers.
Heineken USA, a subsidiary of Heineken International BV, imports a variety of beer brands into the United States, including Heineken Lager, Heineken Light, Amstel Light, Newcastle Brown Ale, Strongbow Cider, Dos Equis, Tecate, Sol, Indio and Carta Blanca.