10/11/2017
E-Cigarette Juice Maker Shutting Down, Blames FDA Regs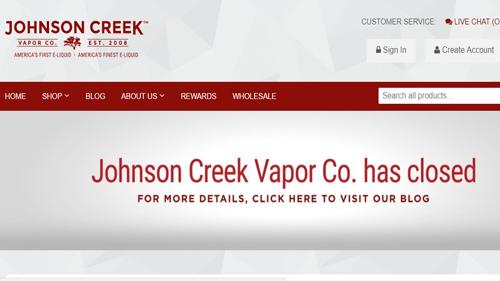 HARTLAND, Wis. — New federal tobacco guidelines have claimed at least one victim: Johnson Creek Enterprises.
In a blog post on its website earlier this week, the electronic cigarette juice company said it was shuttering the business on Oct. 10.
"Johnson Creek will no longer be in business. I'm so very sorry that we've failed you," wrote Chief Financial Officer Heidi Braun.
"We want to sincerely thank you for supporting a small business from Wisconsin for the last nine years," she said. "We have the greatest customers in the industry; your loyalty to us has been unmatched and we leave with a deep sense of gratitude. Our business has always been about saving lives by giving adults the option to choose an alternative to traditional cigarettes. You have become our family."
The Hartland-based company encouraged its customers "to not give up on the industry," and support vaping vendors "across all walks of life," mentioned at least 20 other vendors by name.
Braun also noted that several industry groups — including the American Vaping Association, Consumer Advocates for Smoke Free Alternative Association, Electronic Vaping Coalition of America, and Smoke-Free Alternative Trade Association — are working "diligently to protect our rights as vapors and push our industry forward."
The company also thanked its hometown for supporting it since 2011. "Thank you for going to bat for us with [Food and Drug Administration]. It has been a pleasure and an honor to be part of the [Hartland] community for the last 6-plus years. Hartland will forever hold a piece of our hearts," she wrote.
In addition, Johnson Creek thanked its employees, long-standing vendors and professional advisors.
According to Greater Milwaukee Today, in May, the company sought help from Hartland village government, where it was located, and Vaping Coalition of America to be protected from the FDA's regulations imposed on the e-cigarette and vaping industry.
On Aug. 8, 2016, the FDA's new rules regulating electronic cigarettes went into effect as part of the agency's deeming rule.
As part of the finalized rule, manufacturers of all newly regulated products are now required to show that the products meet the applicable public health standard set forth in the law and receive marketing authorization from the FDA, unless the product was on the market as of Feb. 15, 2007, as CSNews Online previously reported.
Under staggered timelines, the FDA expected manufacturers would continue selling their products for up to two years while they submit a new tobacco product application — and an additional year while the agency reviews the application.
However, the FDA revised the timelines when it announced a shift in its tobacco policy in July. Under expected revised timelines, applications for newly regulated combustible products, such as cigars, pipe tobacco and hookah tobacco, would be submitted by Aug. 8, 2021, and applications for non-combustible products such e-cigarettes would be submitted by Aug. 8, 2022.
According to Braun's post, Johnson Creek hopes to come out of bankruptcy and "continue to make and sell products, but this is yet to be determined and we have no timetable to determine this."
A report by the Milwaukee Journal Sentinel said a search of online court records showed no bankruptcy filing.