Energy Products Expand C-store Distribution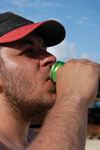 LAS VEGAS -- New agreements have extended the arm of two energy product makers, putting their products into thousands more c-stores.

XYIENCE, maker of Xenergy, will be distributed by Blue Coast Beverages, increasing the brand's presence in New Hampshire, Massachusetts, Connecticut and Rhode Island. Nearly 200 Tedeschi Food Stores began carrying four flavors of Xenergy energy drinks in those four states, running a two-for-$3 promotion on the beverage.

On Aug. 28, Xenergy, the official energy drink of the Ultimate Fighting Championship, and Tedeschi teamed up to offer shoppers a chance to win two tickets to the UFC's debut in Boston at the TD Garden arena. Shoppers entered the sweepstakes during a special event Aug. 24, at a Tedeschi Food Store location in Dorchester, Mass., and submitted entries via text message.

In other energy news, Spot On Energy patches will be placed in 4,000 Circle K convenience stores by the end of 2010.

Spot On Energy patches, which hold a combination of energy ingredients, provide energy benefits with sustained release without the preservatives, sugar and calories of energy drinks, the company said. They are already available in Kroger and Valero Corner Stores.

"Circle K adds to the strong retail foundation for the Spot On Brand. We are thrilled to be joining this outstanding retailer," said Brenda Stoner, co-founder of Spot On Energy.

Circle K is placing Spot On Energy in a new energy display being deployed in the stores. The product will be merchandised by Acosta Sales and Marketing.