Five Leading-Edge Technology Innovations Spotted at 2018 BPAMA Convention
Get great content like this right in your inbox.
Subscribe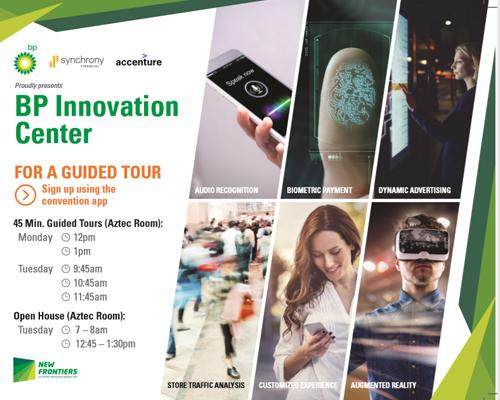 PHOENIX — Consumers are getting more tech-savvy and they are demanding that the companies they deal with follow suit. This includes convenience channel retailers.
To keep up with the changing expectations, BP plc showcased several leading-edge technology innovations in an "Innovation Center" at the 2018 BPAMA Convention & Business Expo. This event is held every other year by the association of BP Amoco marketers, which counts roughly 160 members representing about 85 percent of the branded fuel volume east of the Rockies for BP. 
"Our role as an association is to help work with BP so they can help the marketers prioritize or make good choices with technology, leveraging their size to understand the issues," Jack Allard, executive director of BPAMA, told Convenience Store News.
According to the oil giant, the latest innovations are themed around personalization and connecting with consumers based on their unique profiles. 
CSNews was given the opportunity to join the branded marketers at the Arizona Biltmore in Phoenix to preview the sampling of new innovations that may impact fuel retailing in the future, including new payment options at the pump and interactive c-stores.
Among the innovations showcased were: 
1. LISNR
LISNR, based in Cincinnati, provides a solution that transmits data through inaudible tones. It can be implemented in several verticals: at retail, at home through commercial advertising, and at live events like sporting events.
At retail, inaudible tones connect a consumer's mobile app with the pump, allowing for uses like mobile pay. It also works inside a convenience store with in-store messaging and promotional offers, as well as mobile pay at the point-of-sale.
At home, inaudible tones in a commercial can link with a consumer's mobile device if the app is open and the microphone is enabled. This allows for the delivery of promotional offers in real time.
2. Outernets Co.
Based in New York, Outernets is dedicated to reimaging the physical space with virtual reality experiences, turning a retailer's storefront windows into messaging centers. An artificial intelligence system reads the demographics of the consumers passing by and delivers targeted marketing.
Outernets offers two-way communication as well. Consumers can respond to messages that pop up on the windows by, say, waving their hands, giving a thumbs-up or making faces. This engagement offers the retailer real-time feedback, and consumers do not need a mobile device or app to participate.
As the company noted, "the storefront window is prime real estate. This messaging system optimizes foot traffic, captures demographics, provides real-time consumer feedback, and provides another [avenue] for shopping. It's the new window shopping."
3. Scanalytics Inc.
Moving from the windows to the floor, Milwaukee-based Scanalytics is a startup company that tracks movement in the store through floor heat mapping. Its under-carpet sensors can be placed anywhere in a c-store and provide feedback. For example, at the entrance, sensors can report on foot traffic patterns, whereas in front of a new product display, Scanalytics can report on how much time a consumer spent at that display. Retailers can measure the effectiveness of initiatives like new product displays or endcaps.
4. Accenture
Accenture offers digital signage that displays what offerings a c-store has available during different times of the day. Beacons use geolocation and Bluetooth technology to pick up on loyalty customers in-store and their preferences. Consumer packaged goods (CPG) companies can then "battle" for that consumer within the store. For example, if the preferences indicate the consumer buys frozen pizza, a coupon for a frozen pizza product can be sent to his or her phone.
Integrated with a loyalty program app, Accenture helps CPG companies target the right customer with the right message at the right time, according to the company. 
Another innovation from Accenture is augmented reality in the workforce. The planogram tool allows retailers to plan out how a shelf will look with different items. The tool can also bring up a digital dashboard to show historical sales data — providing feedback on how certain shelf combinations will perform.
5. Keyo & Suzo International
BP is working with two companies, Keyo and Suzo International, to bring palm reading to the pump. Keyo is a consumer-facing biometric network. A consumer with Keyo's app can pay at the pump or in-store without taking out any credit cards, loyalty cards or mobile device; they need only to use their palm. The system reduces fraud, increases line seed, and builds customer loyalty. Suzo International connects the pump to Keyo's bio-authentication.
Tapping Into the Right Technology
According to BPAMA's Allard, not everything showcased in the Innovation Center makes sense for every marketer or dealer.
So then, how does each one figure out the best choices for their operation? 
"That's the conversation we enter with BP," Allard said, acknowledging that it's not an easy road to travel for BP. "How do they bring their whole organization along on the journey? Their employees, their dealers — you need to get everybody on board."
At the end of the day, the technology has to make sense, according to Allard.
"We keep preaching it's not one size fits all. The marketers have all kinds of operating businesses, and that's part of the challenge," he explained. "The message to BP is: How do you help along the points of the journey in terms of what technology might work for them?" 
That's a key benefit of the BPAMA conference, added Lynn Wallis, chair of BPAMA and president of Wallis Cos.
"The beauty of our association is the collaboration that we have between BPAMA and BP. BP realizes loyalty is needed — whatever shape or form or how it looks — so they do a lot of the heavy lifting and R&D. Then, they come to the association, sit at the table with us and ask if this will work at the store, what will work, what won't work," she said.
A crucial component is whether a retailer's associates can deliver on the new programs hitting the stores, Wallis added.
"I am not with our retail customers every day; most of the marketers are not. It's their front-line associates [who are]. How do we make sure what we are rolling out gets delivered to the retail customer? That is where BP is so strong; sitting at the table with us marketers and talking through these initiatives, programs and products," she said.