02/11/2020
Food, Drinks & Tech Are Focus of 2020 7-Eleven Experience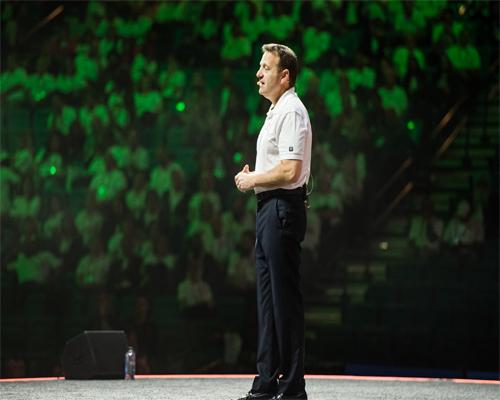 LAS VEGAS — Prepared food, beverages and technology will be key drivers of growth for 7-Eleven Inc. franchisees in 2020, based on the themes revealed at this year's 7-Eleven Experience — the convenience store retailer's annual trade show and conference.
This year's 7-Eleven Experience drew a record 8,500 attendees, including franchisees and their families, corporate employees and vendor partners. The event, held at the MGM Conference Center in Las Vegas, featured 280 exhibitors representing most of the top brands sold in the c-store industry, as well as a wide spectrum of proprietary 7-Eleven products, and a Learning Center that, among other things, showed off the latest technological innovations being tested and implemented by the chain.
Speaking with Convenience Store News at the event, 7-Eleven President and CEO Joseph DePinto extolled the company's incremental progress on improving its fresh foods offering, broadening and sharpening its selection in both dispensed and packaged beverages, and building a technological platform that enables 7-Eleven's growing loyalty/rewards program, delivery service, mobile checkout, and first cashierless store.
"As you know, I'm very positive and upbeat about the growth potential of the c-store industry," said DePinto. "We are perfectly positioned to where the public is going. We are the retail channel that is closest to the customer, and we offer the most simplicity and ease of any other retail concept."
The nation's No. 1 convenience retailer in store count, according to the latest CSNews Top 100 ranking, opened hundreds of stores last year. The company is off to a great start this year due to the recent announcement of an acquisition of 7-Eleven Stores of Oklahoma (100-plus stores in central Oklahoma) from the Brown family. DePinto shared that the retailer plans to build hundreds of additional stores that are "in the pipeline for the next two years," and execute a significant number of remodels in 2020.
TECHNOLOGY ADVANCEMENTS
DePinto, along with Senior Vice President of Merchandising and Demand Chain Jack Stout, Chief Information Officer Mani Suri, Chief Digital Officer Tarang Sethia and Head of 7NOW Raghu Mahadevan, discussed how 7-Eleven continues to push the technological envelope.
The company's loyalty/rewards program is up to 27 million members and growing. Delivery service, through the 7NOW app, is available in 47 markets and counting. 
"We have average delivery time down to just 28 minutes," noted Mahadevan.
In addition, the retailer's mobile checkout store in New York City's Manhattan borough is being rolled out to thousands of locations this year. Mobile checkout enables customers to scan and pay for their purchases without going to the checkout. And, for the ultimate in frictionless engagement, the retailer recently announced it is piloting its first cashierless store at its corporate headquarters in Irving, Texas.
As previously reported by CSNews.com, the 700-square-foot non-traditional store is available to 7-Eleven employees only. The store uses a proprietary mix of algorithms and predictive technology to separate and identify individual customers and their purchases from others in the store.
INNOVATIVE FOOD & BEVERAGES
Growing food and beverage sales is of utmost importance to the convenience giant.
Among the beverage innovations on display at the 7-Eleven Experience were:
New bean-to-cup equipment for coffee and specialty drinks. Rolled out to 200-plus stores on Long Island, these new machines will be in thousands of stores by the end of 2020.

A new soft-heat urn system that makes it easier for store employees to service the coffee bar.

The addition of Rainforest Alliance Certified coffee beans from Kenya. Fifty-percent of the coffee 7-Eleven now offers is sustainably certified.

Nitro-infused, draft cold-brew coffee and tea.

Several new, limited-time Slurpee flavors. (We can't reveal the flavors yet, but they are described as on-trend and buzzworthy).
When it comes to food, 7-Eleven continues to broaden and upgrade its proprietary prepared food offering. Most of its prepared foods, including salads, sandwiches, fruit cups, etc., are made at commissaries around the country and delivered each morning to the stores.
Among the new items recently introduced or being rolled out this year are:
Boneless chicken skewers — Doing very well in tests, this portable and value-priced item is part of the retailer's strategy to "own snacking."

Sliders — Chicken, beef and smoked turkey sliders at a great introductory value of just 99 cents apiece are currently being tested in the Dallas market.

Hand-stretched, improved pizza — In test at 18 stores, this could be a game-changer. Not frozen, this is pan-stretched pizza dough prepared and baked right in the store. 7-Eleven says it saw really strong growth in pizza sales last year, including whole pizzas, and it is one of the top-selling items where delivery is available through the 7NOW app.

New equipment and display cases — New units are planned for rollout later this year for self-service roller grill items and baked goods.
PRIVATE LABEL
7-Eleven continues to expand its private label 7-Select brand for packaged food and beverages, and recently launched the 24/7 Life brand for health and beauty, electronics, and general merchandise.
The current roster of approximately 1,800 private brands is being enhanced.
"We've been moving our private labels up to premium and we haven't seen the customer flinch," noted Stout, explaining that the goal for 7-Eleven's proprietary brands is to be "better than the similar national brand, provide a better price for consumers, and a better penny profit for franchisees."
Among the developments around private label are:
The 7-Select brand of cold-pressed, organic juice drinks, introduced in late 2018, is appealing to a new, younger customer base.

Its Voyager Point proprietary wine won an award from the Private Label Manufacturers Association (PLMA), and its new Roamer portable wine in a can (available in Rose, Riesling and Chardonnay varieties) is selling very well.

New candy and snack items have been introduced under the 7-Select brand in unique flavors determined by research into consumers' likes and wants.

An organic private-label milk will launch in March in regular, chocolate and reduced-fat varieties.

Also launching in March will be a super-premium bottled water from Iceland called Skyra.

Line and flavor extensions for the retailer's successful Quake energy drink are in the planning phase.
FRANCHISEE RELATIONS
Despite recent calls by the National Coalition of Associations of 7-Eleven Franchisees (NCASEF) for the corporation to improve communication and collaboration with store operators, franchisees at the 7-Eleven Experience appeared extremely upbeat and appreciative of 7-Eleven's ongoing merchandising and operational improvements.
CSNews had the opportunity to conduct in-depth interviews with two franchisees:
FRANCHISEE ELIZABETH CONDER, SOUTHWEST FLORIDA
Conder has been a 7-Eleven franchisee since 2010, operating five stores in Marco Island and Naples, Fla. She told CSNews that digital advances have had the biggest impact on her business.
"People are scanning our app and using the rewards program," she said. "Customers now see us as in the game digitally. This is very important for our future." She's especially appreciative that the innovations have happened so fast. "It's like they flipped a switch," she said.
As for challenges, Conder said finding qualified employees is her biggest problem. "I do have to pay a little more in Southwest Florida, but we find that our greatest success is when we find people who are interested in more than just a paycheck," she said, adding that the improved perception of the convenience store as a more modern retailer has helped attract more potential employees.
Conder noted that she'd like to add more stores "if the right opportunity presented itself."
FRANCHISEE BEKELE TILAHUN, DALLAS, TEXAS
Tilahun, a franchisee since 2012, operates three stores in Dallas. The improvement in variety and quality of fresh foods is the biggest advancement he's seen in his seven years as a 7-Eleven franchisee.
"Today, we sell it all — salads, hot dogs, sandwiches, burritos, nachos, breakfast pizza," he said. His store is one of the locations testing the new pan-stretched personal pizzas that are made from scratch at the store. "Customers can see us preparing the pizza right in front of them. We've tripled sales of pizza in our store."
Finding good employees is also a challenge for Bekele in Dallas. He pointed out that competition has been increasing and that means "we just have to be better."
 "I am very excited about where the company is going. The pride in the brand is getting stronger," he added.