GEM Food Store Finds Jewel in Chester's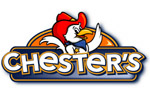 KENT, Ohio -- GEM Food Store, located at 1337 South Water St. here, is the latest convenience store to add Chester's fried chicken to its foodservice offering. A grand-opening event was held last week, including a ribbon-cutting ceremony and appearance by Chester the Chicken.

"In this economy, Chester's is a great value, offering great training and marketing support," stated Faisal Mirsa, owner of the GEM Food Store. "Chester's will add great value to our store, and our customers are excited about our new addition."

The location will be open for breakfast, lunch and dinner, offering Chester's signature menu items such as fried bone-in chicken, chicken tenders, potato wedges and biscuits.

"It is always exciting to see the Chester's brand grow," said James Venable, vice president of operations for Chester's International. "Operators are realizing more and more the endless potential of foodservice sales. Everyone sells candy bars, gas, and snacks, but not everyone sells fresh, fried chicken. The GEM Food Store will do well with Chester's."