Genesee Candy Land Jalapeño Snacks
Chocolate-dipped Jalapeño Bacon and Jalapeño Peanut Brittle join the brand.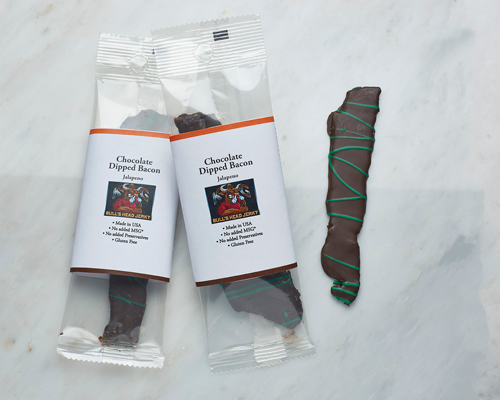 Genesee Candy Land expands its signature Chocolate Dipped Bacon line with new Jalapeño Bacon. Zesty strips of jalapeño-smoked bacon are oven-crisped, dipped in rich dark chocolate, and then drizzled with jalapeño-flavored chocolate for a treat that is salty, savory and spicy, according to the maker. A second new product, Jalapeño Peanut Brittle, includes real pieces of jalapeño peppers and bacon combined in a resealable pouch for on-the-go snacking. Both items are available to select convenience store retailers. Genesee Candy Land is the only wholesale manufacturer in the United States to receive USDA certification to sell full slices of smoked bacon enrobed in chocolate, the company noted.