Heineken USA to Kick Off 'Bring Your Sunday Best' Program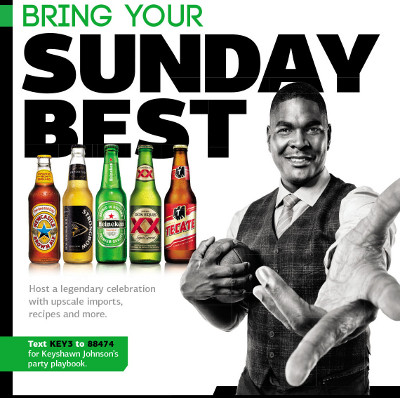 WHITE PLAINS, N.Y. -- Heineken USA is launching a new portfolio retail program, "Bring Your Sunday Best," designed to provide consumers with hosting tips and party-relevant offers from the company's Heineken, Dos Equis, Newcastle Brown Ale, Strongbow Cider and Tecate brands.
To help kick off the program, Heineken USA enlisted All-Pro wide receiver Keyshawn Johnson to enhance the shopping experience. Through the company's new "Portfolio Playbook" mobile site, Johnson provides a series of entertaining tips that highlight his expertise and personality. The site also includes recipes, special offers and planning tools designed to promote high-margin items.
In-store, this promotion will offer football-themed mass display elements, point-of-sale materials, and cross-merchandising offers with channel-relevant brand partners. In the convenience and drug channels, this will include a partnership with Wonderful Pistachios & Almonds.
"The fall football season is in full gear and fans everywhere are making plans for their playoff and championship celebrations," said Merrybeth Lannan, director of trade development for Heineken USA. "Heineken USA's portfolio includes three of the top 10-selling upscale beer brands during the weeks leading up to, and including, the big game. Our brands not only elevate the consumer's experience, they also generate more retail traffic, repeat purchase and incremental profits for retailers."
The "Bring Your Sunday Best" retail program will run Jan. 2 through February.