Heineken's Voyage Program to Seek 'Legendary Travelers'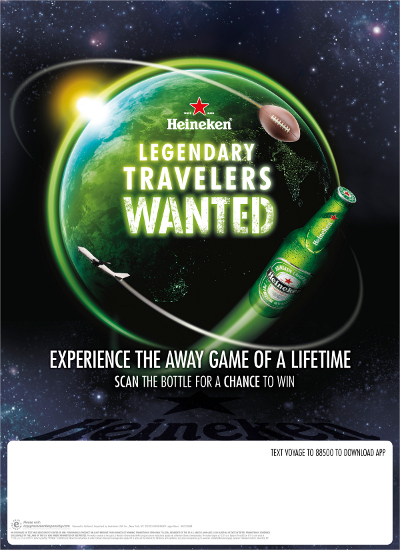 WHITE PLAINS, N.Y. -- To kick off the fall sports season, Heineken USA will launch the Heineken Voyage program at retail outlets beginning Aug. 1 and running through Sept. 30.
The program is designed to encourage adult consumers to take their at-home party occasions to a new level, while inviting them to participate for a chance to win a trip to an international sporting event. These trips include a soccer match in Italy, a rugby match in Europe and an American football game in London.
"Labor Day, the official kickoff of the fall sports-viewing season, marks one of the year's biggest celebration weekends and therefore, a critical selling period for our retail partners," said Colin Westcott-Pitt, vice president of marketing for Heineken USA. "Heineken generates a 41-percent display lift during the football season, making Heineken the best brand to promote during this time period."
At retail, custom-designed "Legendary Travelers Wanted" promotional messaging will appear on all 6-, 12-, 18- and 24-packs. The messaging invites consumers to text to download the Heineken Star Bottle App for a chance to "Win the Away Game of a Lifetime," along with other daily travel gear awards and retailer cash cards.
In addition, the program will provide promotional media support to retail stores where high-visibility, scalable mass displays, point-of-sale materials, instant redeemable coupons and mail-in-rebate offers will help increase the sales lift of Heineken, Heineken Light and other party-related items.
"Heineken's 'Men of the World' consumers are not only big sports fans, they are attracted and inspired by international travel opportunities," Westcott-Pitt added. "Our Voyage program provides these discerning consumers with the best of both – the tools to raise their Heineken inspired, at-home football viewing experiences and the chance to win a dream voyage to an exclusive global sporting event."
Heineken USA, a subsidiary of Heineken International BV, imports a variety of European brands into the United States, including Heineken Lager, Heineken Light, Amstel Light and Newcastle Brown Ale.