Hershey Triples Its Presence in New York's Times Square
Get great content like this right in your inbox.
Subscribe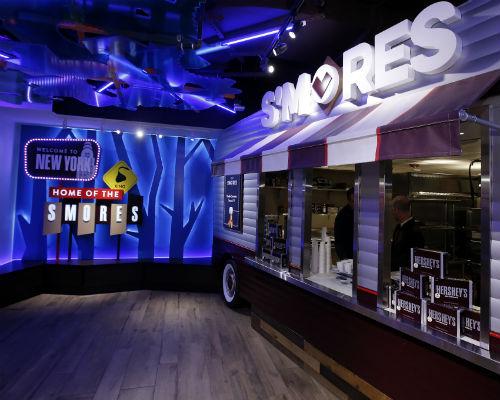 NEW YORK — The Hershey Co. believes in New York City's old adage, "If you can make it here, you can make it anywhere." It is certainly true for the confectionery powerhouse's new and expanded Hershey's Chocolate World retail attraction in Times Square.
Convenience Store News was among a small, select group of media representatives who got an exclusive first look at the attraction — which is centered on visitor engagement, personalization and customization — before its Dec. 14 grand opening.
Situated in the 20 Times Square building at 701 7th Ave., the new Hershey's Chocolate World is nearly three times bigger than its original location and is expected to serve 4 million visitors annually, which is two times more than the previous location, Suzanne Jones, vice president for The Hershey Experience, told CSNews.
"Hershey was the first confectionery company to create a destination for people to experience our brands firsthand, with a legacy spanning nearly 50 years," Jones said. "Today, we're proud to push our legacy forward in Times Square, the crossroads of the world. We've succeeded in creating a landmark destination where chocolate lovers will experience something unlike anything they've seen, smelled or tasted before."
The unusual "L" shape of the store takes on the design elements of a refurbished factory and combines Hershey's traditional heritage with new innovation.
With entrances located on West 47th Street and 7th Avenue, Hershey uses "nose mapping" to ensure visitors are greeted with an indulgent chocolate scent during their journey throughout the store. 
Also among the new elements that make the attraction unique is Hershey's Kitchens Bakery. The company partnered with The Culinary Institute of America (CIA) to curate a menu of 10 Hershey-inspired, warm baked treats and beverages. The bakery's signature item is the Reese's Peanut Butter Blossom Cookie, which features crushed Reese's Peanut Butter Cups baked in a Reese's Peanut Butter cookie and topped with a full-sized Reese's Peanut Butter Cup.
The bakery menu additionally includes three Filled Brownie varieties; three varieties of Candy Balls, which are rich chocolate brownies filled with marshmallows, enrobed in Hershey's chocolate and covered in Hershey's candy; beverages like Hershey's Chocolate Spritzer and Hershey's Melted Hot Chocolate; and "Inspired by Brookside" bars, bites and snacks. 
"Hershey's products lend themselves to the type of hand-crafting work that we at The Culinary Institute of America have trained our whole careers for," said CIA Certified Master Chef Brad Barnes. "For the past year, world-class chefs at CIA have been working behind-the-scenes with Hershey's Chocolate World attraction to discover innovative ways to bring the brand to life through our exclusive desserts and treats offered at the Hershey's Kitchens Bakery."
The new store debuts Hershey's S'mores Experience, too. The company's largest permanent S'mores Experience comes from an authentic camper, where visitors can enjoy gooey, made-to-order s'mores. One full-sized Hershey's Milk Chocolate bar is used in each double-chocolate s'mores.
Other attractions include: 
Amazing Candy Machine — A wall featuring 12 

dispensers filled with varieties of Hershey's Kisses, Hershey's Miniatures and Jolly Rancher hard candies that visitors can mix and match in to-go tins, bags and boxes.

Sweet Personalization Station — 

Hershey's Chocolate World visitors

 can personalize their own Hershey's Milk Chocolate bar wrapper via a store iPad to capture their Times Square experience. 
In addition to its larger footprint and unique in-store experiences, the new Hershey's Chocolate World Times Square features a state-of-the-art, 91-foot digital billboard that sits 10 stories above the heart of Times Square.
The New York City location is one of five Hershey's Chocolate World retail stores around the world, all of which are an extension of the original Hershey's Chocolate World Attraction in Hershey, Pa. Other locations include Las Vegas; Niagara Falls, N.Y.; Dubai; and Singapore.
Jones shared with CSNews that this new prototype will be rolled out across Hershey's other Chocolate World locations in the future.